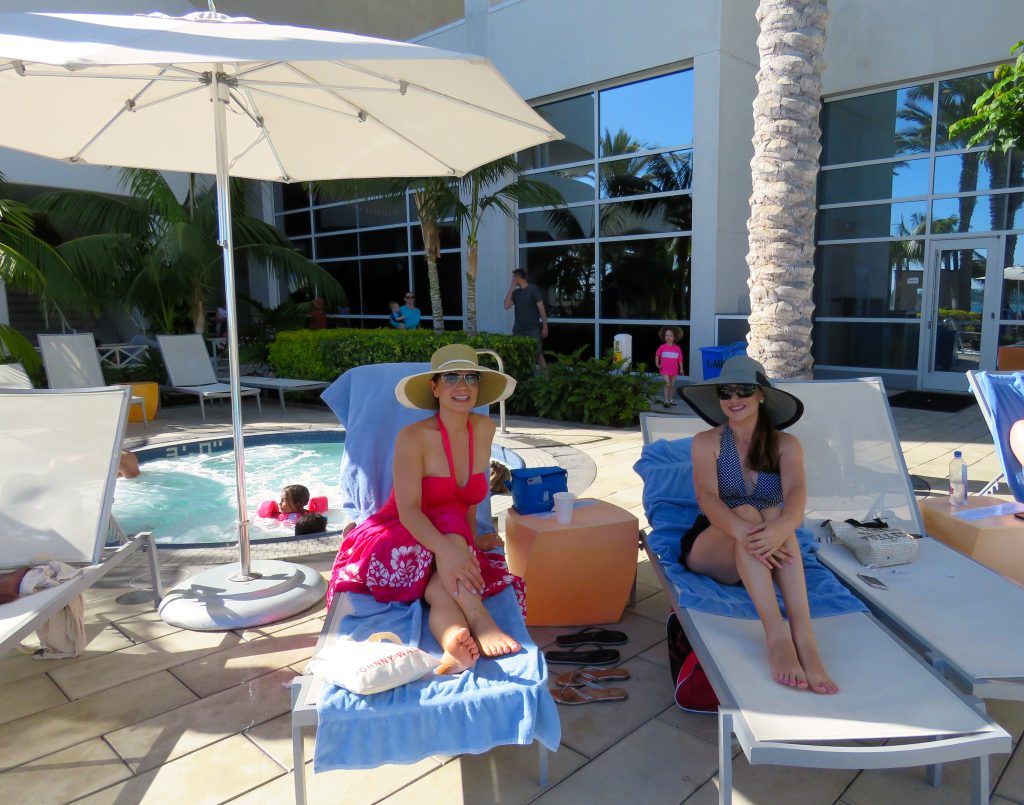 When I was pregnant, my friend Lizeth and I had an Annual Membership to the Hotel Del Coronado's spa (Spa at the Del, see my post here). It was a wonderful way get together at least once a month for a girls spa day. We usually went on a weekday because there were less people and we could enjoy the spa amenities with more tranquility. I remember we talked about renewing the membership and she suggested we wait until after I had the baby to see if I had time available for spa days after becoming a mom. Lizeth has a toddler and knows well that it can be challenging to schedule a full day with a girlfriend, sans children. I recall, I kind of shrugged it off and told her I thought I would be fine and should be able to continue going to the spa. Boy, was I wrong, or perhaps naive. As a new mom, it was very hard to schedule a spa day, particularly because I was breastfeeding and the main caregiver for our baby. After a few weeks, my husband returned to work full-time and my mom returned to her home. I was at home caring for our baby all day. Eventually, I did manage to return to getting facials and massages, but not to scheduling full spa days with Lizeth. I now get facials and massages at a local spa close to home, but I pretty much only go in for the appointment and return home since I go on weekday evenings.
Alessandra is now one year old and I have managed to schedule one spa day with Lizeth. We did go to an event at a spa for a few hours on a weekday evening, but it was a special occasion and we each got two mini-treatments, it was not the full spa day experience we used to enjoy together.
Around September (yes, last year!), Lizeth called me and told me she had purchased a Groupon to Spa Aquazul at the Hilton San Diego Bayfront and asked me if I would consider buying one so we could make a girls spa day out of it. The Groupon was for a massage or facial on a weekday at a discounted rate, and the purchaser could enjoy the day at the spa, which includes use of the gym and hotel's pool. Lizeth had read some reviews of Spa Aquazul and told me it looked nice! She said we could go in the afternoon because they close at 8pm (the Spa at the Del closed at 5pm). Initially, I apologized and told her I wish I could go, but with taking care Alessandra, I thought it would be hard to get away on a weekday. While we were speaking, I had looked up the Groupon promotion and Spa Aquazul's website on the computer. It looked nice! About five minutes after we ended our conversation and I hung up, I called Lizeth back and said, "Let's do it! I'm going to buy the Groupon and will make it happen! We will go on a spa day, amiga, we will!" We agreed we'd go on a Thursday or Friday around 3:00pm or 4:00pm. This way, I could drop off the baby at my husband's office and he could watch her a few hours, then take her home. Lizeth would only need to take a few hours off from work, not an entire day. This would give us at least four hours to enjoy a spa day together! I am not one to go on a spa day alone. I have done it before, but really enjoy it much more with a friend. We had bought the spa certificate…now all we needed to do was schedule a date to go. That's when it got a bit tricky.
Before we knew it the fall arrived, then came Halloween, Thanksgiving, winter, and the Christmas holidays! I got busy working with the San Diego Latino Film Festival in the fall and winter, and went on several trips. Lizeth also had lots going on during those months. Spring came and went, and due to our busy schedules, we weren't able to schedule a spa date. The Groupon promotion we purchased had expired, but we knew we could still get the value for the money we had paid, but we would have to pay the full price for the spa service. When summer came long, our schedules opened up a bit and we managed to FINALLY schedule our beloved spa day! We weren't only dealing with our own schedules anymore, we also had to coordinate schedules with someone to take care of our children while we were at the spa.
We went to Spa Aquazul on a Friday. I prepared everything Alessandra and I would need a day ahead of time. I woke up excited that morning, went to the gym, fed Alessandra her lunch, then dropped her off at my husband's office. Lizeth met me at the Spa and we had a wonderful time, as we always do when we spend time together!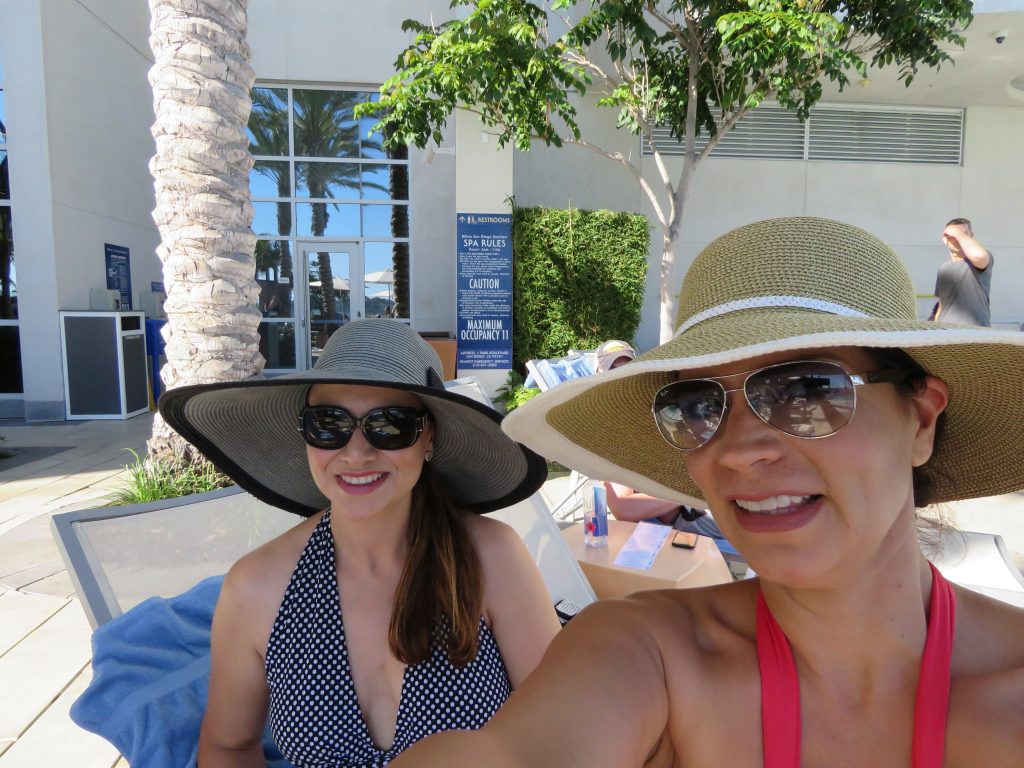 Why do I share this entire story with you….because, even though it can be challenging to schedule time for ourselves, it is important as mom's to give ourselves the gift of time for things we enjoy (with our friends or on our own). My friends enrich my life and bring joy to my soul! Lizeth is a very close friend and every time I see her, I feel happy and it refreshes me! It is almost like setting a refresh button to return to being the happy mom and wife that I like to be. If I did not allow myself time for things I enjoy and to see my friends, I would probably not be as happy as I like to be.
Now to the spa experience (review). Overall, Spa Aquazul is nice. The prices are comparable to other local spas. The spa area is smaller than other spas I have been to. The pool was nice, but since it is the same pool as hotel guests use, it was packed. We had a challenging time finding lounge chairs to sit together. We didn't even get into the pool because there were so many people. We were there during the summer, perhaps if we had gone another time of the year or during the early morning hours there would have been less people.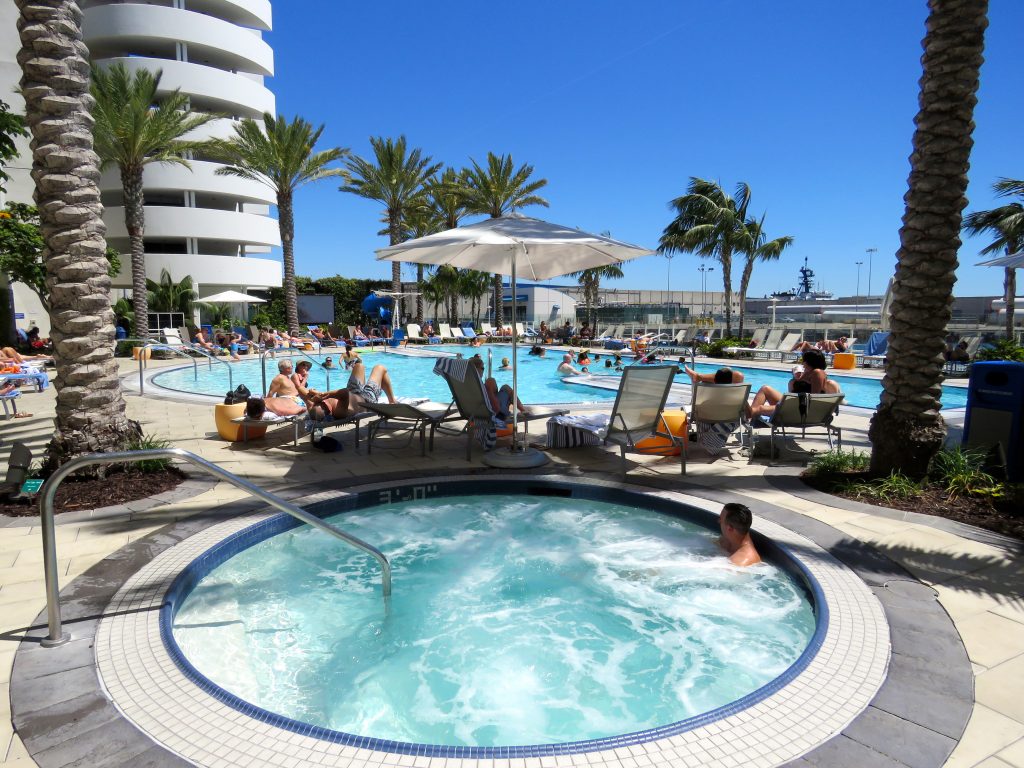 The spa has a small lobby, a few lockers, bathroom area with two showers, a steam room, and a lounge area. There is also a gym which spa guests can use, but I believe it may be the same gym hotel guests use. The relaxation lounge area had a selection of teas, iced water, apples, and nuts. I did enjoy sitting in the relaxation lounge before my massage. The treatment room was the same as you would expect at other spas of this size, clean and nice enough. Robes and sandals are provided for guests.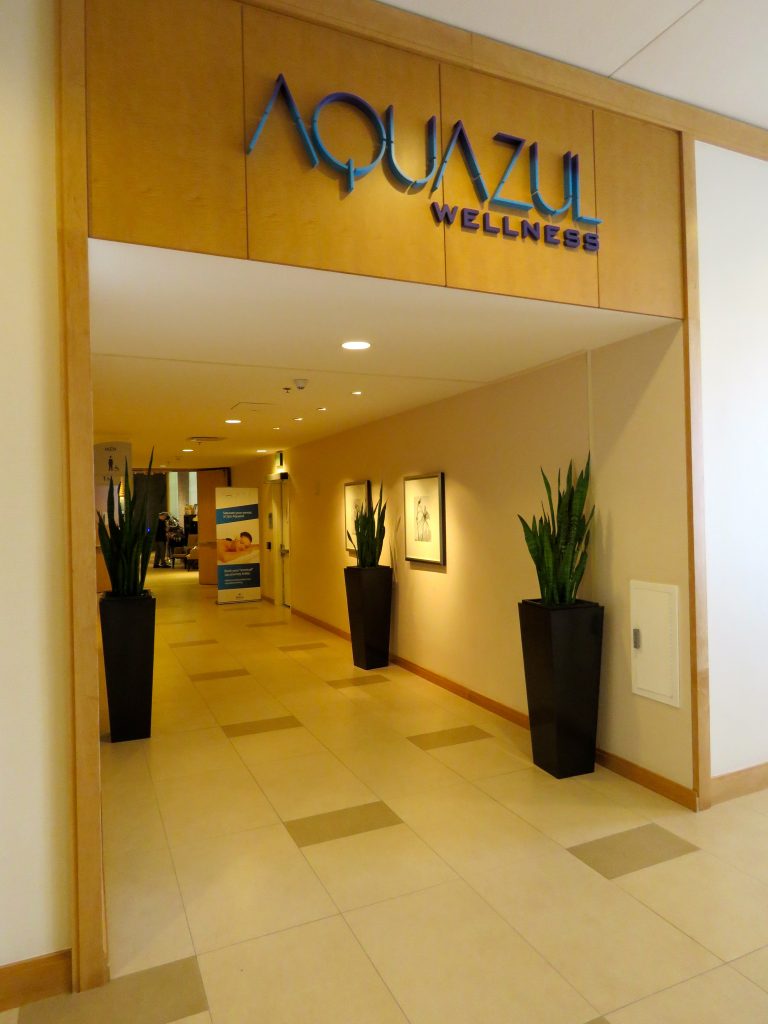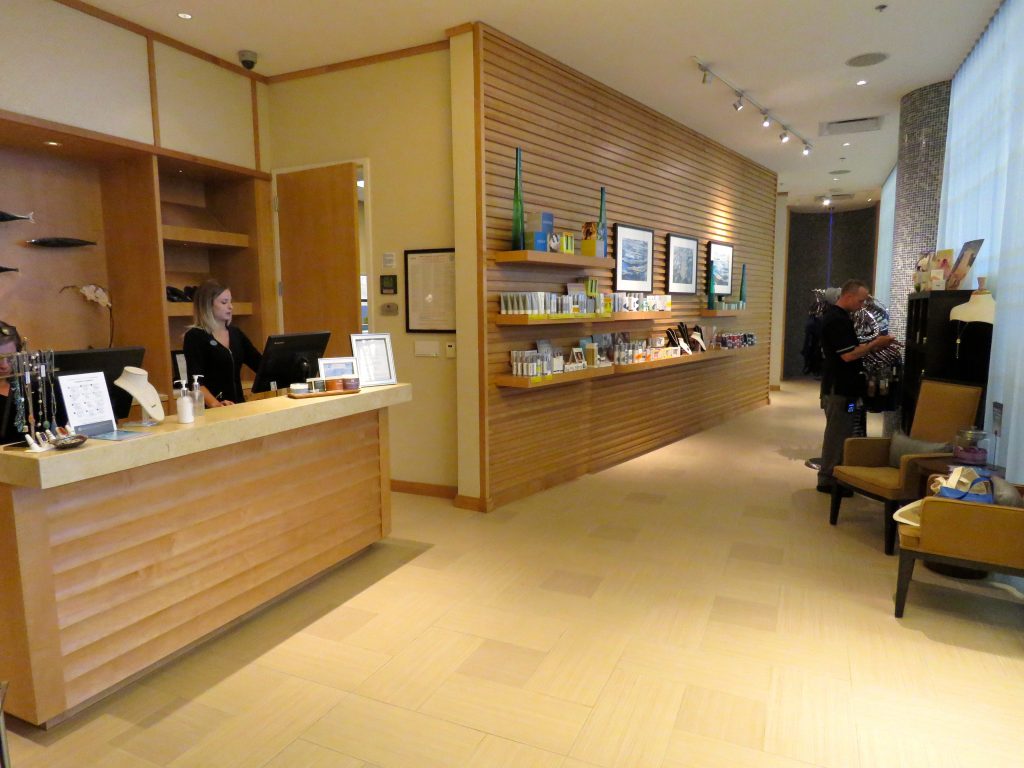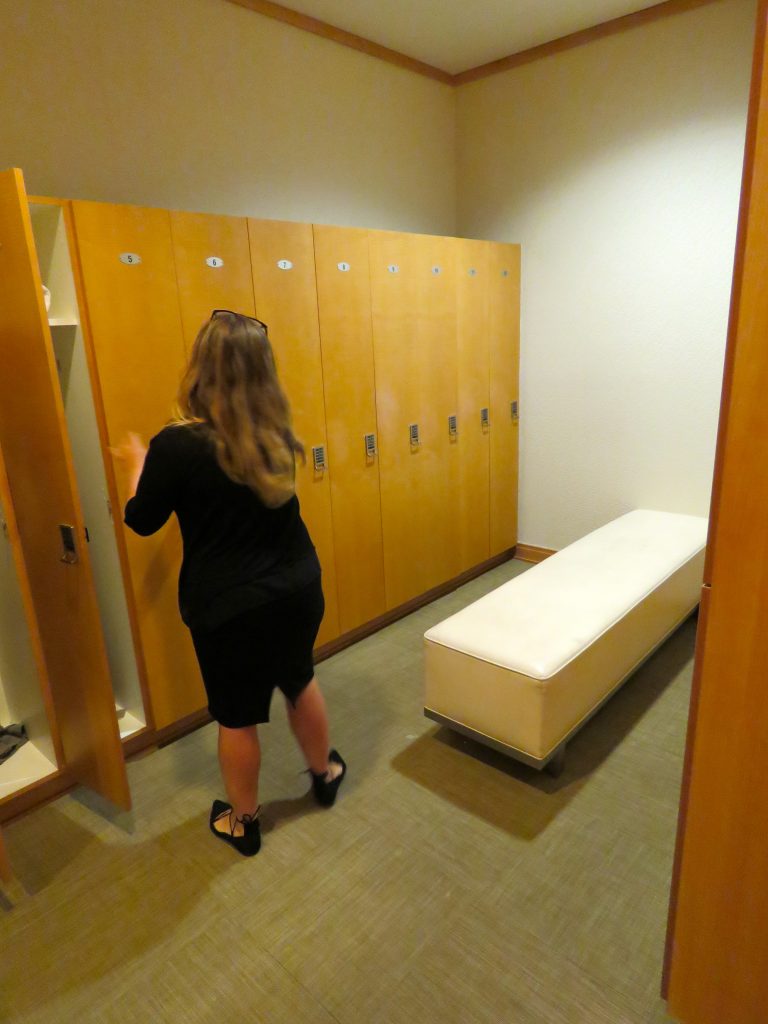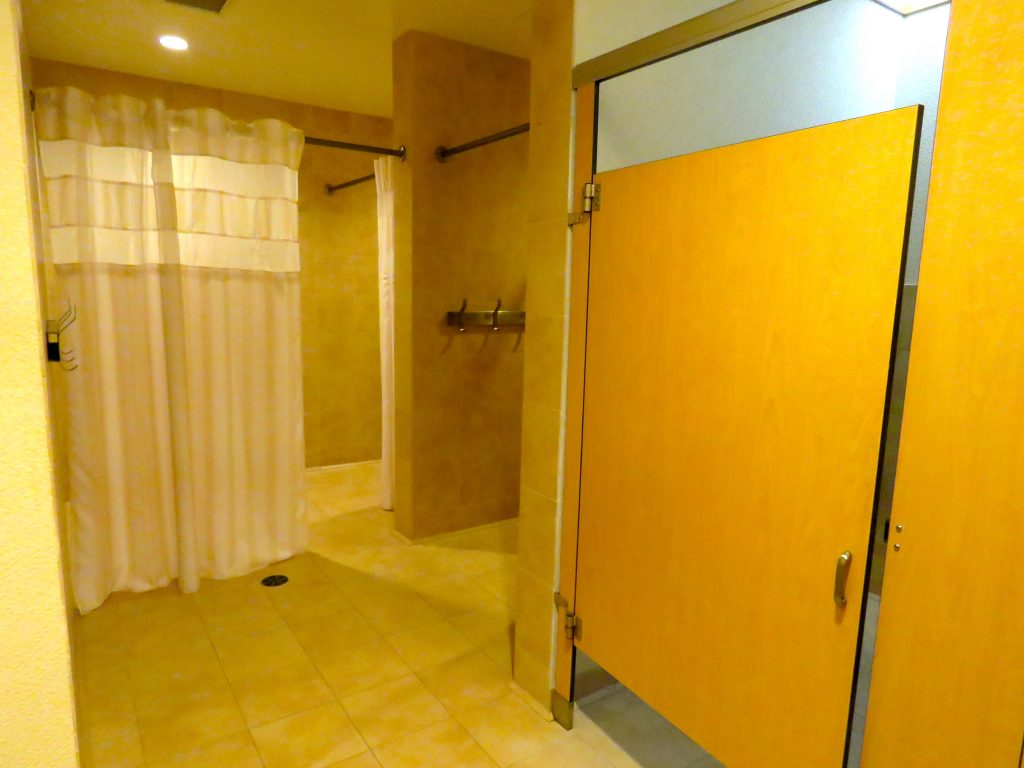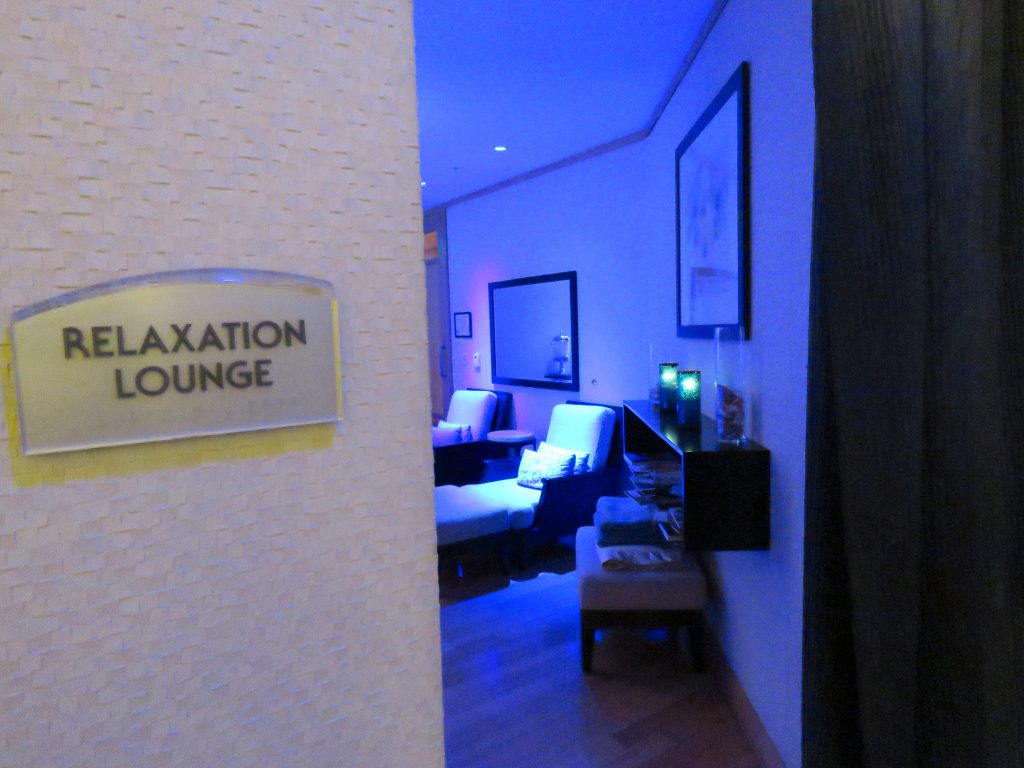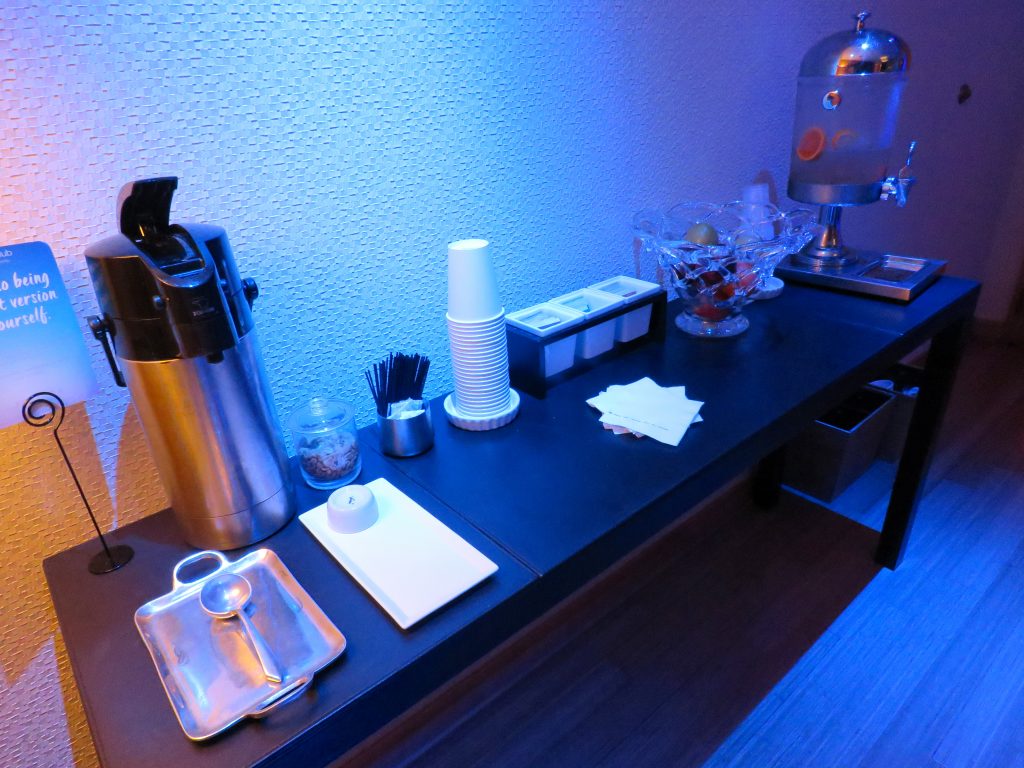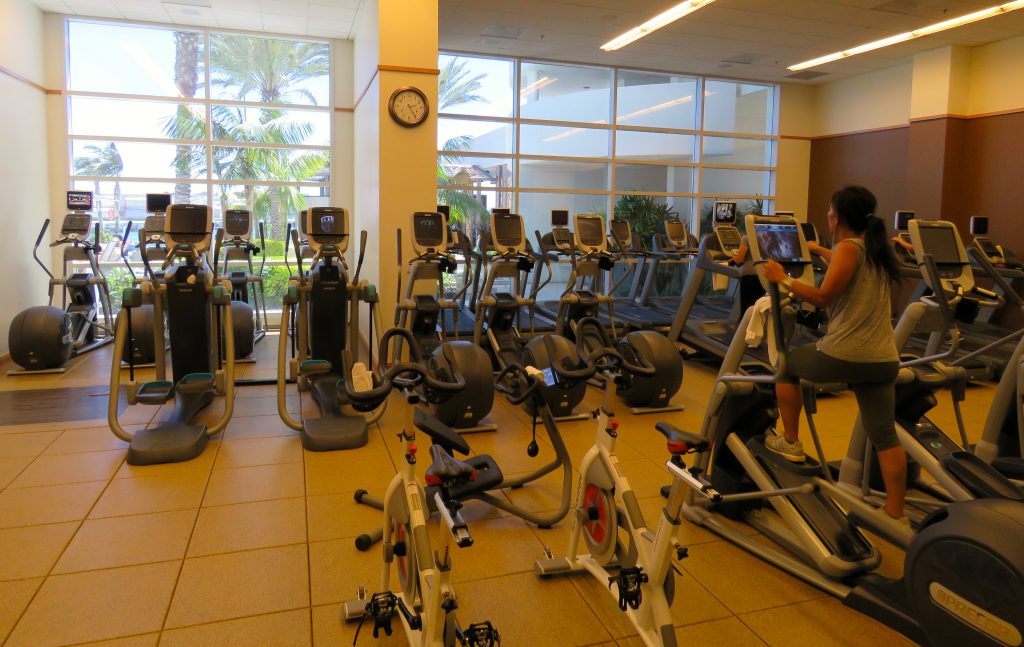 When I arrived, I was given a brief tour of the spa by the person which checked me in at reception. She answered any questions I had and showed me to the locker area. She assigned me one of the small lockers. It was hard to fit my bag (I had packed a bathing suit, a cover up, sandals, and my personal items), luckily I was going to wear my hat since I was going straight out to lounge by the pool. Later, I realized there were larger lockers on the left side of the room and they assigned me a larger locker.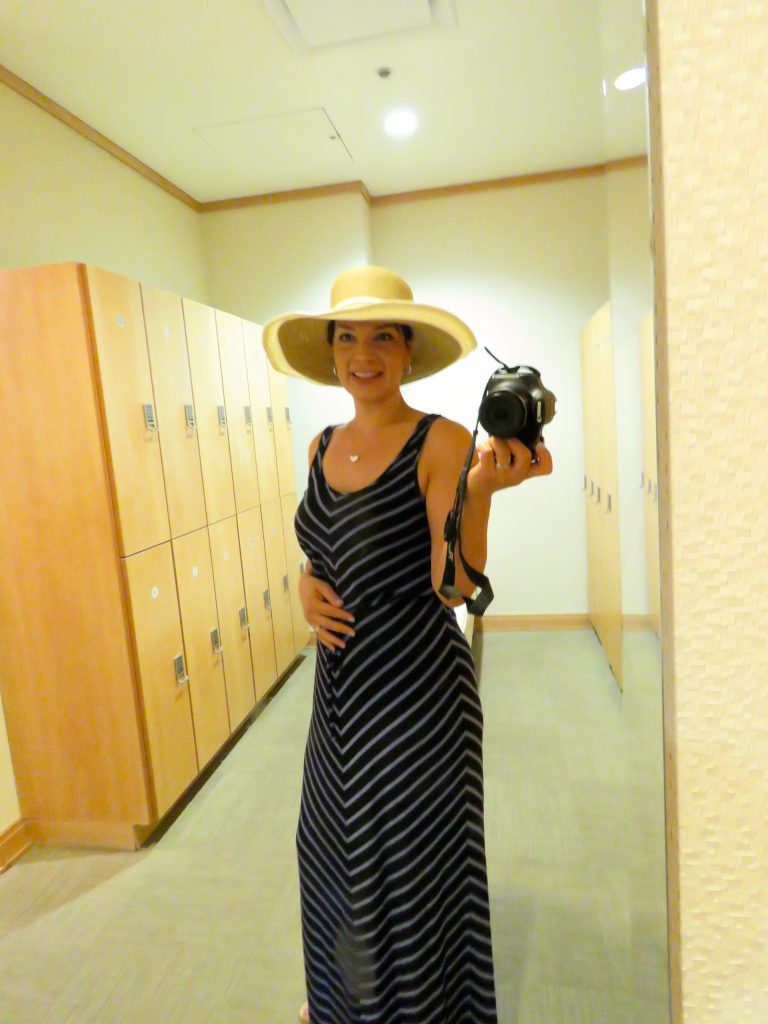 (the locker room area)
After I changed, I took a quick look at the gym and went straight to the pool area. Lizeth met me there when she arrived. We had a nice day! We spent most of the day sitting by the pool and catching up. Initially we had to sit by the jacuzzi area because those were the only two chairs available next to each other. Eventually, when other guests left, we were able to move to two chairs by the pool.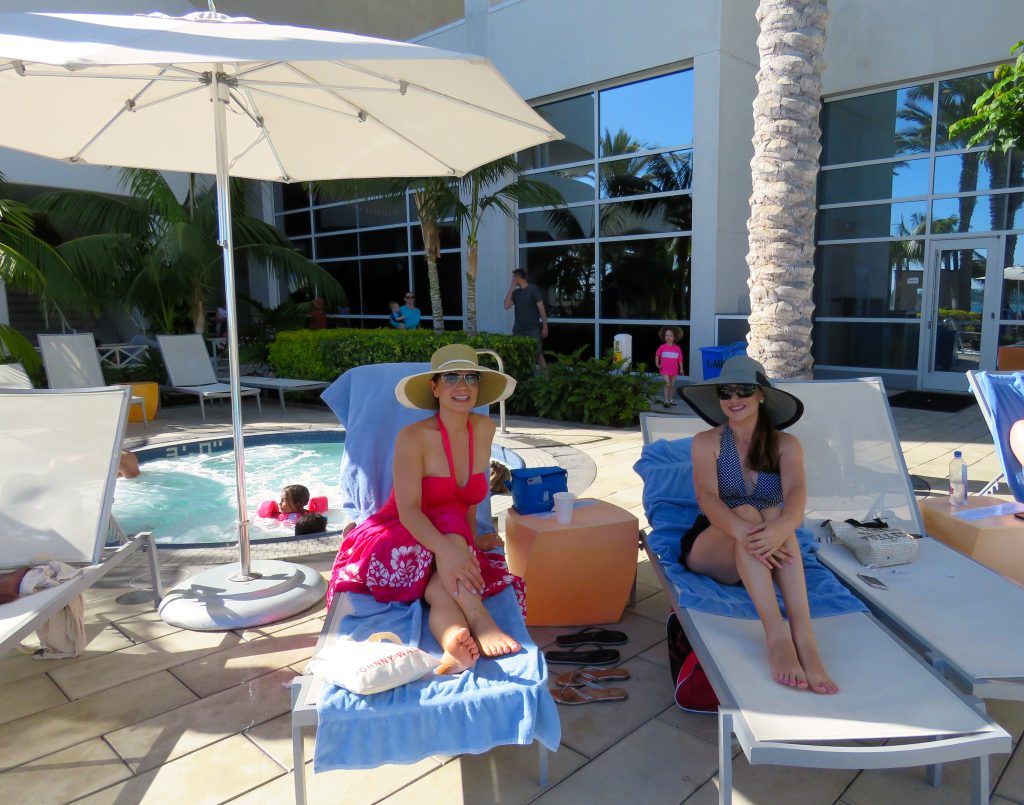 Before our treatments, we went back to the spa to enjoy some time in the steam room. That is one of the best features of this Spa! The level of steam was high, it has a nice aromatherapy scent and a few options for music which guests can select. There were also extra towels just outside the steam room and small towels soaked in cucumbers infused ice water. Perfect for a steam room! After the steam room I took a shower and Lizeth headed to her treatment. I got a facial, which was fine. Lizeth got a massage and a mini-facial. She also said the treatments were good. She showered after her treatments.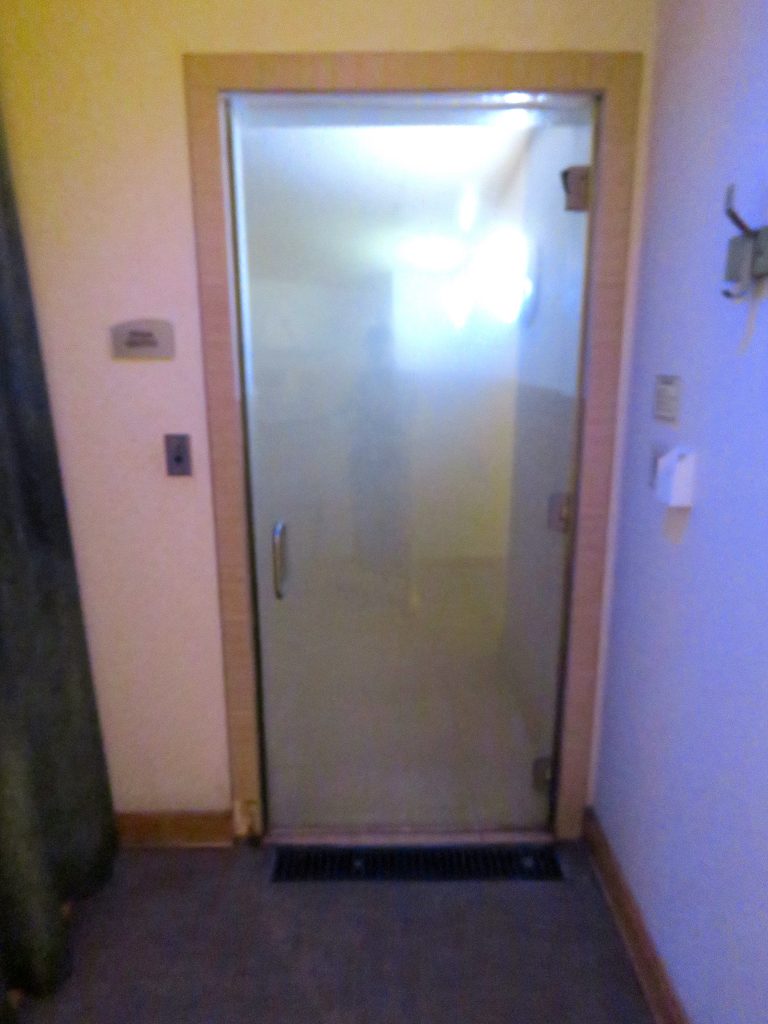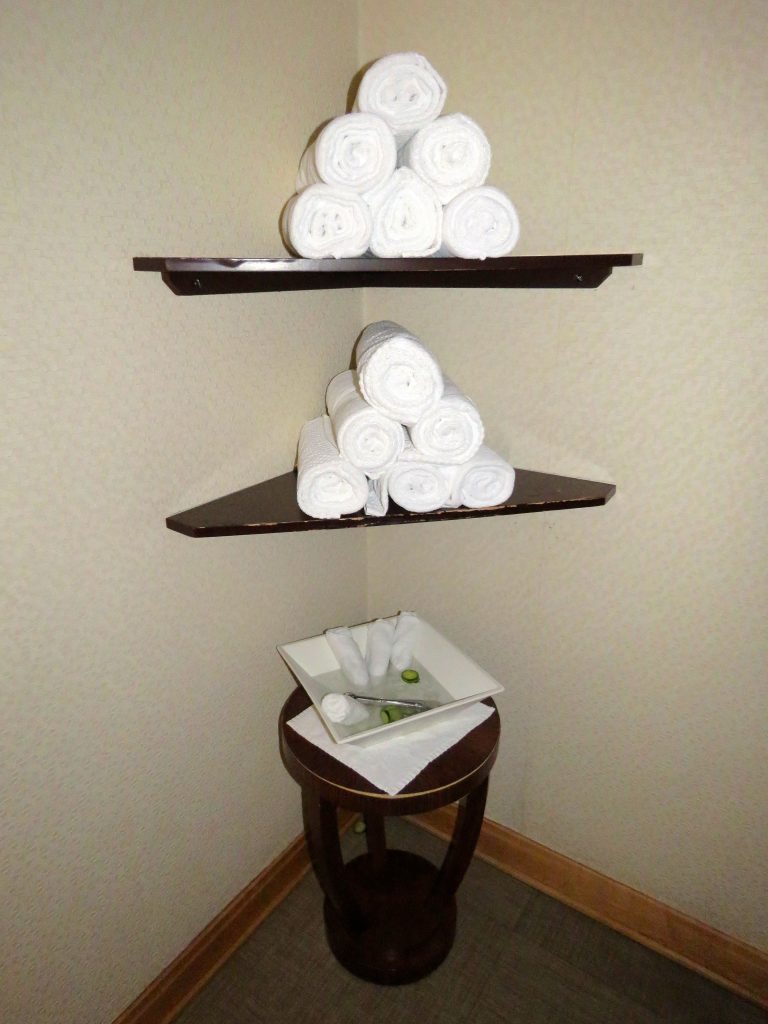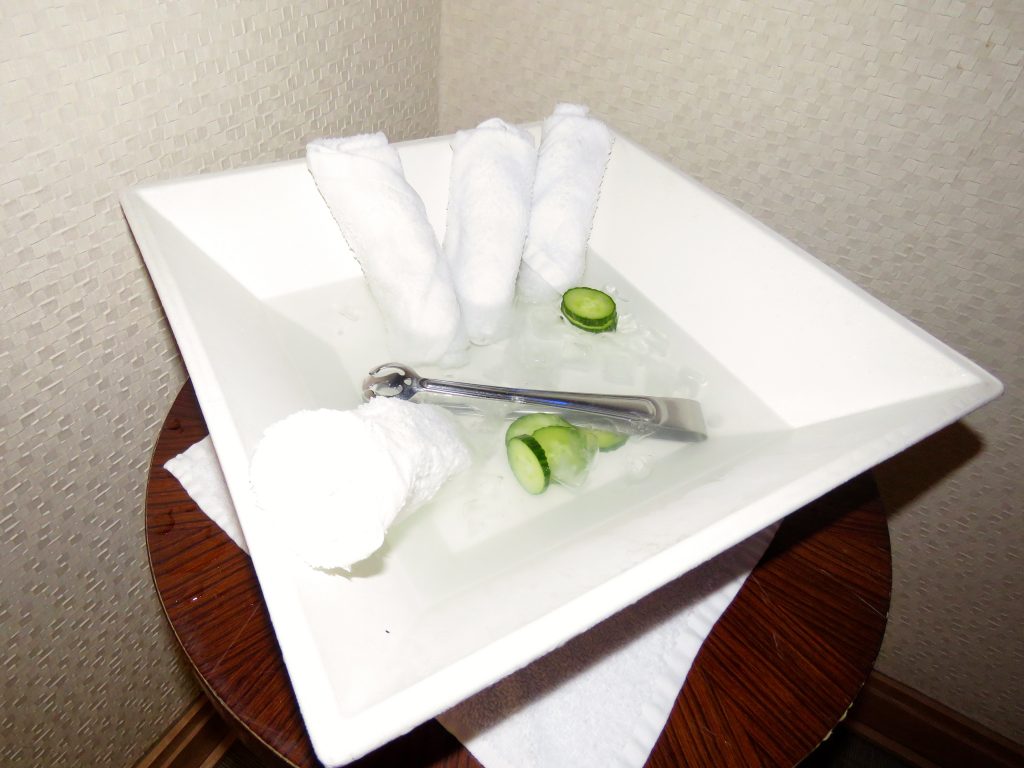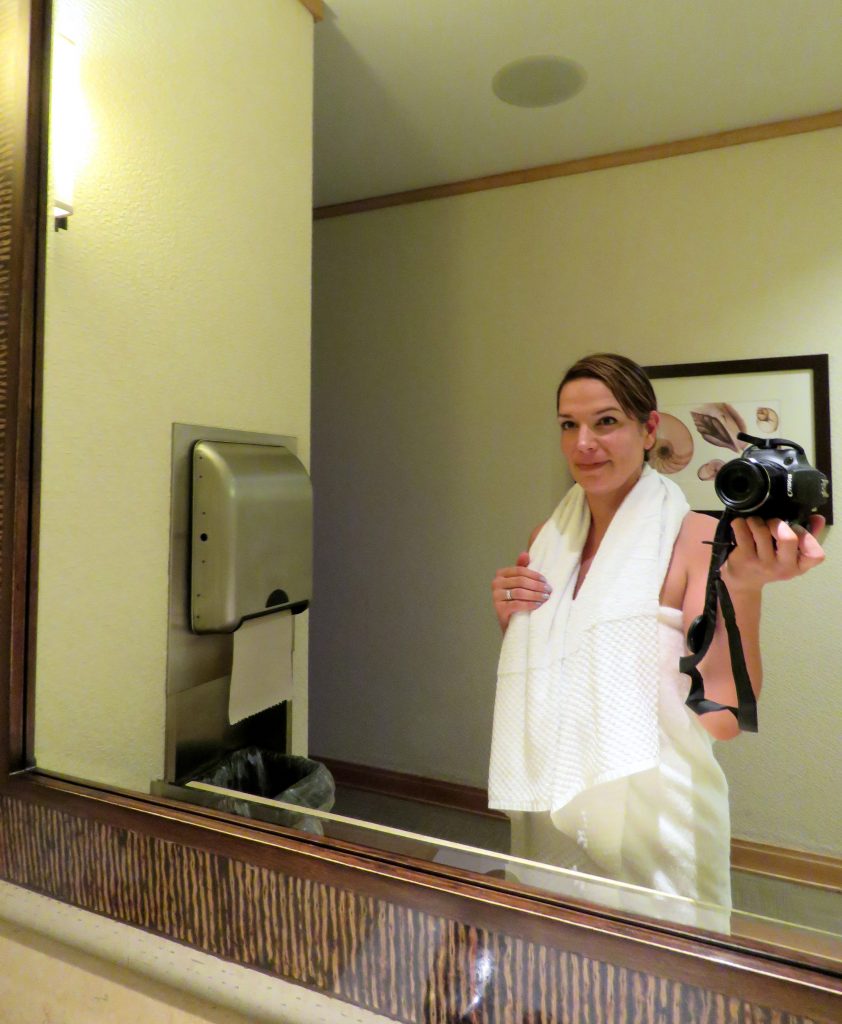 (feeling relaxed after the steam room)
The Spa associate which gave me the tour also informed me that they have a membership. It's actually a good deal, but at this point, I can't commit to purchasing the membership because I am not certain I would be able to schedule time every month to drive downtown for a facial or massage. The only things I didn't like about Spa Aquazul is the parking fee. The Spa will validate parking for three hours. But, if you plan to make it a spa day or have dinner with your friend at one of the hotel restaurants afterwards, parking at the Hilton San Diego Bayfront can get pricey ($35 for self-parking in garage, $50 for valet). The Spa at the Del (Hotel Del Coronado's spa) validated our parking for the entire day, as does the Spa at the La Costa Resort and other spas I have been to. This is the first spa I have been to which only validates parking for three hours. Three hours should be sufficient if you only want to go to the spa to get your treatment, perhaps relax in the lounge for an hour or get a quick workout at the gym, or take a shower.
Would I recommend Spa Aquazul and would I return? Yes and yes. I would just try to find another option for parking or only stay for three hours.
Below are some pictures from our experience at Spa Aquazul. Hope you like them and find this information helpful! This post was not sponsored, I purchased my facial treatment. I simply like to share my experiences with you and to provide my opinion of places I visit in hope that they will be helpful to you.
When was the last time you went on a spa day with a girlfriend?
Hugs,
Paola

PS: One of the most amazing spas I have been to, The Auberge Spa at Calistoga Ranch in Napa! It feels like you are in a tree house spa, yet is so luxurious!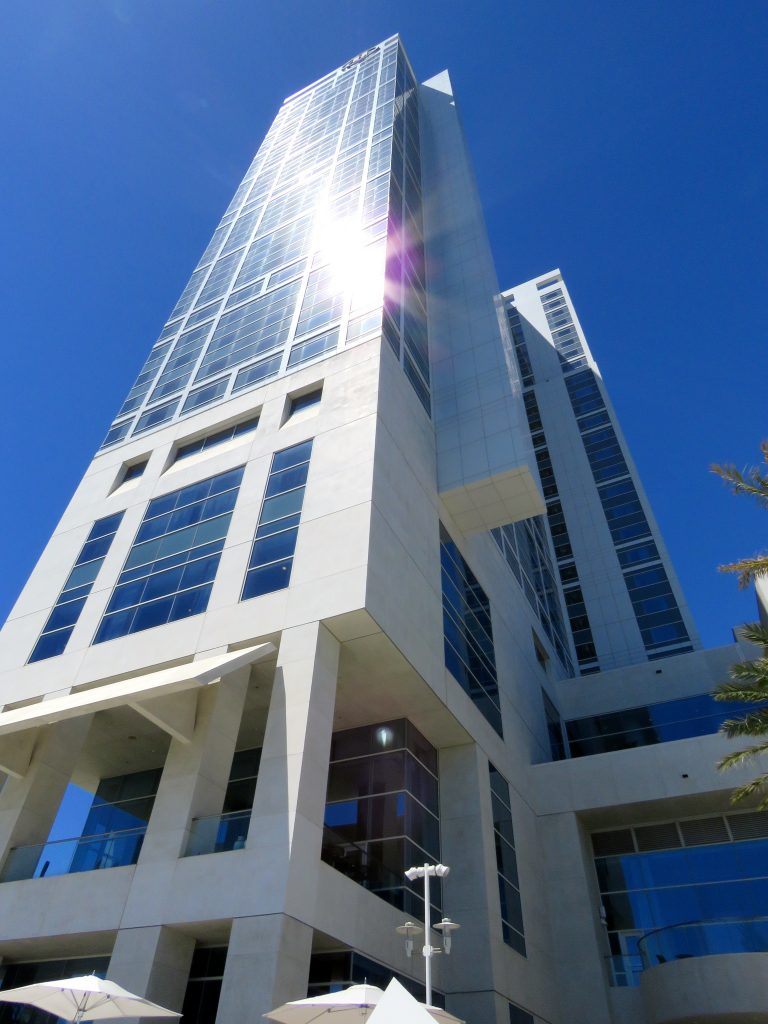 Arriving at the Hilton San Diego Bayfront.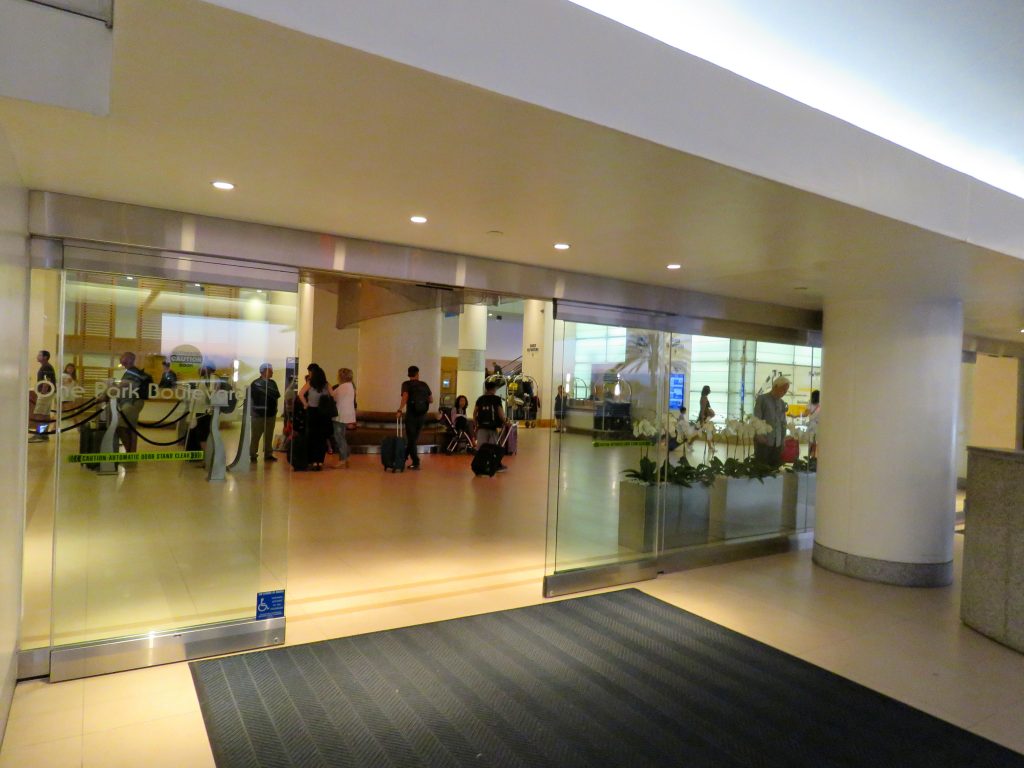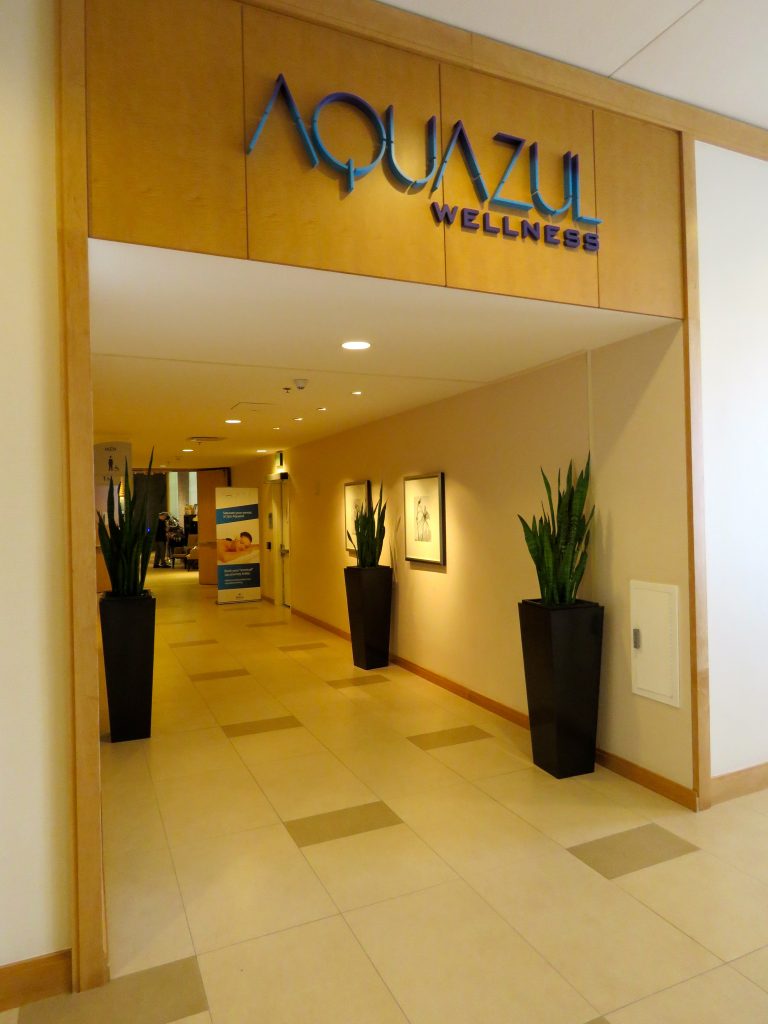 Spa Aquazul is located on the street level, next to the pool.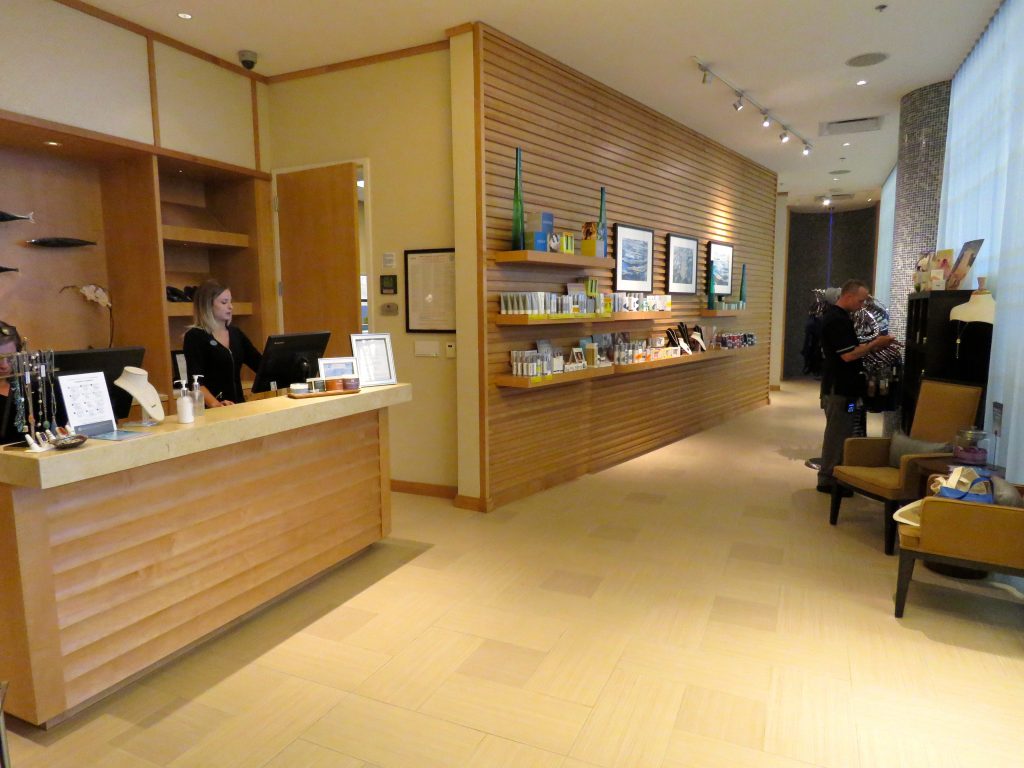 Lobby area.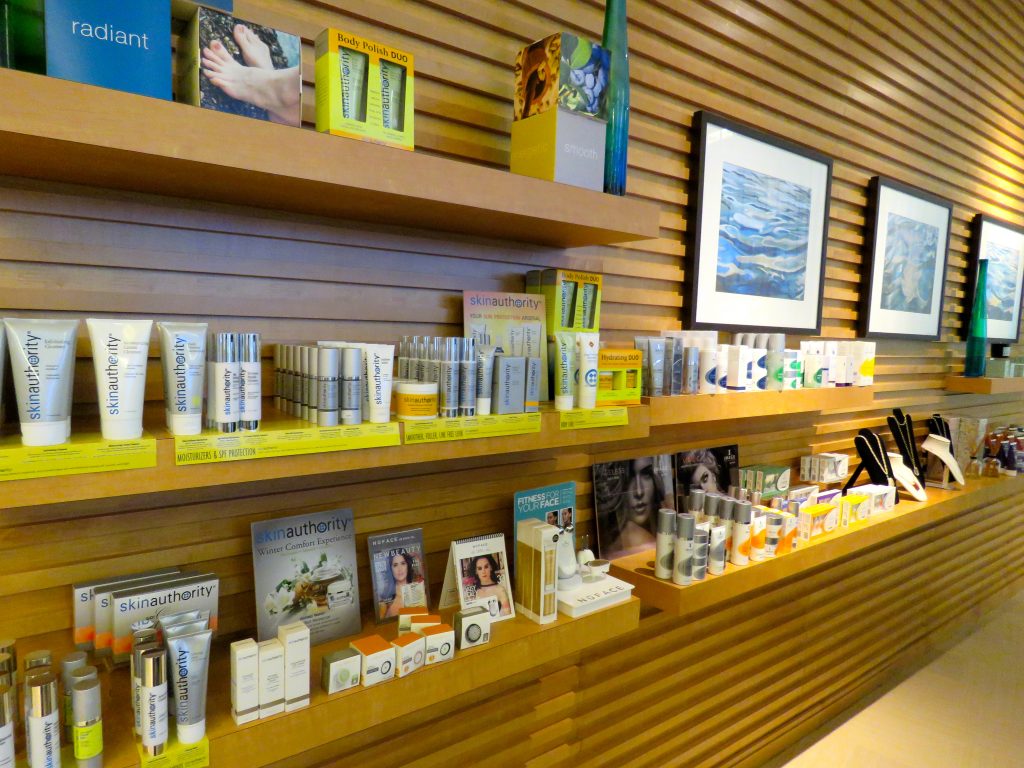 The Spa has a small retail section in the lobby area.
Spa's restroom area.
The shower.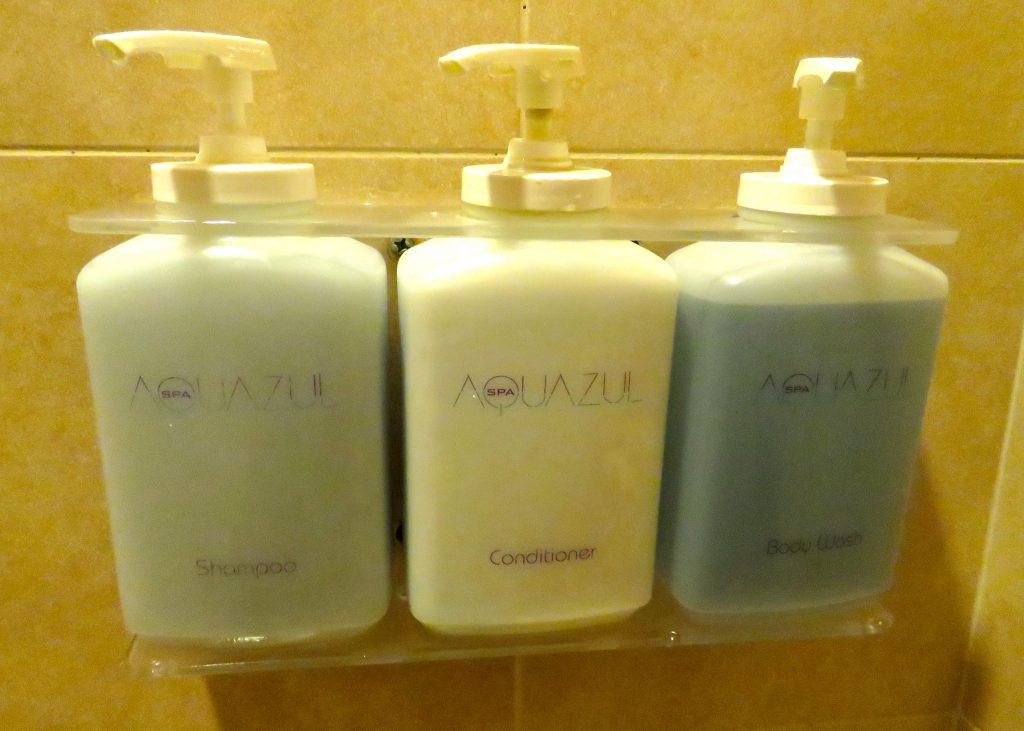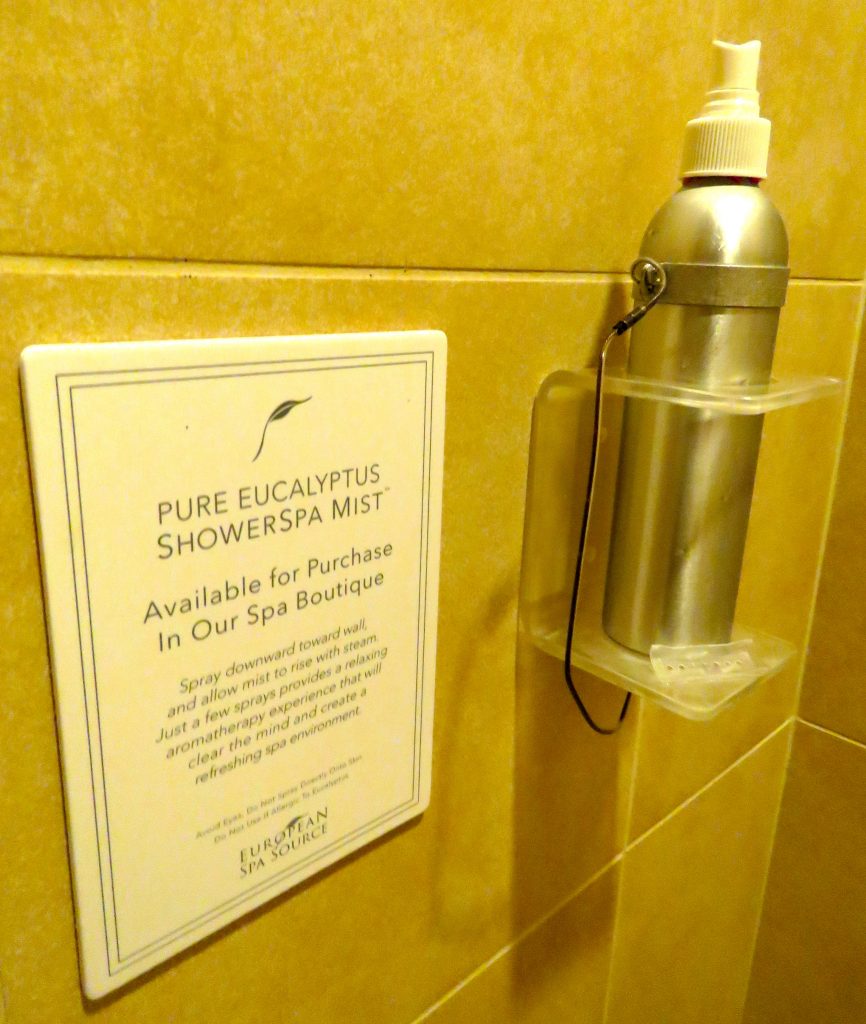 This Pure Eucalyptus Showerspa Mist was a nice touch. I sprayed a little of it right before I showered and it provided a more relaxing aromatherapy experience.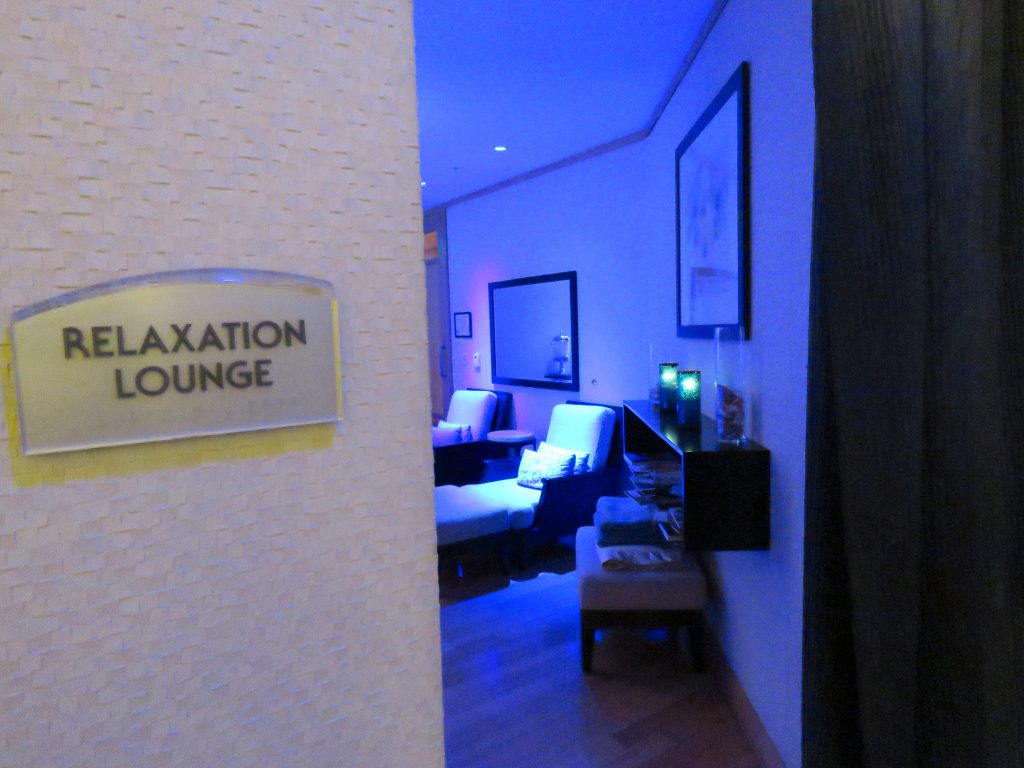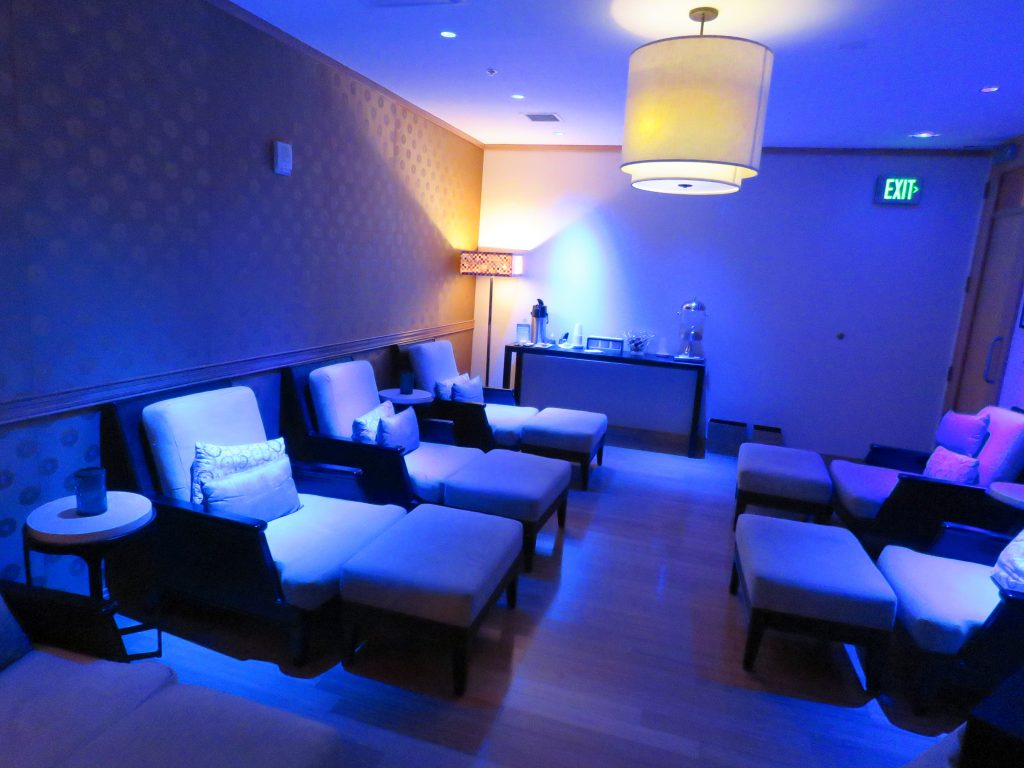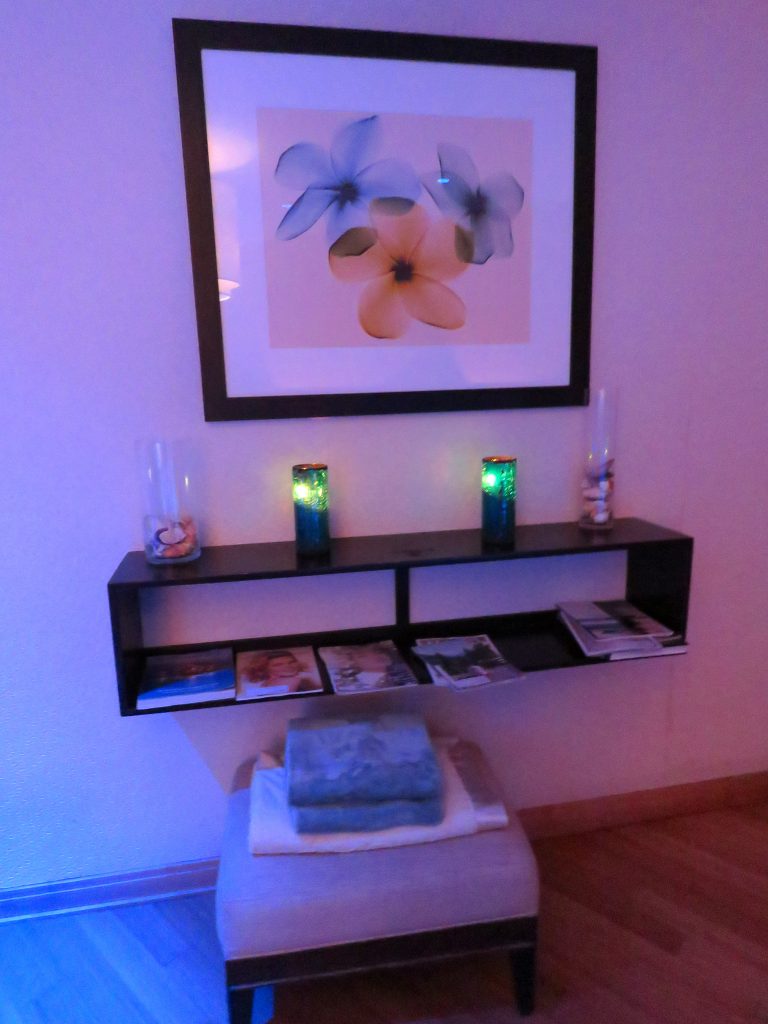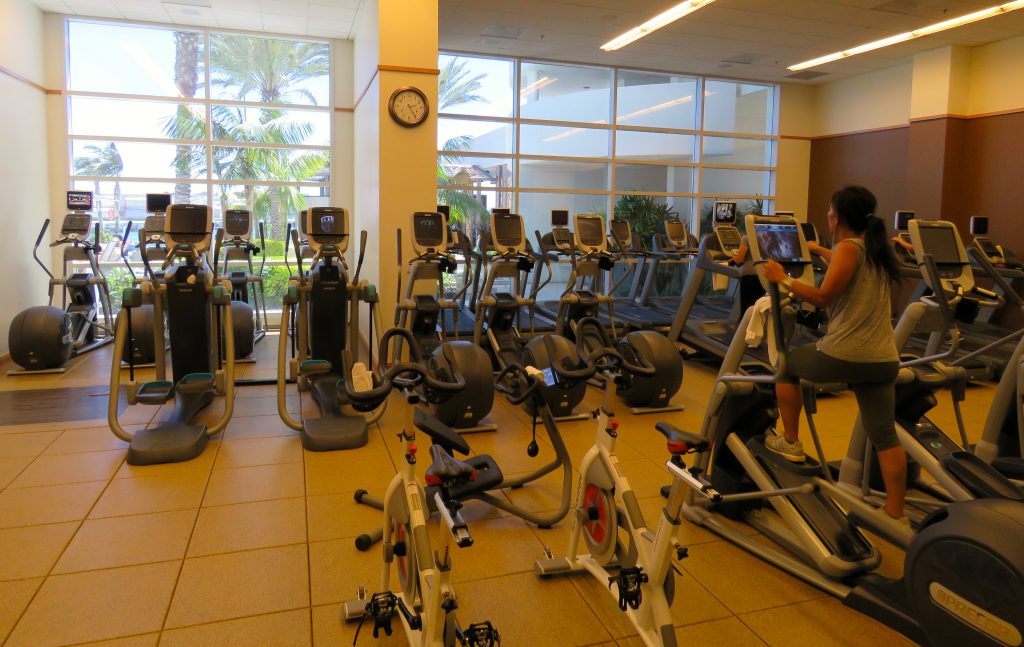 There was towel service and water provided at the gym…and cold towels inside the refrigerator, that's a nice touch!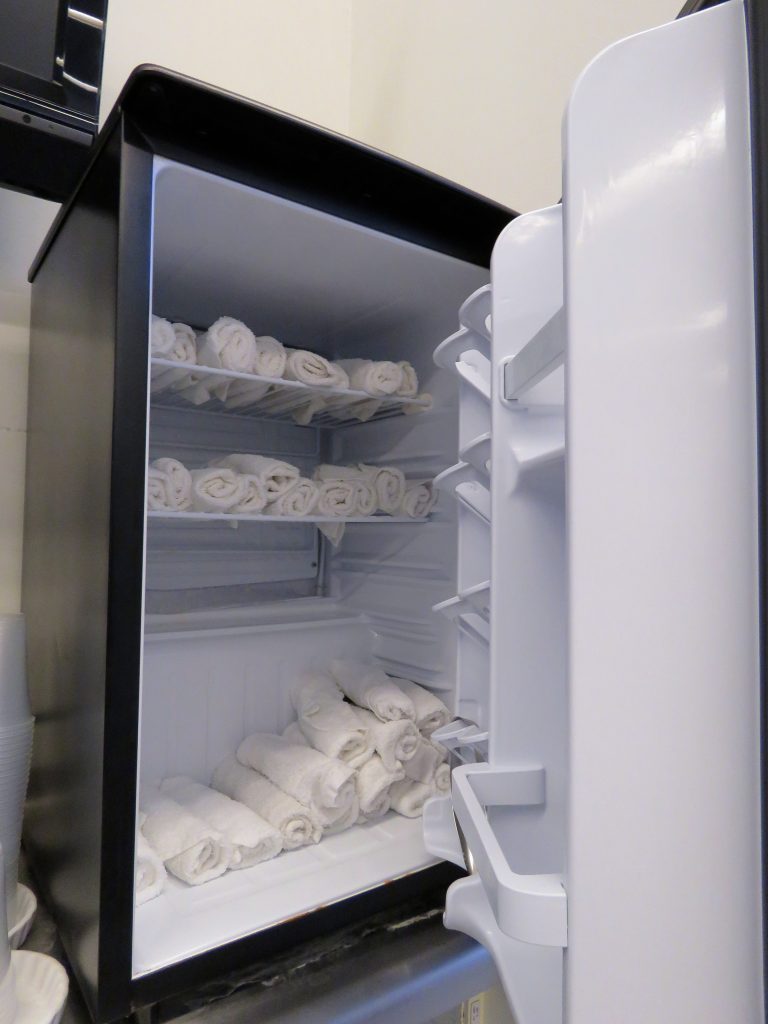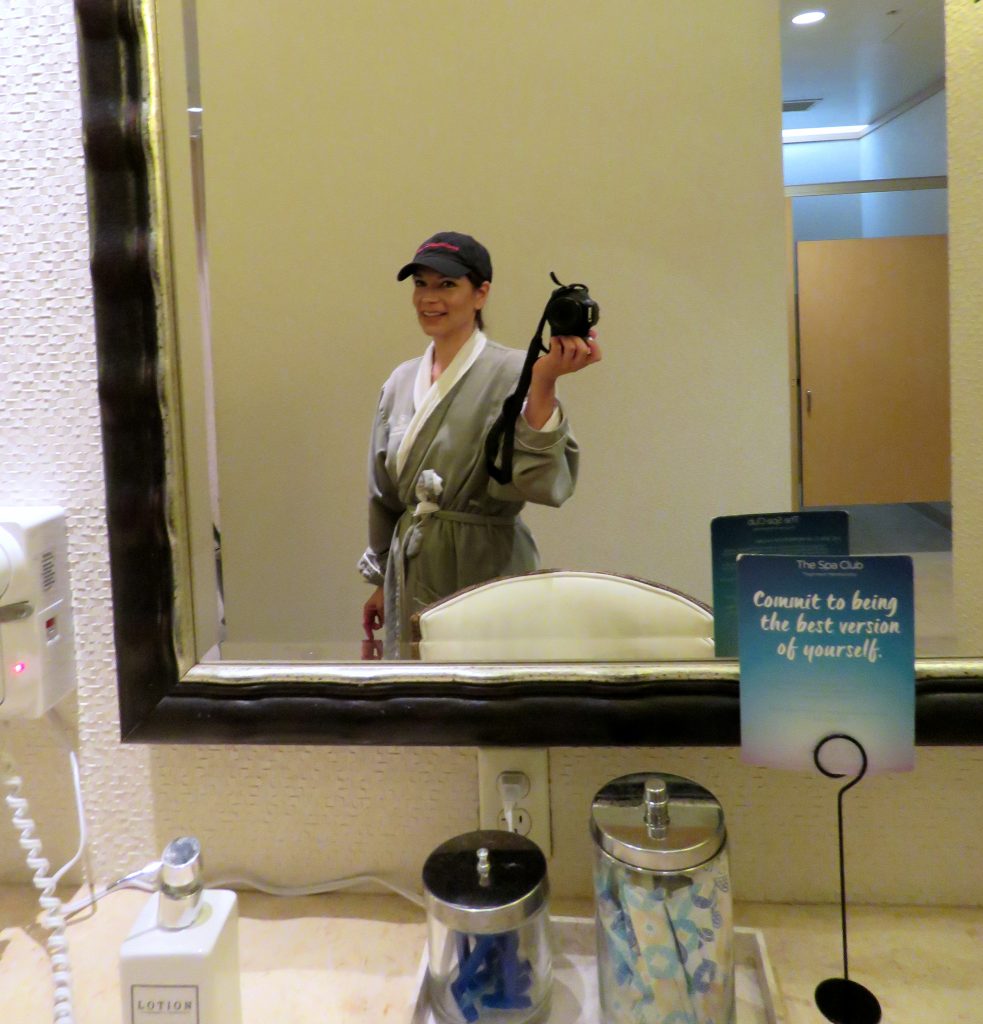 Enjoying our spa day!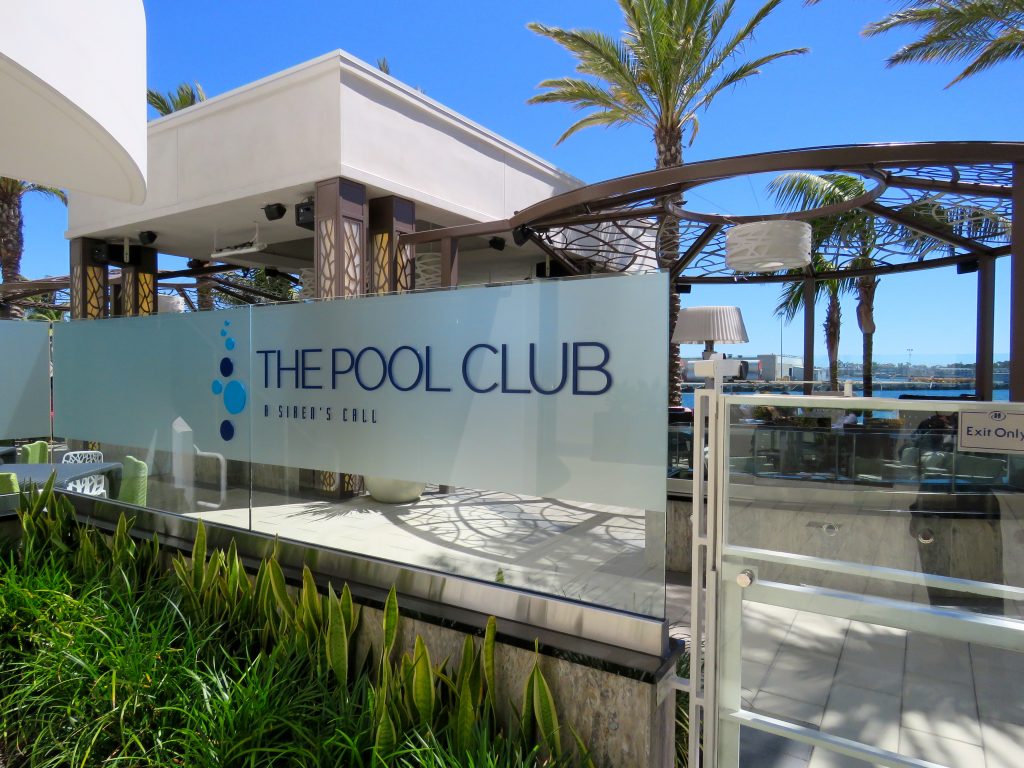 There is a restaurant with a bar right next to the pool area. There were menus on the tables next to the lounge chairs by the pool. Guests can order food or drinks from the servers which are walking around and available to take meal orders.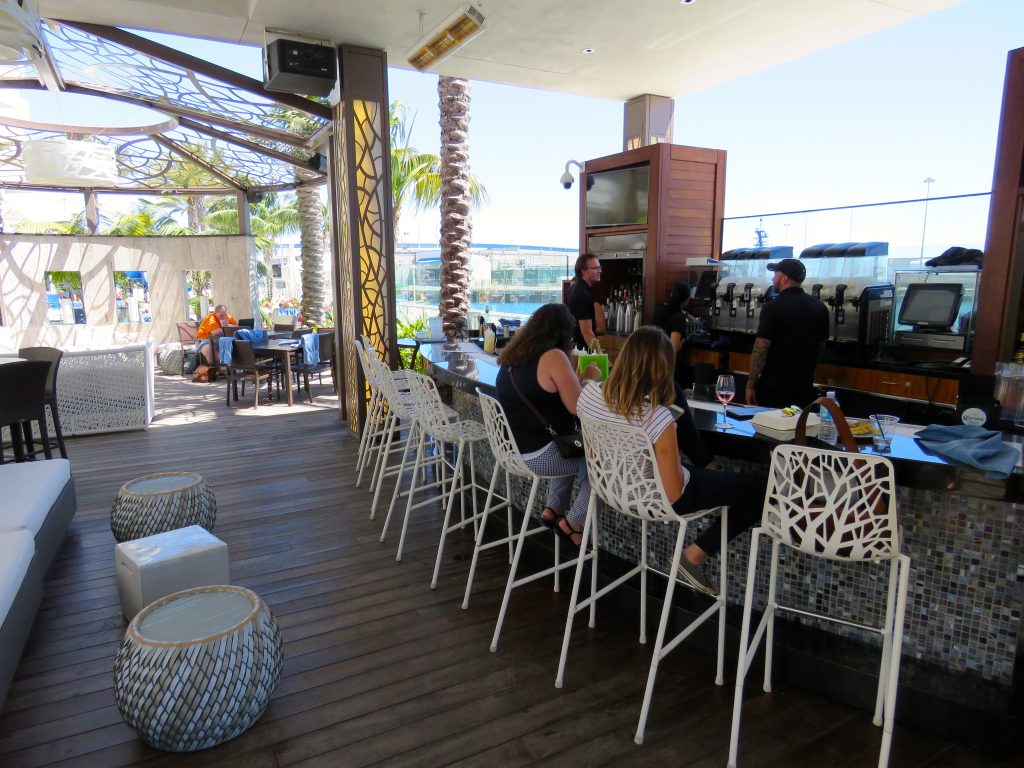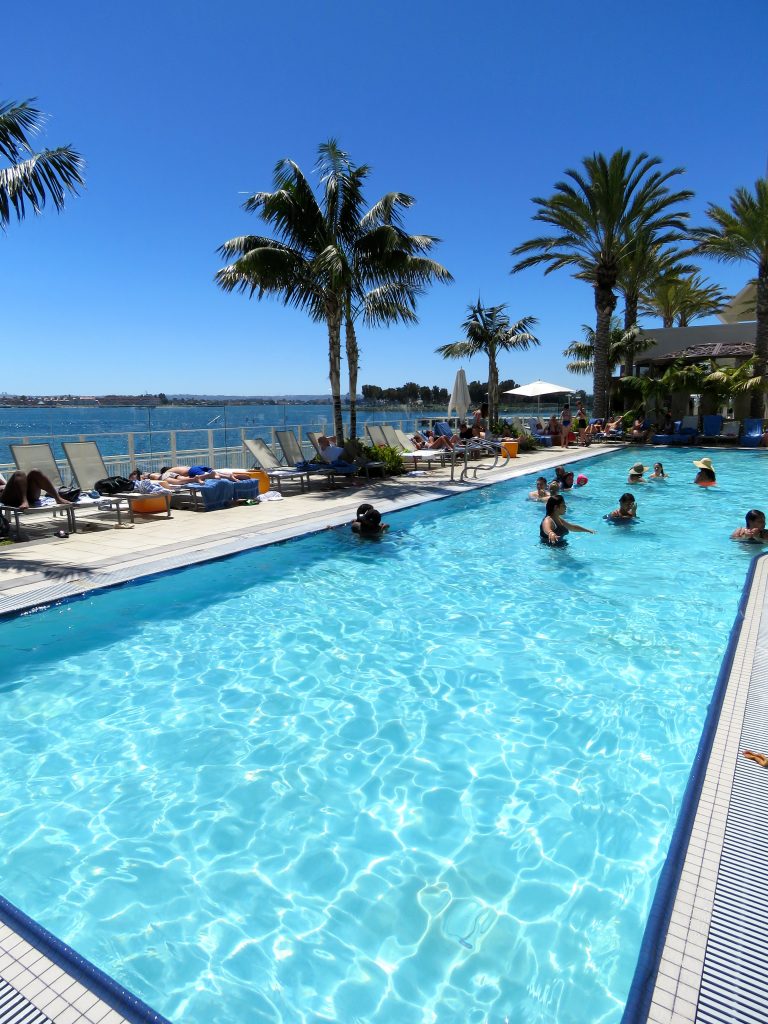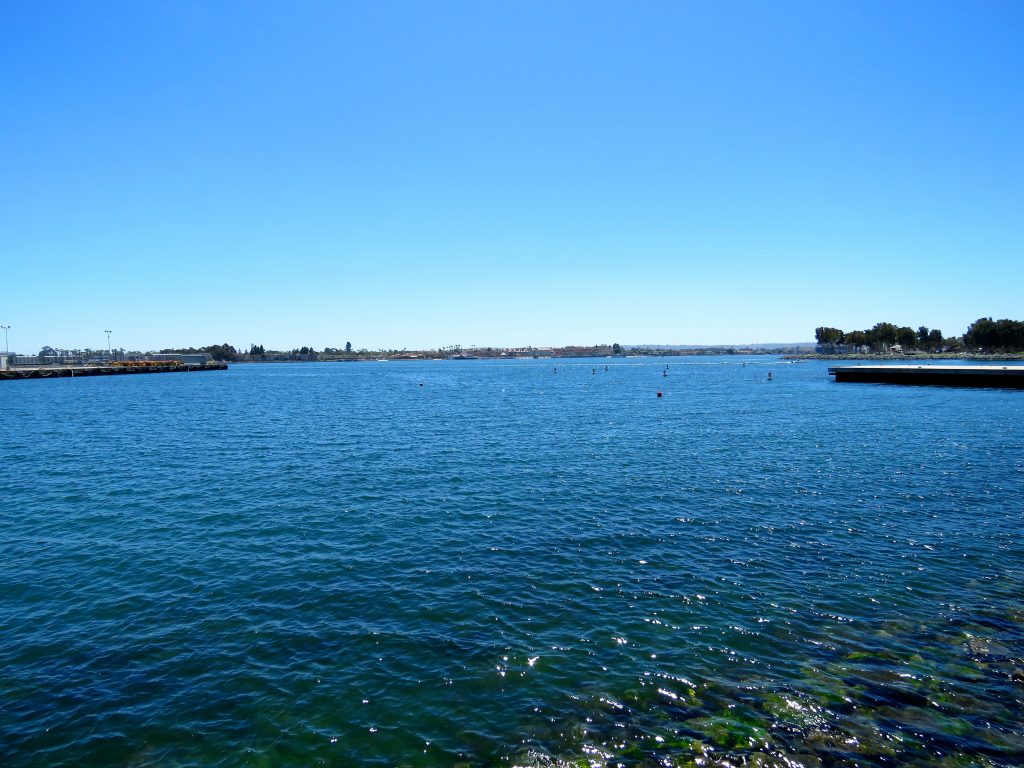 The view of San Diego bay from the pool area.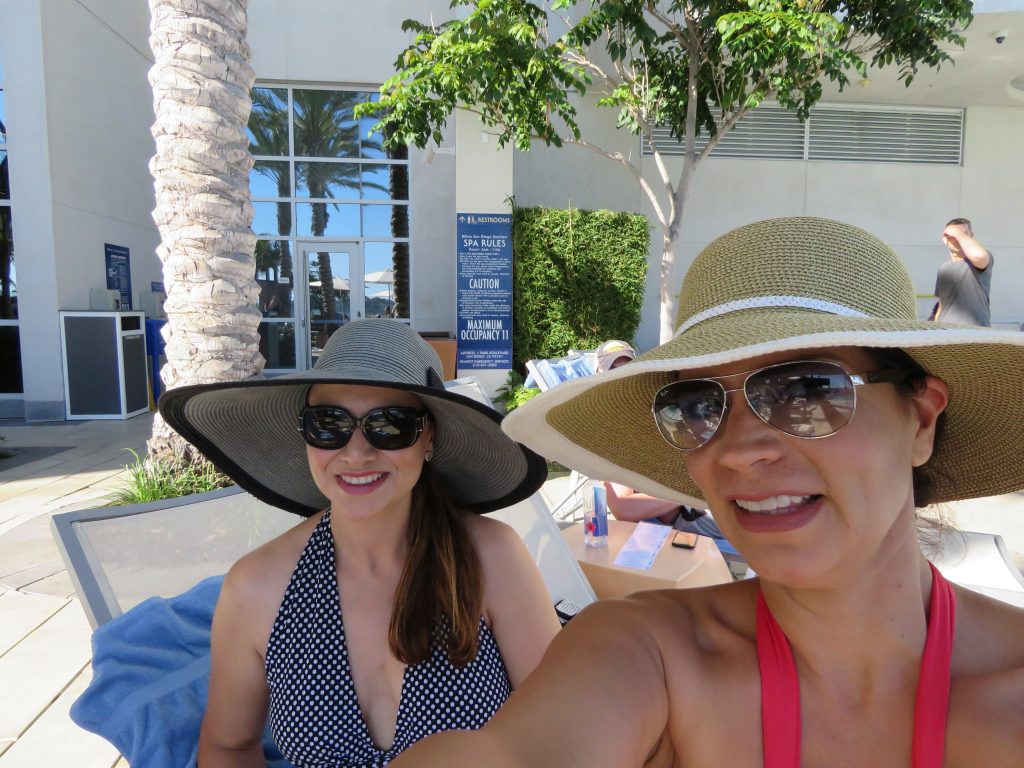 Lizeth and I enjoying our time relaxing by the pool.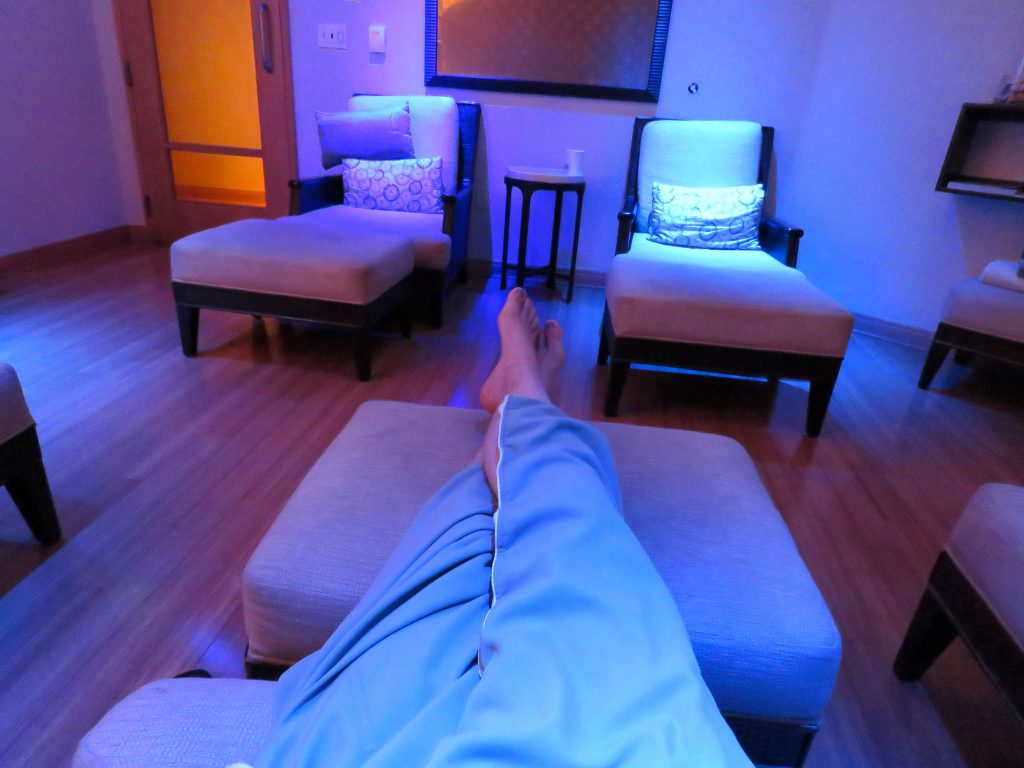 I meditated for a few minutes in the Relaxation Lounge prior to my facial.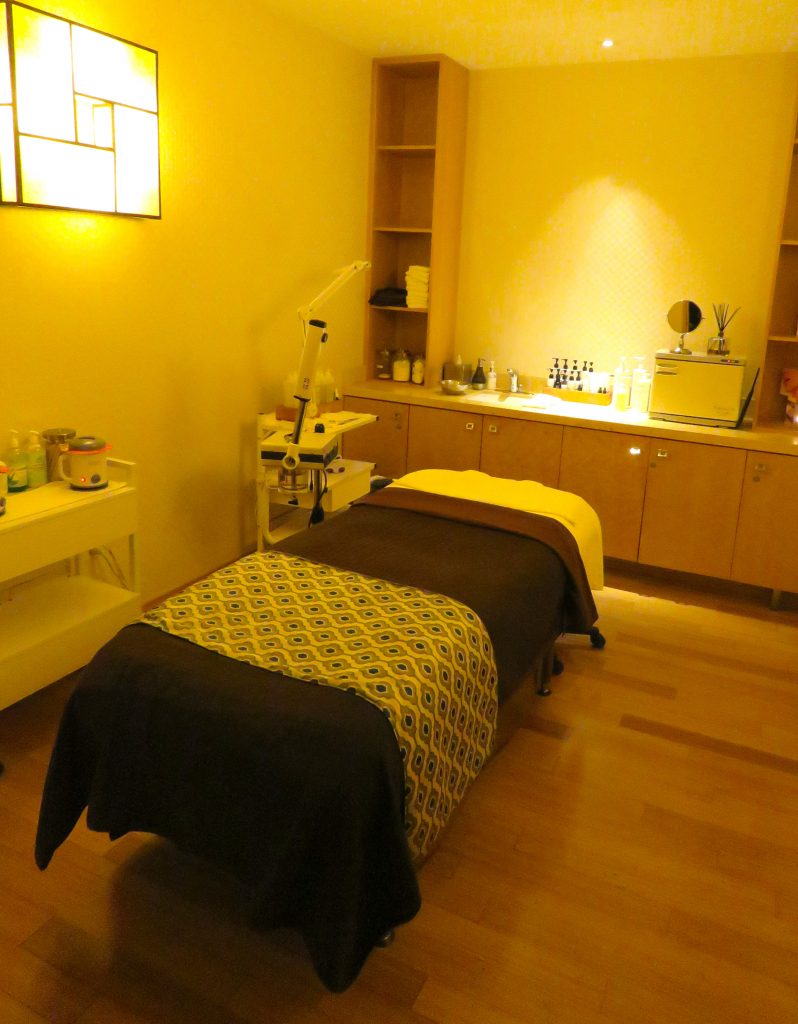 The treatment room where I got my facial.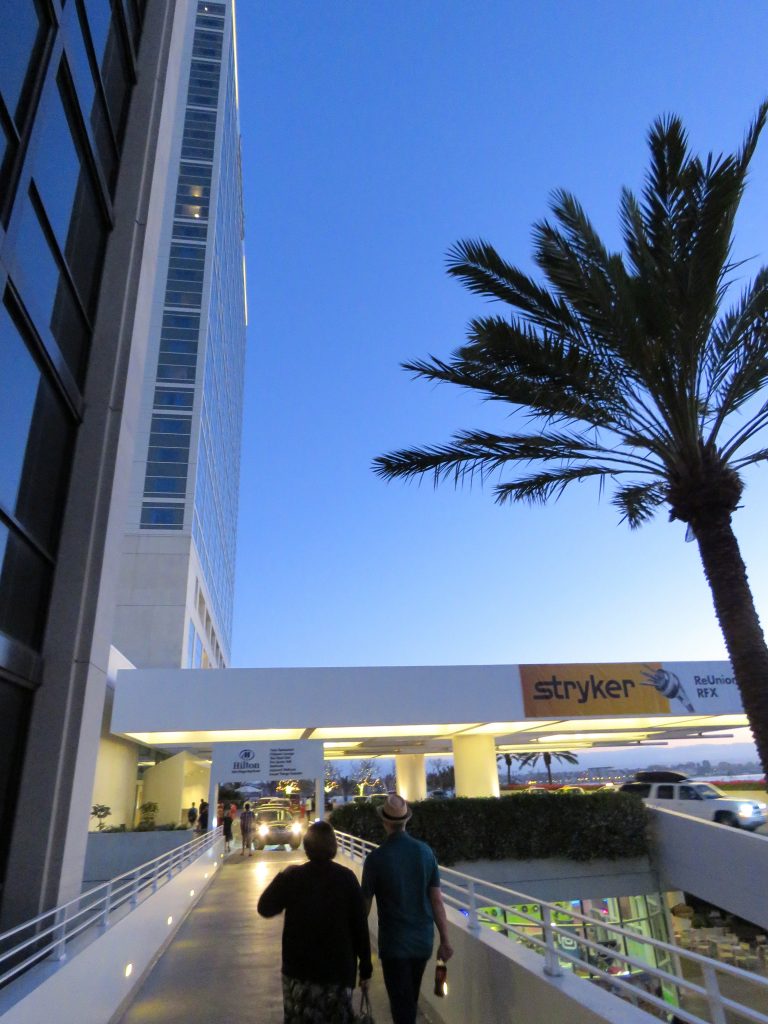 We left at 8:00pm, when the spa closed and the sun was setting. It was a beautiful summer evening!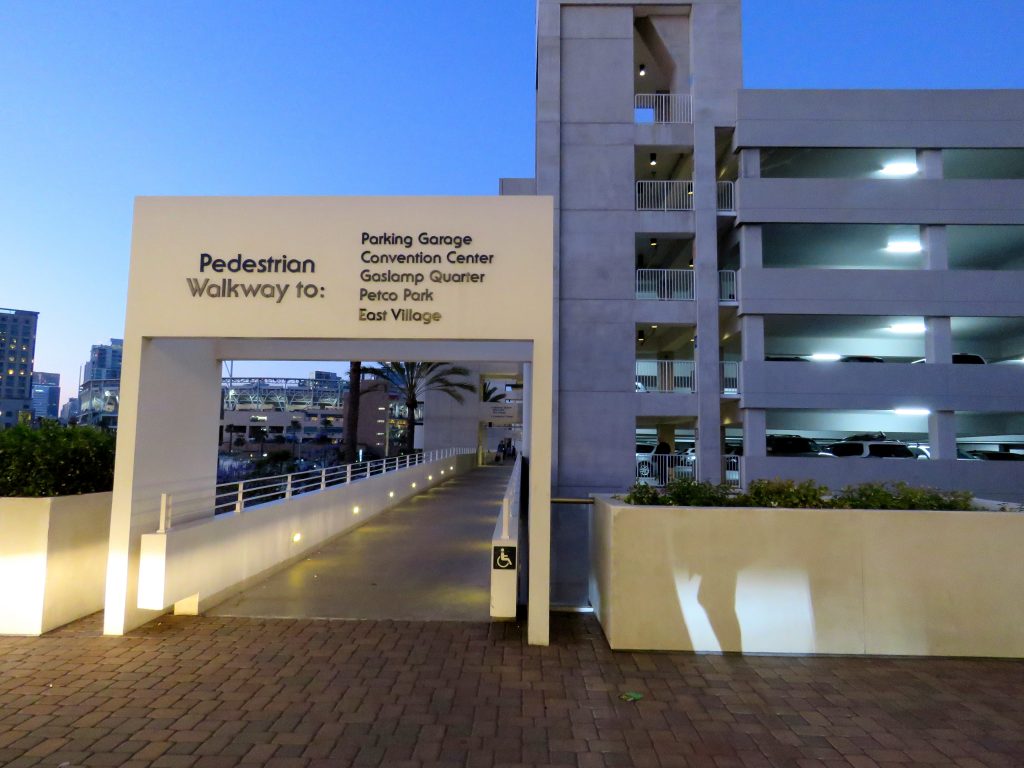 Walking towards the parking garage. The Hilton San Diego Bayfront is a large resort and it took us a few minutes to walk from the Spa to our cars.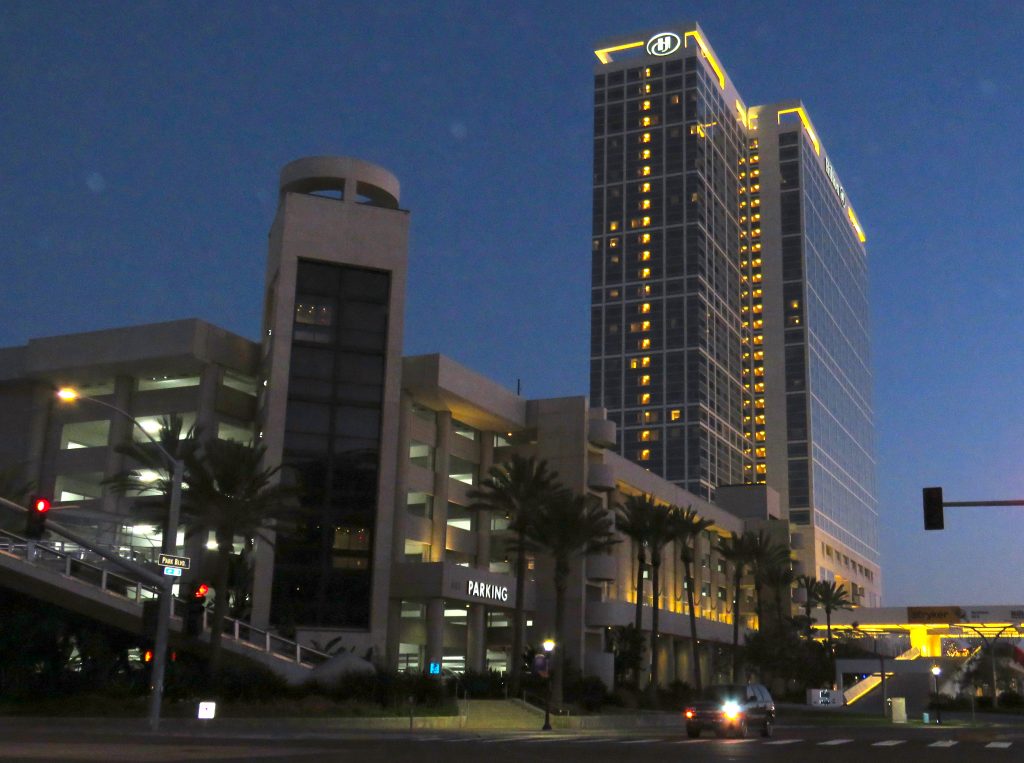 The Hilton San Diego Bayfront.