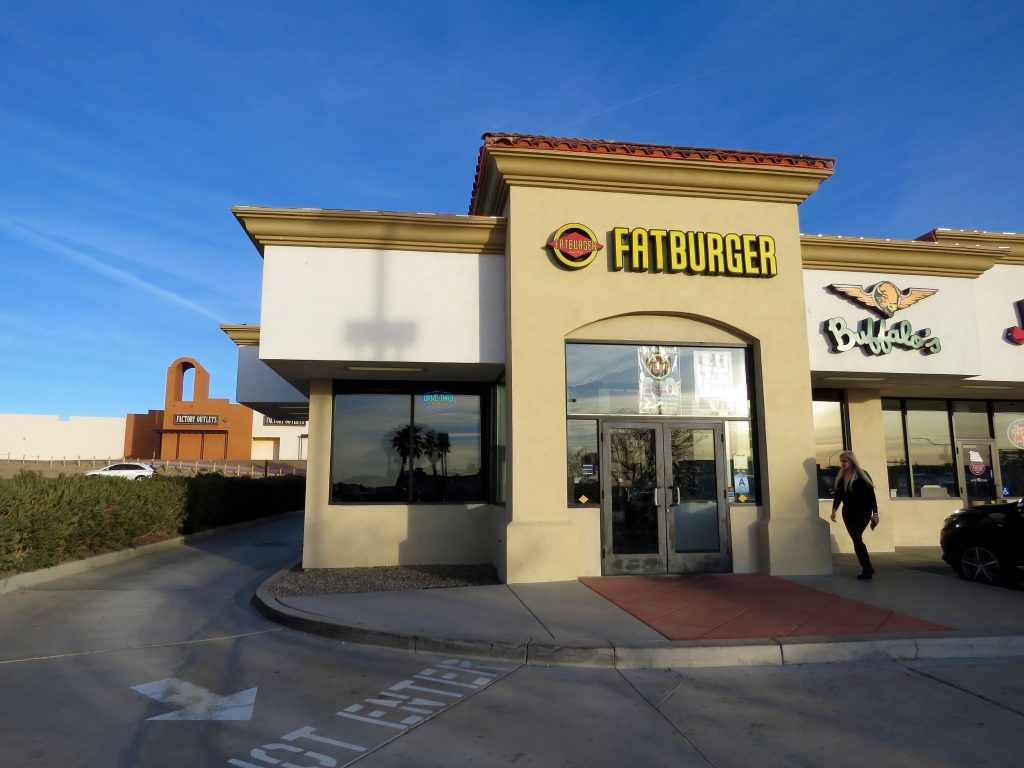 We went to Las Vegas a few weeks ago and decided to drive (from San Diego) because we were bringing our toddler, Alessandra with us. Luckily, she is a good traveler, both for road trips and flights. She has been traveling with us since she was four months old (we waited to travel with her until she was past the three month mark). We have driven to Las Vegas on two separate occasions and usually stop at Barstow, in San Bernardino County, which is kind of the middle point between San Diego and Las Vegas. There are several gas stations and multiple options for food, from fast food to sit down restaurants, and of course a Starbucks.
We left the house a little before 1:00pm. By the time we made it to Barstow, it was about 3:30pm, time for either a late lunch or an early dinner. I had a light breakfast and ate some snacks in the car, so I wasn't very hungry. When my hubby (Jim) asked where I wanted to eat, I told him he could choose since I would probably just order something small. After gassing up the car, we headed across the street to Fatburger. Neither of us had eaten at a Fatburger in the past.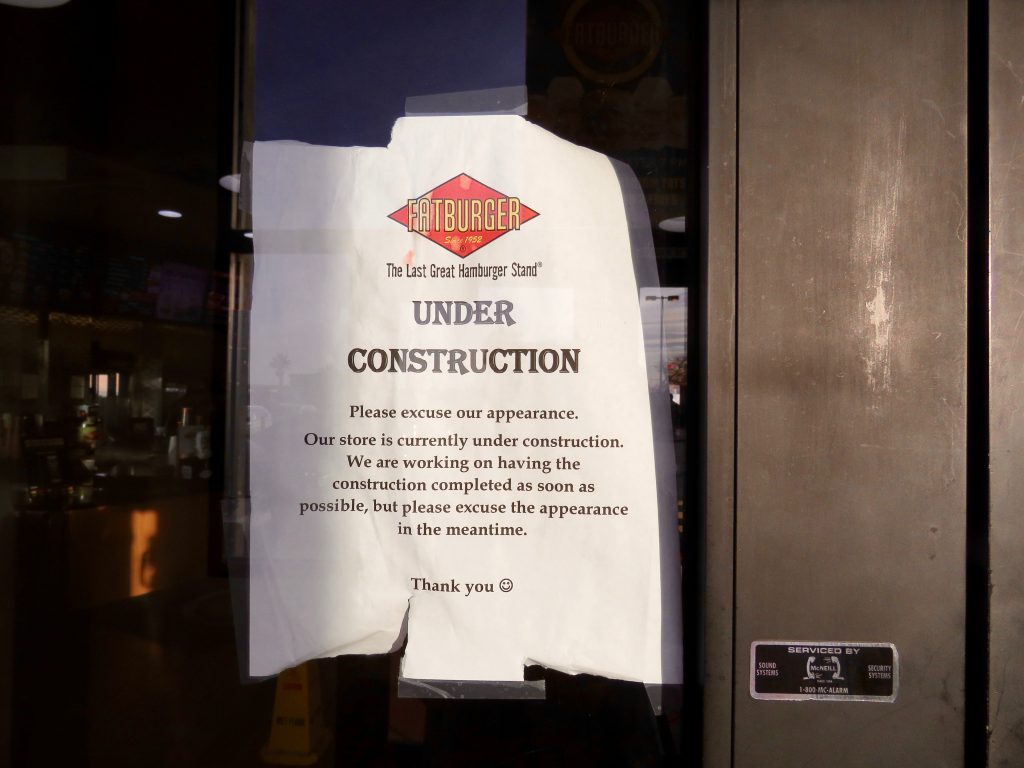 This particular Fatburger was undergoing some renovations, but overall it was fine and the remodeling changes were not visible from the main dining room.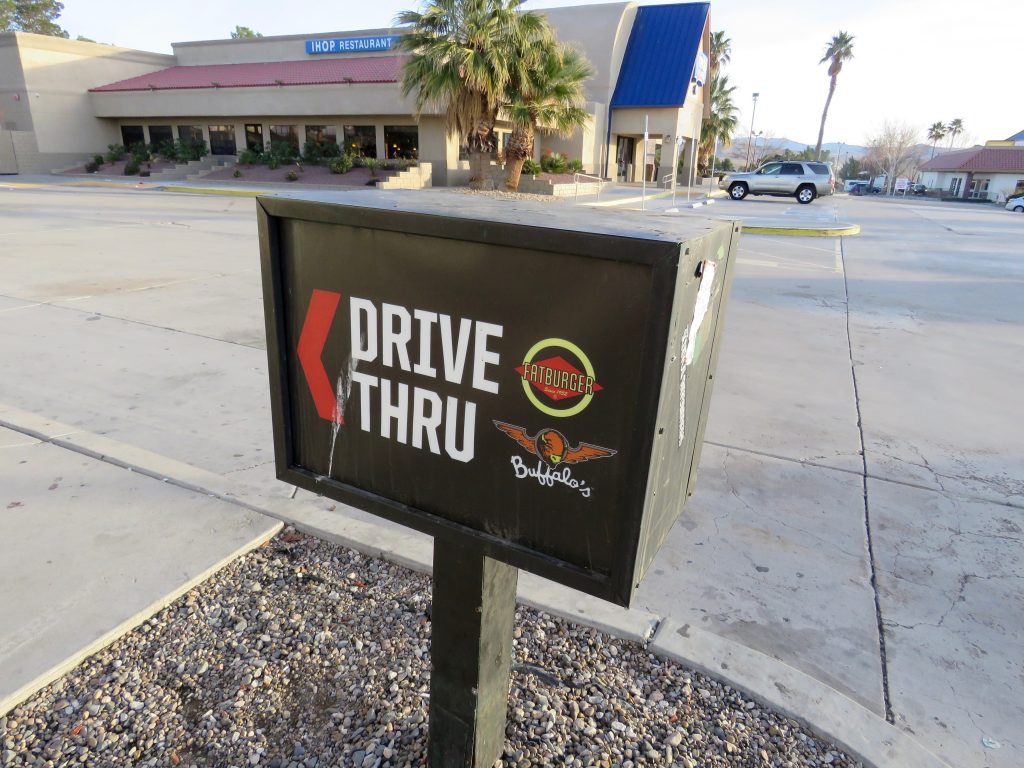 As the name indicates, this restaurant serves mostly hamburgers. There is an option to dine-in or order at the drive-thru. We decided to go inside because we wanted to stretch our legs and this was our rest stop during the drive to Las Vegas. It is also important to us to stop on road trips to let Alessandra run, stretch and so I can check her diaper.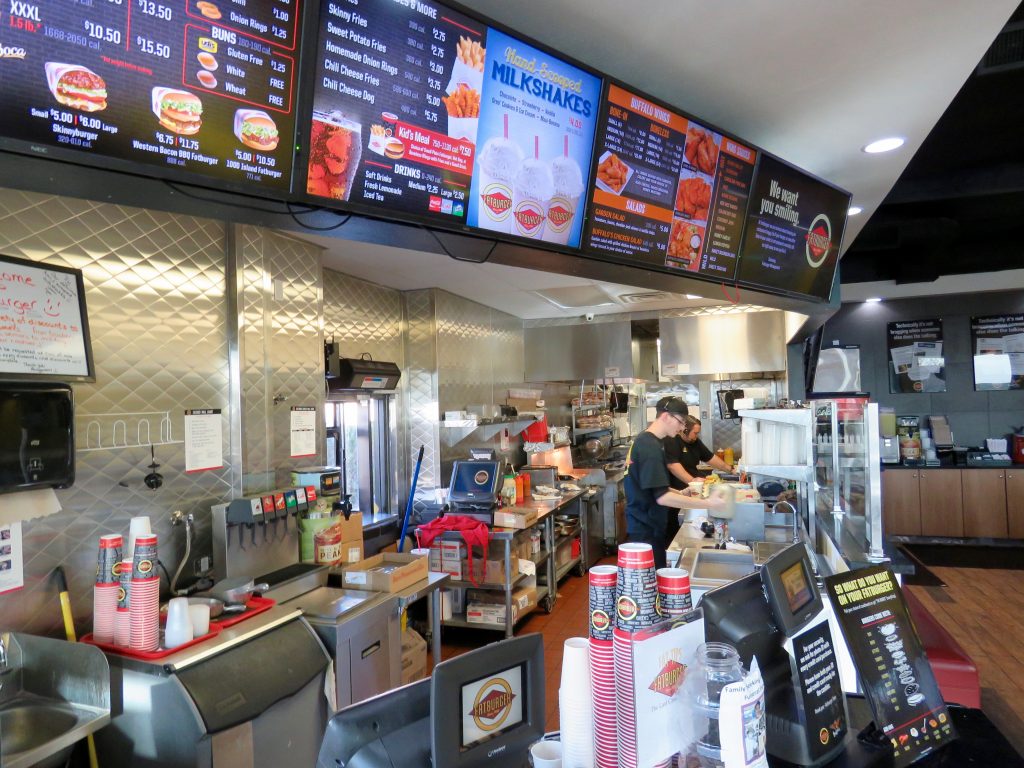 We ordered at the register. There are several hamburger options and one can customize the options for the items you want included in your burger, ie: bacon, cheese, etc. Jim ordered a Western BBQ burger, skinny fries, and a Maui milk shake. I ordered onion rings. Our bill was $18.59. I don't eat hamburgers often, but was curious to try Jim's burger since I've heard good things about Fatburger. There were only two other families at the restaurant when we arrived, they were both already eating. It took a little longer than usual for our food to come out. By usual, I mean compared to other hamburger or fast food restaurants. I took this as a good sign. A sign that the hamburger may be cooked fresh.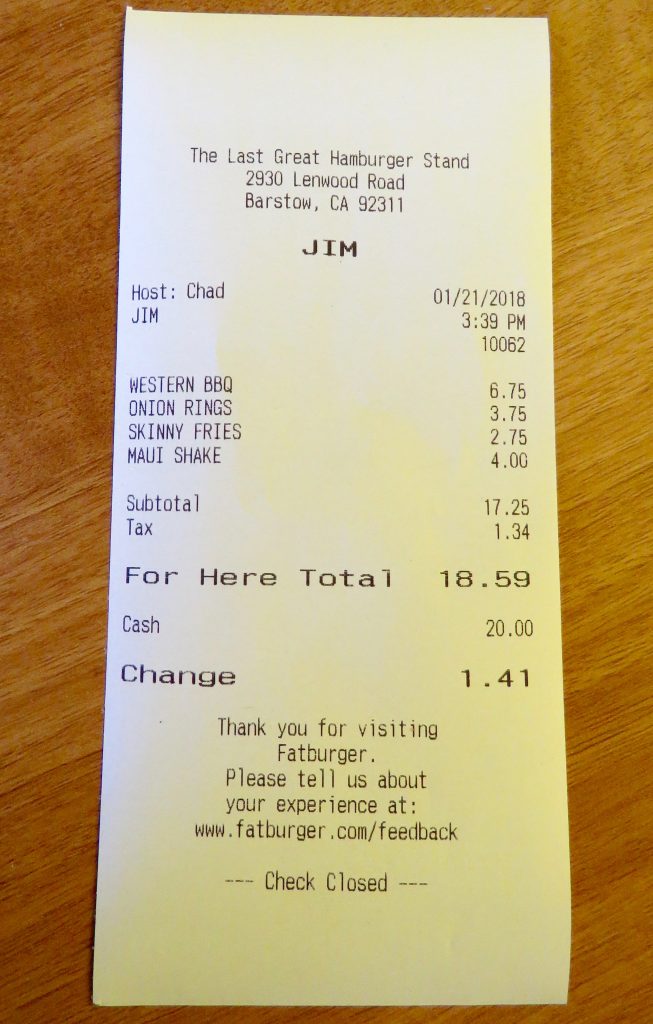 The shake was ready before the meal. My onion rings arrived with Jim's food. All of the food was nice and hot. The onion rings were ok, tasty, kind of on the thin side, I didn't find anything extraordinary about them. My favorite onions rings are at a small rib restaurant in Twenty-nine Palms and locally at Phil's BBQ, which are both hard to beat. Jim's burger looked juicy and delicious. I took a small bite and it tasted like the fresh ground beef hamburgers mom used to make when we were kids. It was tasty! The shake was also ok, nothing extraordinary, in my opinion.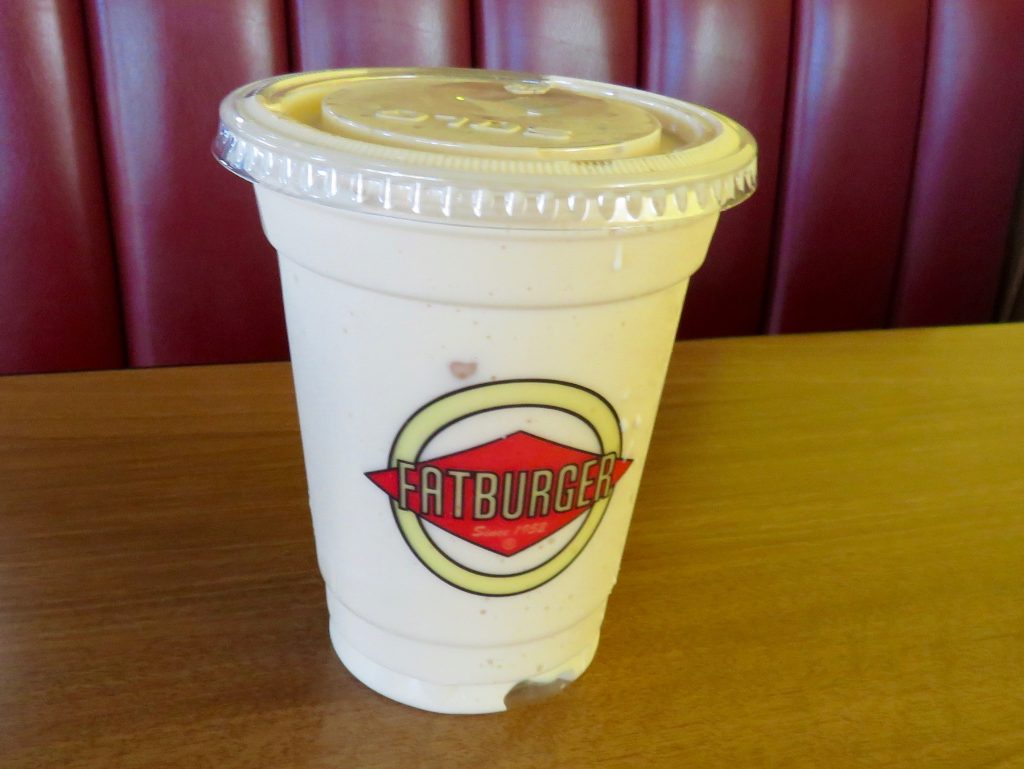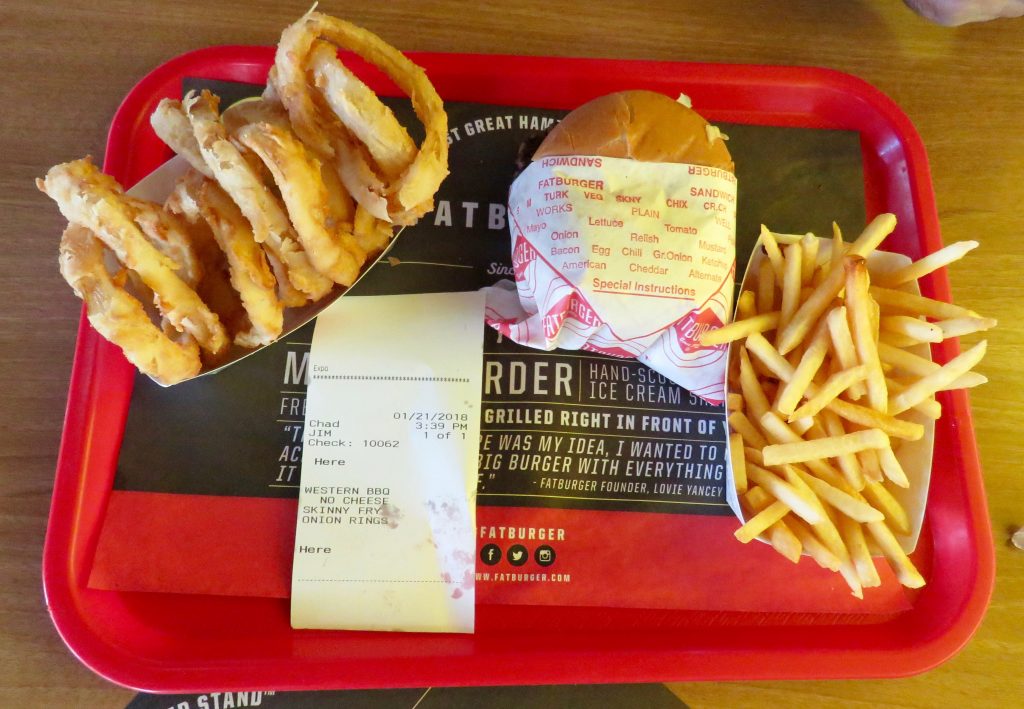 The drinks are self-serve, which is good if you are thirsty from the long drive and want an extra re-fill before you leave or to take with you on the road. On a parenting side, the restaurant was casual and family-friendly. There were multiple high chairs available, the bathrooms are clean and there is a changing table. Parking is free and available right outside the restaurant. There is a Buffalo's, Jersey Mike's Subs, and a Starbucks next door. I went to Starbucks before we got back on the road.
Overall, I would give Fatburger an 8 (out of 10) for the tasty hamburger (Jim agrees) at a casual, drive-thru restaurant. The onion rings are a 6 or 7, depending on the thickness of onion ring you like (these were on the thin side and I prefer thicker onion rings). The shake gets a 7, thick and flavorful, but nothing you can't find at another fast food restaurant. The staff provided normal customer service. They weren't too friendly, but they weren't rude either. They have an open kitchen layout, which I like since I always think it is good to be able to see the cleanliness of the kitchen and how our meal is being handled during the cooking process. The employee at the register took our order and immediately yelled it (loudly) back to the staff in the kitchen – while we were still standing there and continuing to order. The kitchen (grill) is only a few steps away. I wasn't too keen on this process, but maybe this is a Fatburger thing? I don't know. A few other people came in to order while we were at the restaurant and I did find it distracting (in an unpleasant way) to hear the employee taking the orders and screaming them back to the staff at the kitchen.
Below are some pictures from our stop at the Fatburger in Barstow. Hope you find this post and review helpful! Should you decide to stop at Barstow, there are lots of other options for snacks and/or a meal. We chose Fatburger and it was overall a good experience. I don't know when we will be driving to Las Vegas again or passing by Barstow, but we would visit this Fatburger again or even one in San Diego.
Have you eaten at Fatburger? Do you have a favorite burger place? If yes, which one?

Hugs,
Paola
PS – I will be writing more posts from our trip to Las Vegas and our visit this week to Phoenix.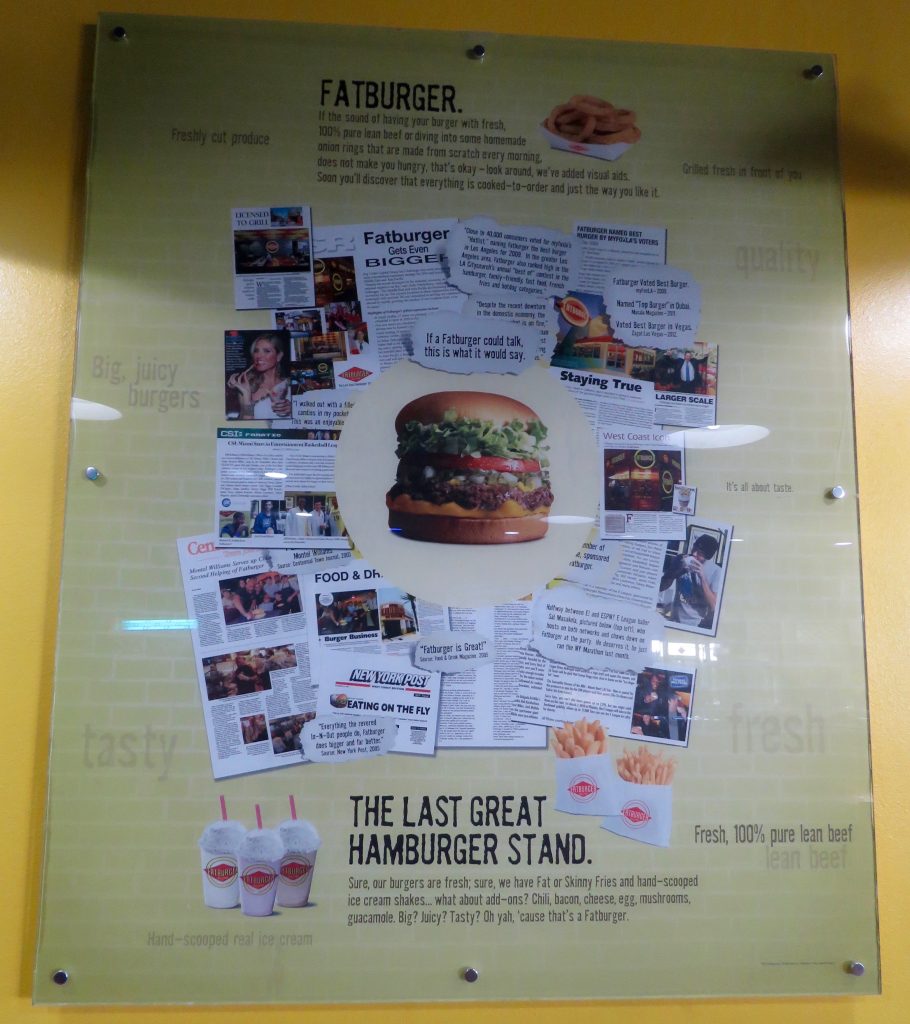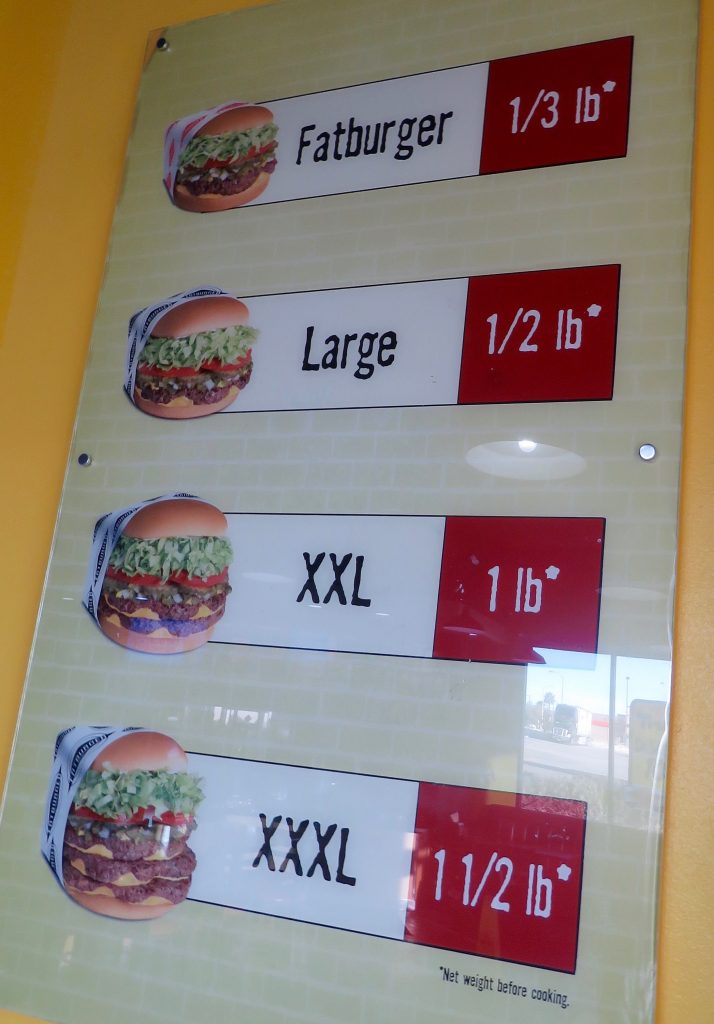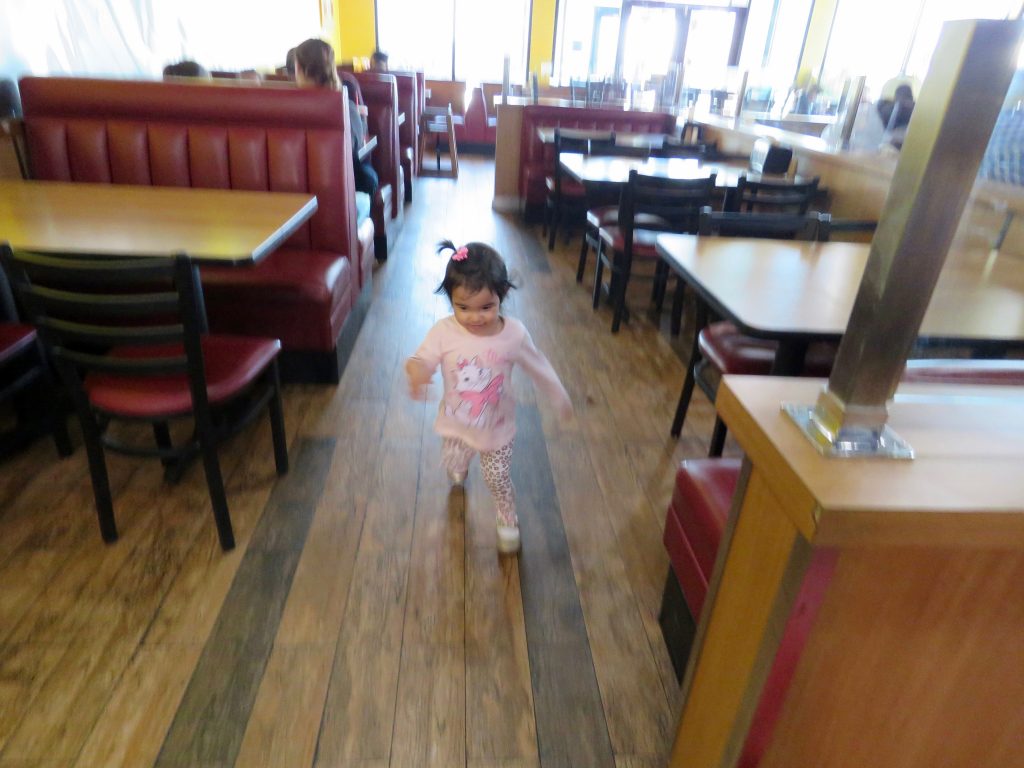 Alessandra and I walked around the restaurant so she could stretch.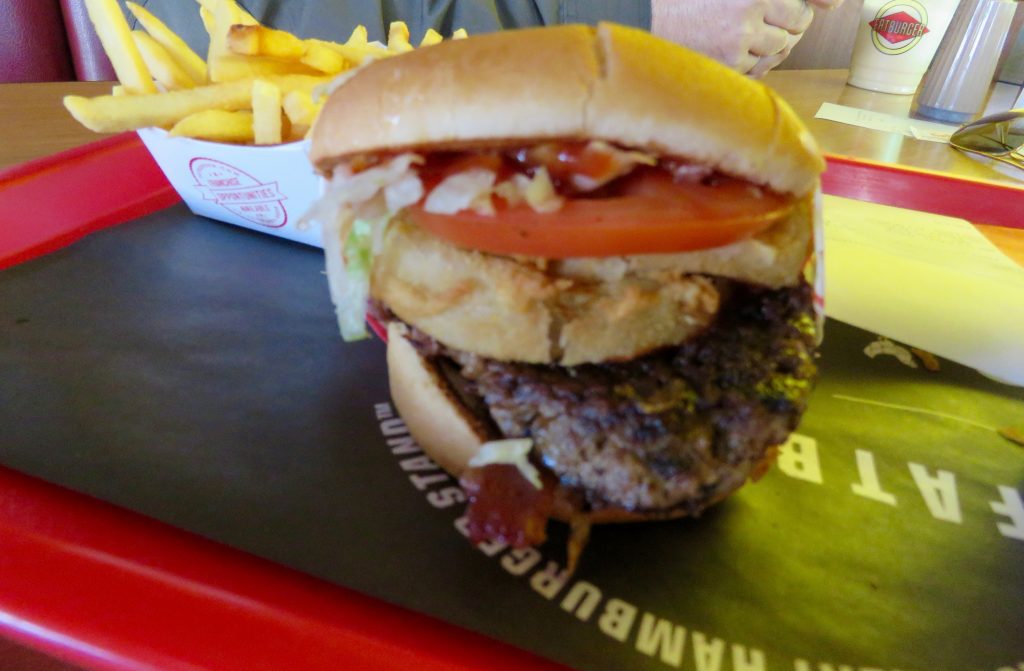 The Western BBQ burger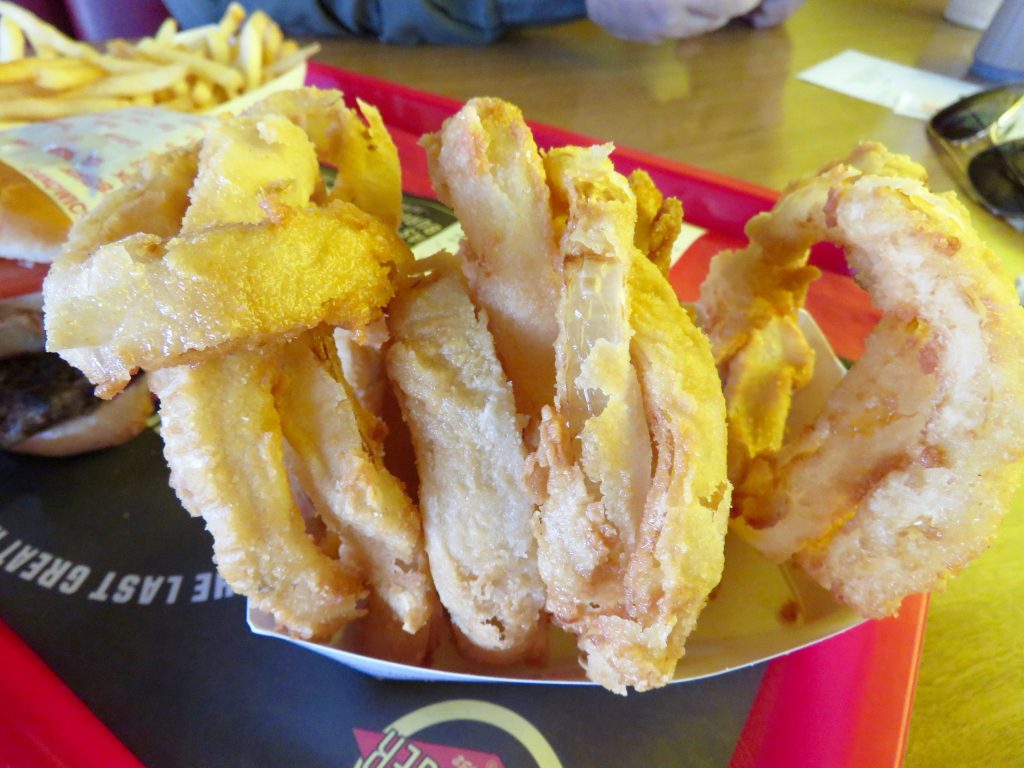 Onion rings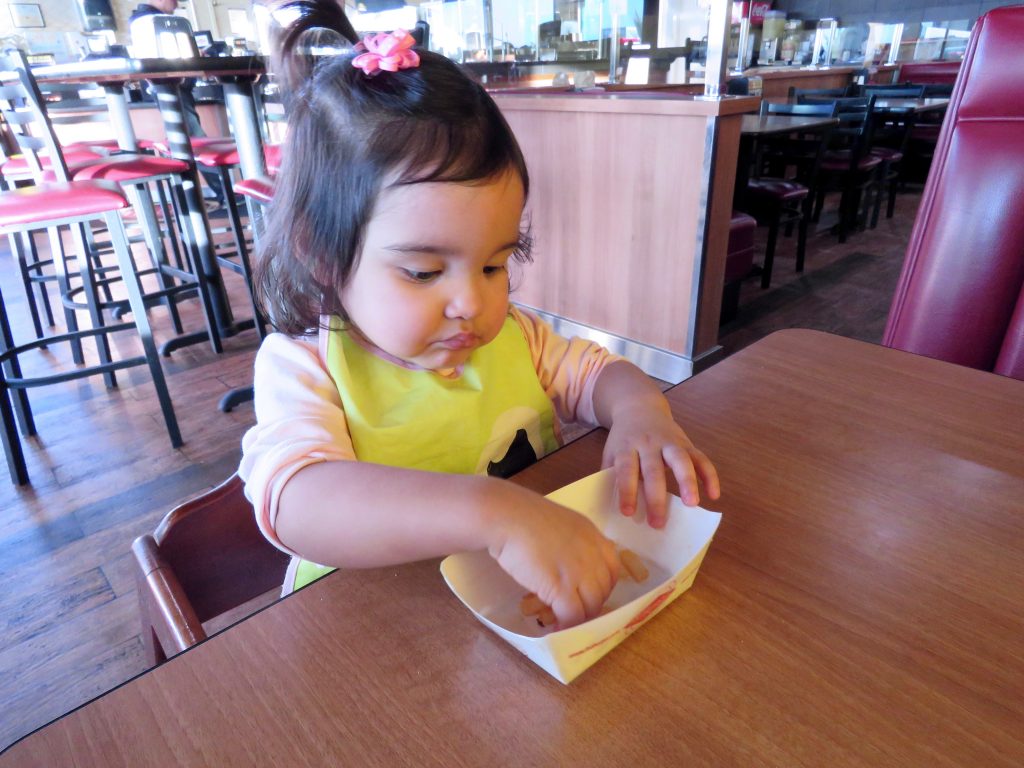 I had already given Alessandra some food in the car. She ate a few fries while we ate as well.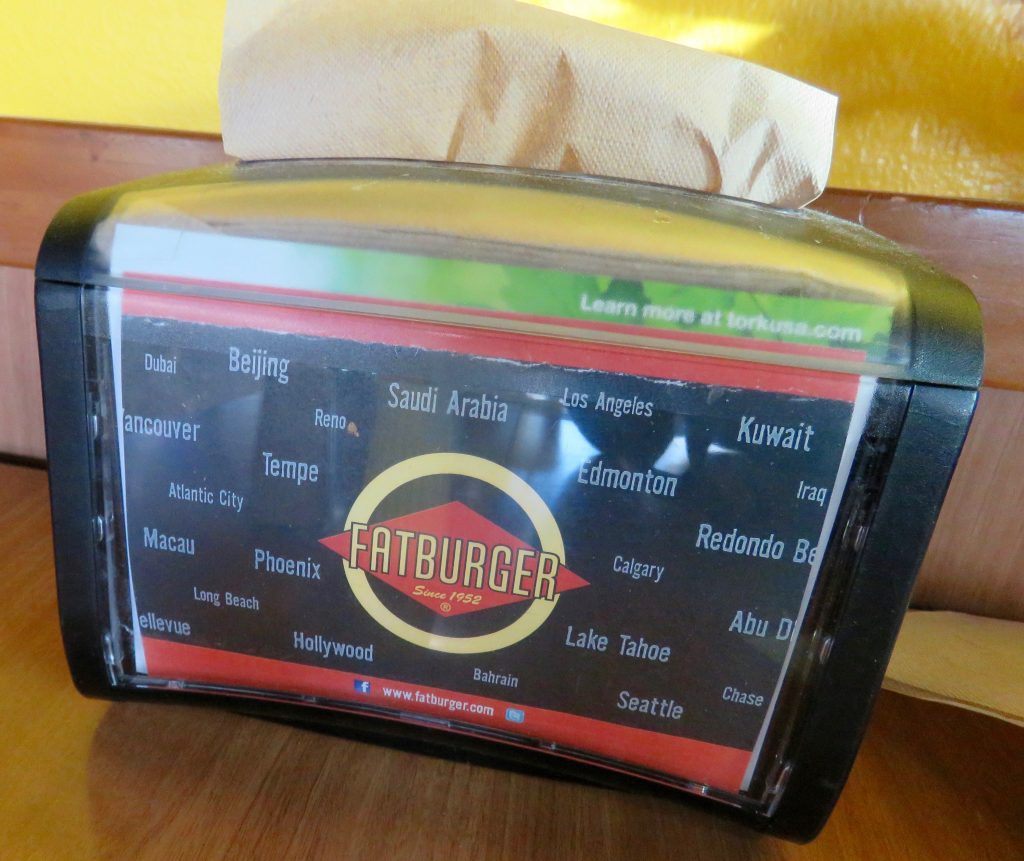 The napkin dispenser on the table listed several Fatburger locations. I was not aware they had international locations.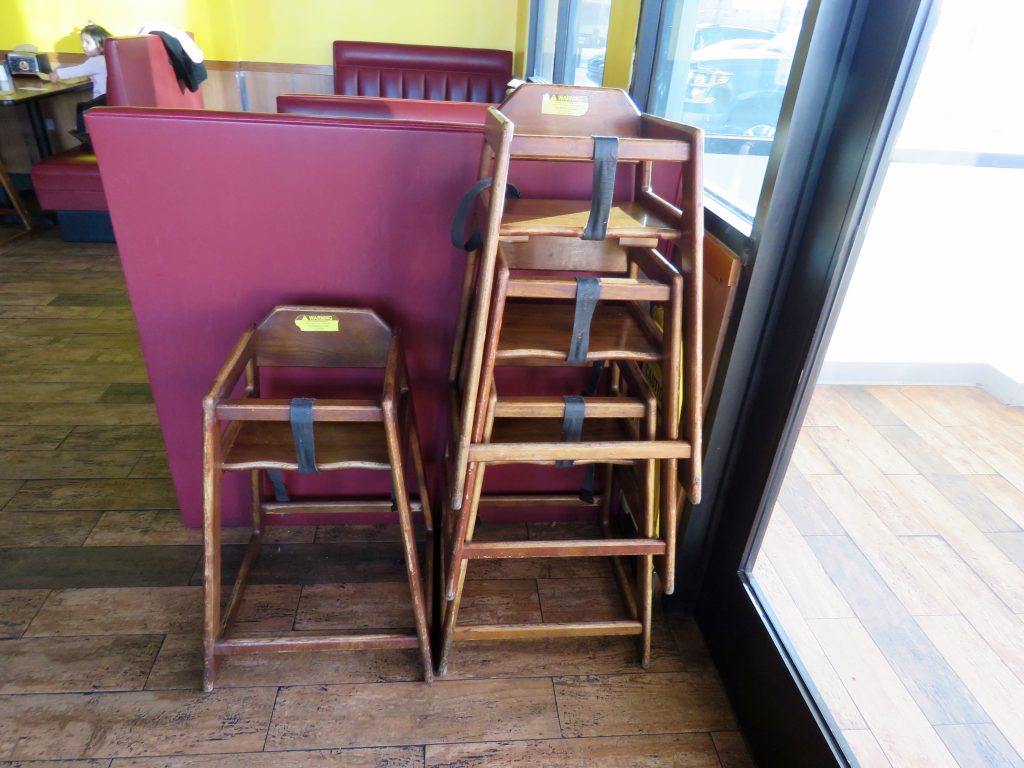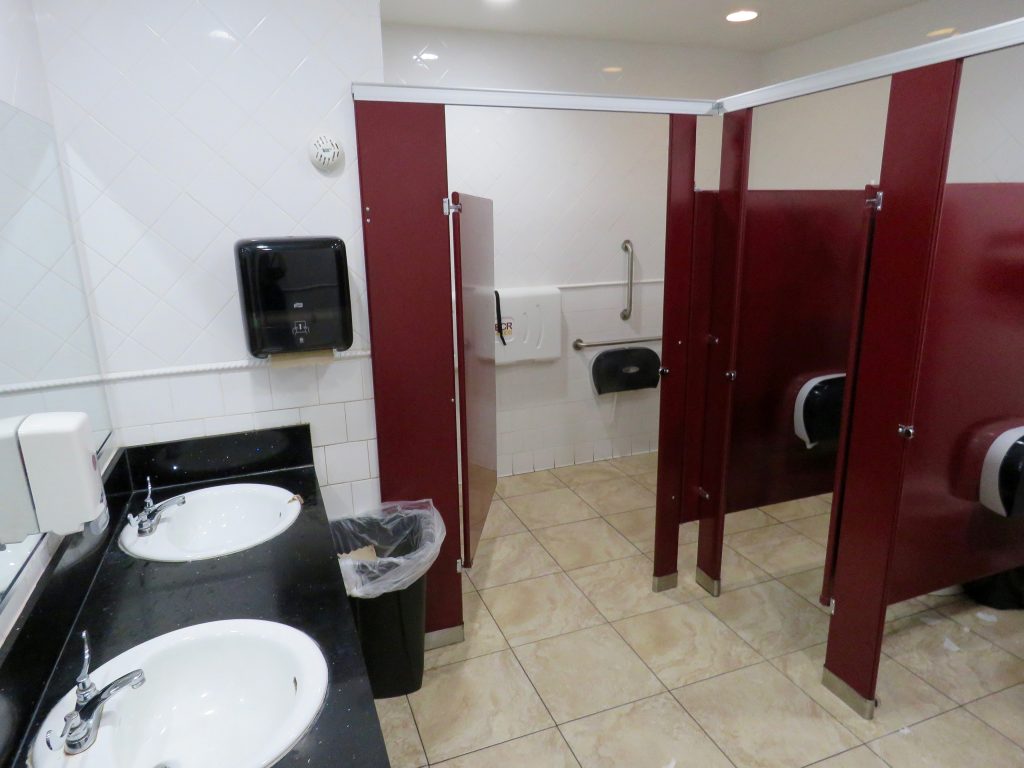 These moist towelettes were available next to the soft drink and ketchup area.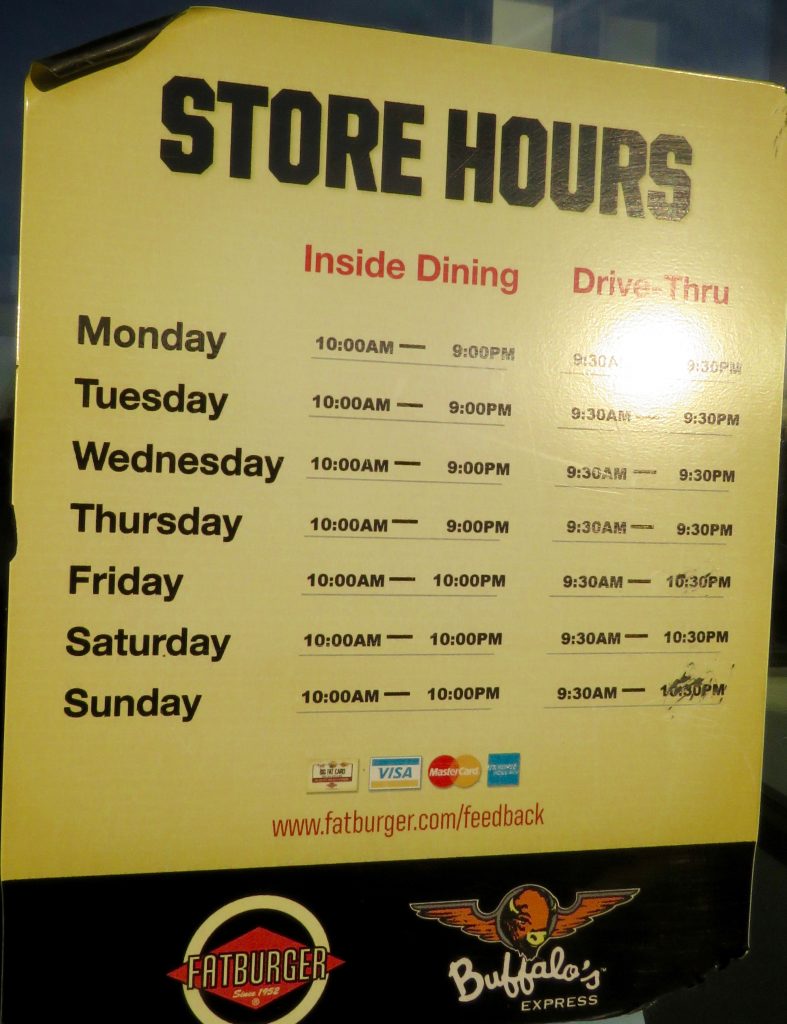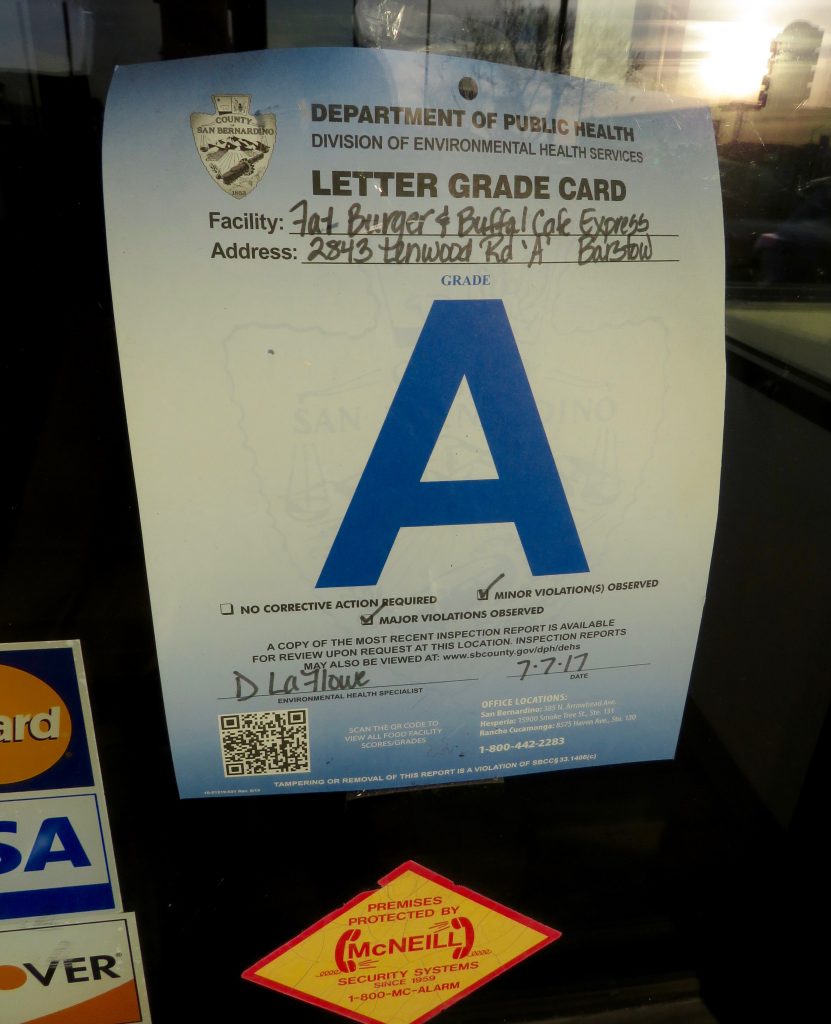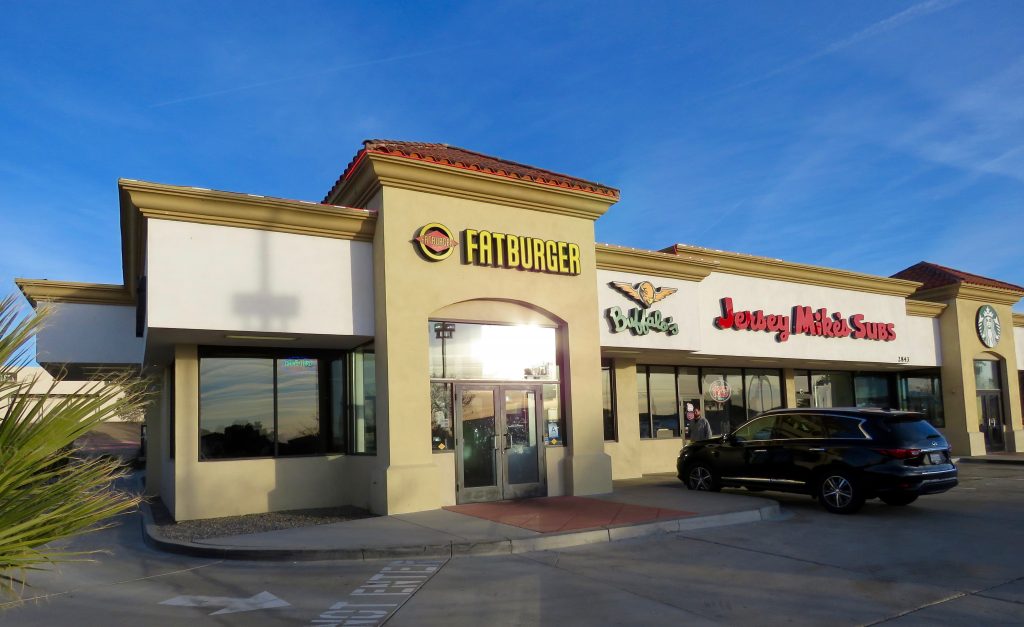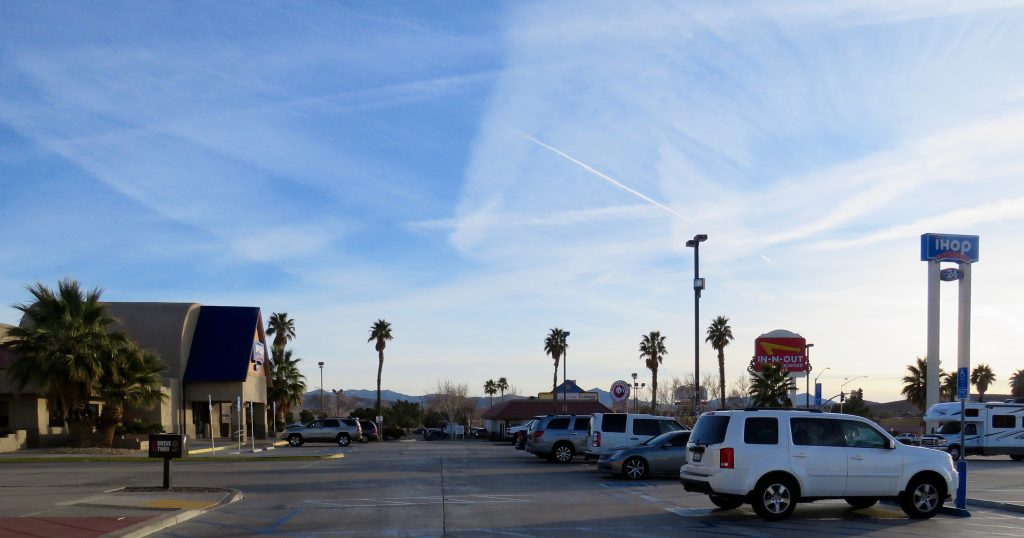 The parking lot. There is an IHOP and In-N-Out located next to Fatburger.