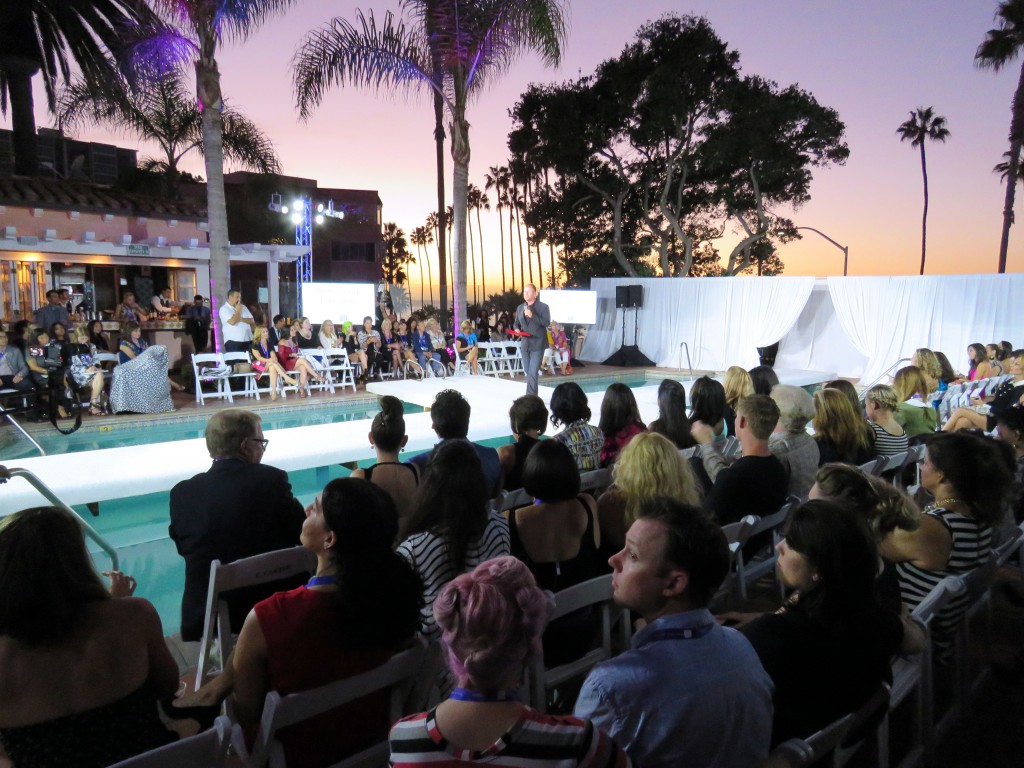 The Region Celebrates Local Designers At Fashion Week San Diego 2015
Did you know that San Diego has its own Fashion Week? It is called Fashion Week San Diego (FWSD), it's an event which highlights local designers. This year, the event was held over four days of runway shows and events. Designers included Graciela Llorente, Sasha Bravo, and Alexandra Marie. among others.
I enjoy attending the event to stay up to date on the latest trends in fashion and hairstyles! The event began with the Art & Beauty: Hair & Makeup Runway, presented by Bellus Academy. The pool area at la Valencia Hotel was converted into a runway for the event. The runway show demonstrated the latest trends in hairstyles and make-up. The next two days included fashion runway shows on Wall Street in La Jolla, which was closed to traffic in order to build the runway for FWSD. Hundreds of models walked the runway with collections from evening gowns to casual attire, and jewelry. The Fashion Awards Ceremony and Trunk Show were held on the last day at La Valencia Hotel. The Trunk Show was an opportunity for the public to meet the designers of FWSD 2015 and purchase the pieces from the runway shows, in addition to other exhibitor booths. Due to other commitments, this year I only was only able to attend the Art & Beauty Behind Fashion runway show and the Trunk Show.  Below are some pictures from both events.
Fashion Week San Diego is not only a week of runway shows, the organization organizes events throughout the year. The events are related to fashion, beauty, and workshops for professionals involved in the industry. The events are open to the public with the purchase of an admission ticket and some events are free. If you like fashion, these events may be of your interest.
Had you heard of FWSD prior to reading this post? Have you been to a FWSD event?

Hugs,
Paola
PS – FWSD Spring Showcase and Locale L'Aunch Party & Fashion Show
En ESPAÑOL después de las fotos.
ESPAÑOL:  Region Celebra a Diseñadores Locales en Fashion Week San Diego 2015
¿Sabías que San Diego tiene su propia Semana de Moda? Se llama Fashion Week San Diego (FWSD), es un evento que destaca diseñadores de moda locales. Este año, el evento contó con cuatro días de pasarelas y eventos. Los diseñadores incluyeron Graciela Llorente, Sasha Bravo, y Alexandra Marie, entre otros.
¡A mi me gusta ir al evento para mantenerme al tanto de las ultimas tendencias de la moda y belleza! El evento comenzó el 1 de octubre, con El Arte y Belleza Detrás de la Moda, presentado por Bellus Academy. La alberca de La Valencia Hotel se convirtio en el escenario con una pasarela especial construida especialmente para el evento. Se mostraron las tendencias en peinado y maquillaje. Los siguientes dos días, se llevaron acabo las pasarelas en La Jolla. La calle Wall Street se cerro para el evento y fue convertida en una pasarela. Desfilaron cientos de modelos con colecciones de alta costura, vestidos, atuendos casuales, ropa, y joyería. El ultimo día, se llevaron a cabo los Premios de Moda y el Trunk Show-Expo de Moda, una oportunidad para conocer a los diseñadores, y comprar sus prendas.
Fashion Week San Diego no solo es una semana de pasarelas, la organización coordina eventos durante todo el año. Los eventos son relacionados a la moda, belleza, y talleres para profesionales involucrados en la industria. El publico puede asistir a estos eventos con la compra de boleto y algunos son gratuitos. Si te gusta la moda, estos eventos pueden ser de tu interés. ¿Has ido a algún evento de FWSD?
Un abrazo,
Paola
PD – FWSD Expo de Primavera y Fiesta de Lanzamiento y Desfile de Modas de revista Locale