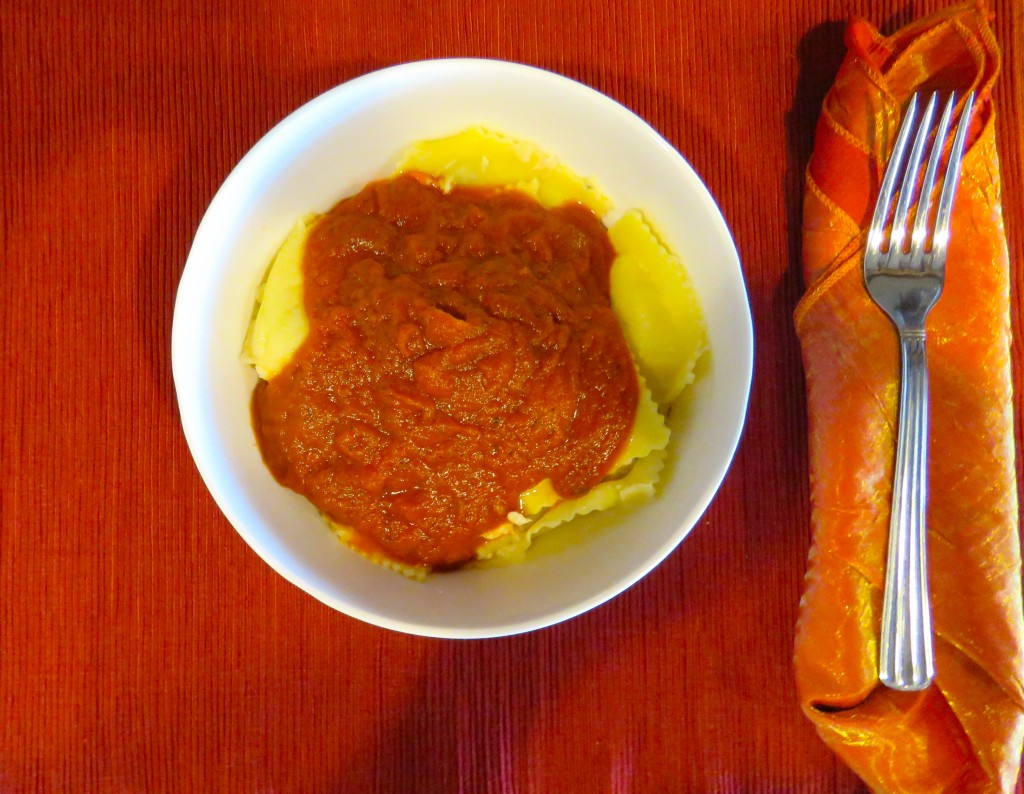 Lately, I have been cooking more for my hubby. He is a meat and potatoes kind of guy, he is German after all. I have learned to make lots of meals from scratch, but sometimes I like to mix it up on the menu and seek out healthy options of prepared raw meals which I can cook at home. On some weeks, like this Thanksgiving week, I have a busy schedule, so a little help from fresh, pre-stuffed ravioli helps make planning for dinner easy! My hubby is allergic to cheese, so finding pasta dishes which he can eat is challenging. I've gotten used to preparing pasta without cheese. I figure it has fewer calories and is still pretty delicious! I try to cook healthy and fresh meals as often as possible, but am also practical and occasionally opt for cooking pre-made moderately healthy meals. My hubby likes ravioli, but it is one of those dishes I don't make from scratch. During my search for a healthy option of ravioli without cheese, I found this Chicken Pot Pie Ravioli at Trader Joe's. The calories are reasonable and the ingredients are natural (not full of chemicals and preservatives), plus it is easy to cook. Simply boil water and add ravioli. In a separate pot, make pasta sauce (or heat pasta sauce from a jar). I like to make a zesty marinara sauce like the one mom made for us when we were growing up. By the time the water boils and the ravioli cook, the pasta sauce is ready and piping hot! Drain the ravioli and serve with the sauce.
This meal is a good option for busy weeks, or when you want to make a quick and easy dinner or lunch. As a tip, don't overcook the pasta because the ravioli may open and the filling may come out. This type of ravioli can also be served with olive oil, butter, or another complimentary sauce, and a dash of parmesan cheese, yum! The pasta is fresh and perishable, so I plan the week's menu ahead of time when I purchase it, to make sure I cook it within a few days (there is a "best by" date on the container). It has become one of my hubby's favorite dishes! I serve it with a green salad.
For ravioli (or pasta) lovers, I found this Ravioli Sauce and Wine Pairing page. It includes lots of options for ravioli fillings and delicious pairings! Makes me want to learn how to make ravioli from scratch just to try the multiple fillings!
If you are busy planning for Thanksgiving this week, as I am (we are hosting), making easy and quick meals on the days leading to the holiday may help take off a bit of stress.
Do you have any favorite easy and healthy recipes to share? Do you make ravioli from scratch?

Hugs,
Paola
PS- Other easy recipes: Have Fun With Dinner – Making Pizza At Home and Apple Crisp – Low Calorie Dessert Recipe.
This post is not sponsored. I like to share good finds with you, my favorite items, and tips on making life a little easier!