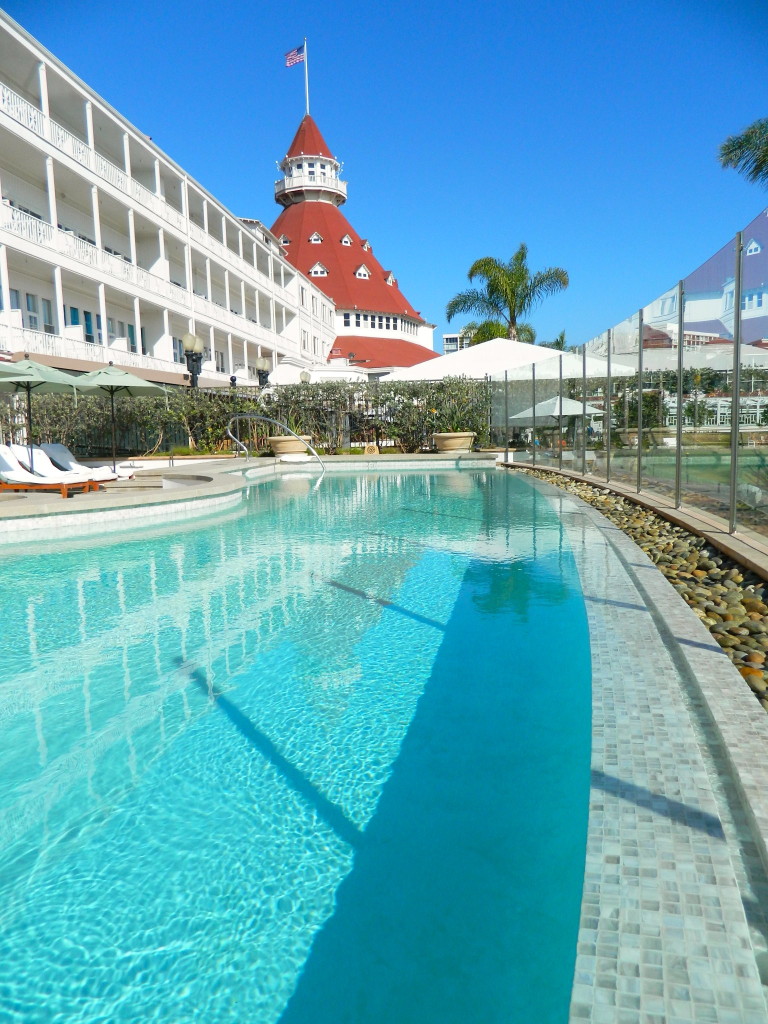 One of my closest friends is Lizeth. We have been friends for about ten years and were in each other's weddings. We have supported each other through lots, from dating, to planning our weddings, career changes, and our personal lives. We have also had lots of fun together and confide in each other. One of the best trips I have taken to Europe was with Lizeth, we went to London, Venice, Florence, Piza, and Rome. I still smile when I remember the trip and laugh at some of the things we went through on that adventure. As our lives have passed on to different stages, we seem to see each other less often, but still stay in touch on the phone and via e-mail. Even though we stay in touch, I do miss seeing my friend. Last year we realized about three months had passed and we had not gotten together.
Over the years, we have been to few spas together. We would make time for a "girls spa day." Recently, Lizeth discovered that the Hotel Del Coronado has a Spa at the Del membership ($150 for one year, per person) and the membership includes discounted 50 minute spa treatments ($99 each, an approximate discount of $50 – $70 per treatment). We decided to buy the membership and agreed to try to go at least once a month. It has worked! Thus far, we have gone about four times, we skipped December because we were both busy during the holidays. In January, we resumed our "girls spa day." We usually arrive after noon, which gives us time to work and get our morning routine completed, and stay until 5pm when the spa closes. We enjoy a mimosa and muffin (served on Mondays), relax by the pool, and most importantly we spend time together catching up. It has been wonderful! I am so glad Lizeth suggested this for us!
If we did not have the once a month "girl spa day" agreement, we probably wouldn't see each other once a month. Life can get hectic and sometimes we need to make traditions or find ways to see our friends. I know $100 a month (plus tip) for a spa treatment may seem a bit expensive, but it is worth it because I am enjoying time with my friend and we are creating memorable experiences. I remember telling Lizeth that I knew I could buy a pair of shoes or some clothes each month with those $100, but prefer to spend the time with her because that is priceless and enriches our lives. Of course, I enjoy a spa day and getting a massage, but I don't usually go by myself. I enjoy going to the spa with friends and catching up, this way it is more of an experience, than just a massage or facial. My friends enrich my life, they are family to me, and spending time with them fills my heart with joy…and the laughter is also fun!
After the spa, we usually head to one of the restaurants at the hotel or to a local restaurant in Coronado. We leave feeling relaxed, not only our bodies feel relaxed, our souls are filled with joy…until the next spa day.
Below are some pictures from our visits to the spa, hope you enjoy them! The Hotel Del Coronado is a historic hotel, located next to the beach in the City of Coronado, it is a beautiful resort.
Do you have a routine or on-going tradition you follow with your friends? Do you go on spa days with friends?

Hugs,
Paola