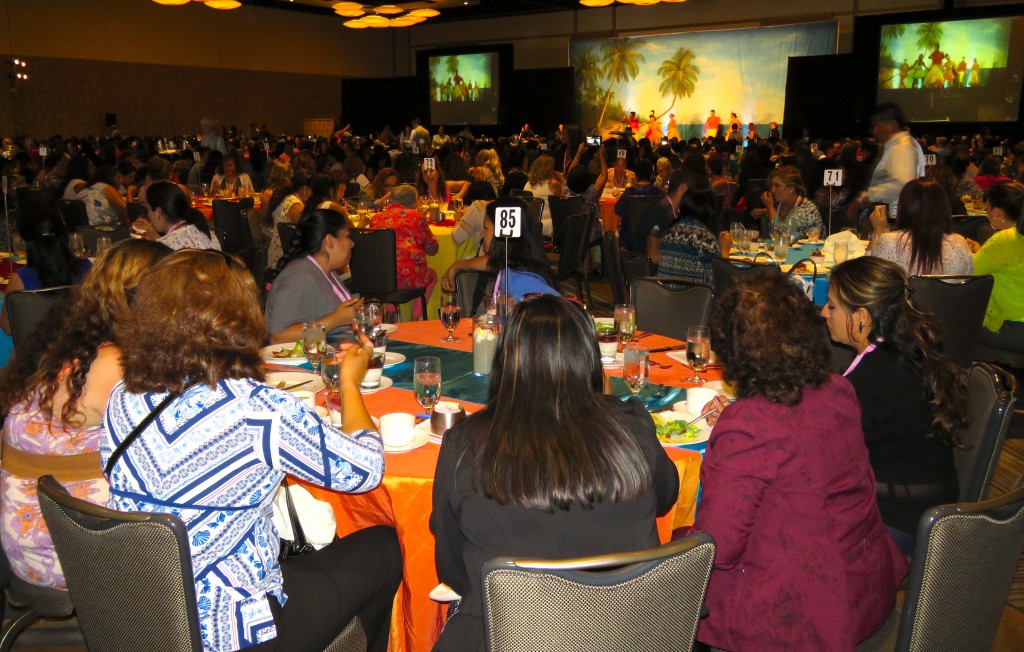 El Latino San Diego newspaper held their Fifth Annual Celebrando Latinas conference recently. The event was again a huge success! It was not only educational, it was motivational, and fun! The keynote speakers included actress Danna Garcia and radio personality Alberto Sardiñas. Upon arrival every attendee received a goodie bag. There were multiple workshops throughout the morning and afternoon, free health screenings, breakfast and lunch, an Interactive Expo with more than seventy-five exhibitors, raffles, awards recognition ceremony, and a "Fiesta" to end the event! I could feel the positive energy in the rooms and see the happiness in the attendees faces with their smiles shining from cheek to cheek! The women were excited to be there and it was visible that they were having fun! The Expo was one of the most successful parts of the conference, with lots of free prizes, interactive booths, and music. There was a performance by Mariachi La Barca in the morning to welcome the 1,000 attendees to the day-long Conference. The Luncheon included a special performance by Ballet Esmeralda de Colombia with traditional dances and live music, as well as the keynote by Danna Garcia and the awards recognition ceremony to women that make a difference. It was a fun day, I enjoyed seeing friends, meeting readers, learning at the workshops and seeing the entertainment throughout the day! Below are some pictures from this year's event. I am looking forward to next year's event!
Celebrando Latinas is the largest conference for Latina women in the United States which is held in Spanish. To participate next year and for more details, visit Celebrando Latinas.

Hugs,
Paola
PS – Pictures from 2014 Celebrando Latinas Conference (click here) and Celebration of Fashion – San Diego Latino Film Festival (click here).
*En ESPAÑOL después de fotos.
ESPAÑOL:
El periódico El Latino San Diego tuvo su Quinta Anual Conferencia Celebrando Latinas. ¡El evento fue un gran éxito!  No solo fue educacional, también fue motivacional y divertida! Entre los oradores principales estuvo, la actriz Danna Garcia y el conductor de radio Alberto Sardiñas. Al llegar, las participantes recibieron una bolsa de regalo. Hubieron varios talleres durante el dia, pruebas de salud gratuitas, desayuno y comida, una Expo interactiva con mas de setenta y cinco locales, rifas, ceremonia de premios, y una Fiesta de clausura. Pude sentir la energia positiva en las salas de la conferencia y ver la felicidad de las mujeres en sus sonrisas. ¡Las mujeres estaban emocionadas de estar ahí y era visible que se estaban divirtiendo! Hubo una presentación de Mariachi la Barca en la mañana para darle la bienvenida a las mil participantes. La comida incluyo una presentación especial de Ballet Esmeralda de Colombia con bailes tradicionales y música en vivo. ¡Fue un día divertido, disfrute ver a amigas y lectoras, aprender en los talleres, y ver el entretenimiento! Les comparto fotos del evento de este año. ¡Estoy anticipando con gusto el evento del año entrante!
Celebrando Latinas es la conferencia mas grande en español para mujeres Latinas en los Estados Unidos. Para participar el año entrante y mas detalles, visita Celebrando Latinas.
Un abrazo,
Paola
PD – Para ver fotos de la conferencia del año pasado Celebrando Latinas 2014 (oprime aquí) y Celebración de Moda de Festival de Cine Latino de San Diego (oprime aquí).