Hi friends,
As you know, Lola is one of my closest friends. Every year for her birthday, I try to get her a special gift. It is challenging to shop for a gift for her because she is a minimalist and in addition to that, practically already has everything she wants. She lives in a beautiful penthouse condo downtown with a minimalist decor, so she does not like to accumulate too many things. A few months before her birthday, I start to pay attention to things she points out when we go shopping or things she mentions in conversations.
This year, I had purchased a few small gifts for her, but was missing the key main gift. Like me, Lola has a busy schedule and sometimes does not have the time to go to a spa or simply pamper herself. But, she really likes spa days, just like I do. So, when I received an invitation to visit Spa Velía, I saw a light go off, like magic, aha! I had found the gift! This year it would not be an item, it would be a memorable experience! The gift I gave Lola this year was to buy a massage for her and set up a spa day! Even though we have been friends for many years, we had never gone to the spa together. She has a home in Baja and goes there almost every weekend, which is probably why we hadn't been to a spa together since I usually go to spas on weekends. I looked at Spa Velía's website and learned that they are open everyday. On weekdays, they are open from 10:00am – 9:00pm, Saturday 8:00am – 9:00pm, and Sunday 9:00am – 7:00pm. We could go on a weeknight, making it the perfect option! As much as I wanted to surprise her, I had to book the appointment, so I had to tell her ahead of time. She was excited and so was I! We booked the appointment two weeks ahead of time and were looking forward to it!
The spa is located downtown, in the Harbor Club Towers, across from the Convention Center. We were going to walk from her home since it is just a few blocks away, but it was windy that day, so we asked her husband to give us a ride. We did walk back after our massage, which was perfect because by then it was dusk and the weather was a warm spring evening!
When we arrived we were greeted by their friendly staff and escorted upstairs. We were given a quick tour of the spa. The lights at the spa are kept dim, even in the hallways, so you are in the zen as soon as you walk into the elevator. The music is relaxing and everything is immaculate! In addition to the massage rooms, there are rooms for skin care treatments, and a steam room with lavender eucalyptus oil. We went to the dressing room and changed into robes and sandals, which are provided by the spa. The robes are black, which is different from other spas I have been to that usually provide light color robes. The black robes give it a touch of chic and style!
Marcy, was the massage therapist that gave me the massage. We had a nice conversation, mostly at the beginning of the massage because I had all kinds of questions. I am always interested about learning new things. I asked about the spa and herself. The spa used to be located in Little Italy and moved closer to the downtown Gaslamp area to an expanded location. Marcy has been working there for more than five years and from my massage, I can tell you she knows what she is doing! It was one of the best massages I have ever had! It was deep and she touched pressure points. My massage was from the top of my head to the tip of my toes! When she was massaging my hands, I could feel it all the way to the top of my arm and when she massaged my feet, I could feel it all the way to the tip of my head! Amazing! It was a deeper massage than I am used to, but it was fantastic, I had some tension and knots on my neck and she focused on those. She also used a technique to stretch my neck which I had never experienced. I have had a neck massage before, but never like this, it felt very relaxing, like a yoga stretch. She used organic sunflower oil, which was also a new experience for me. My skin absorbed it easily, leaving my skin feeling very soft. Lola and I got the 50 minute Velía Vitality massage, which is based on Swedish and circulatory therapies. Lola's massage was given by Lily. Lola said she also greatly enjoyed her massage!
After the massage, Lola and I met at the relaxation lounge area which has plush sofas and a large table. There was tea, fruit infused water, cookies, fruit, and nuts. We were treated to the signature champagne, their pomegranate mimosas. It was delicious! We spent about two hours in the relaxation room talking, enjoying the classical music and amenities! Our spa visit was a little more than three hours and we enjoyed every minute of it!
The prices at Spa Velía are very reasonable, starting at $50 for the 25 minute Velía Vitality massage, $90 for the 50 minute massage. They have multiple options for skin care, massages, waxing, and body care. They also have spa packages and spa parties. There is a nice shop with candles, skincare products, and jewelry.
I plan to come back! Maybe for a spa day with my husband, then we can go to dinner or for a walk afterwards, since the restaurants in the Gaslamp area and Seaport Village are just a few steps away! I'll also keep it in mind for spa days with friends and my sis! Or, simply come on my own to relieve the stress of a long week! Next time, I may get the purifying facial. There is a good promotion for first time visitors, $20 discount on each new service. The best way to book an appointment is on the Spa Velía website or by calling 619-235-0000.
Lola and I said we'd come back in a few weeks. We both work hard and take care of our families, we owe it to ourselves to get pampered every once in a while!! As Lola said, "this was wonderful and the best way to let go of the stress of our day!"
Special thanks to Samya for the invitation and to the Spa Velía team for making our afternoon at the spa a wonderful experience!
Lola checking in as we arrived to enjoy an afternoon at the spa to celebrate her birthday!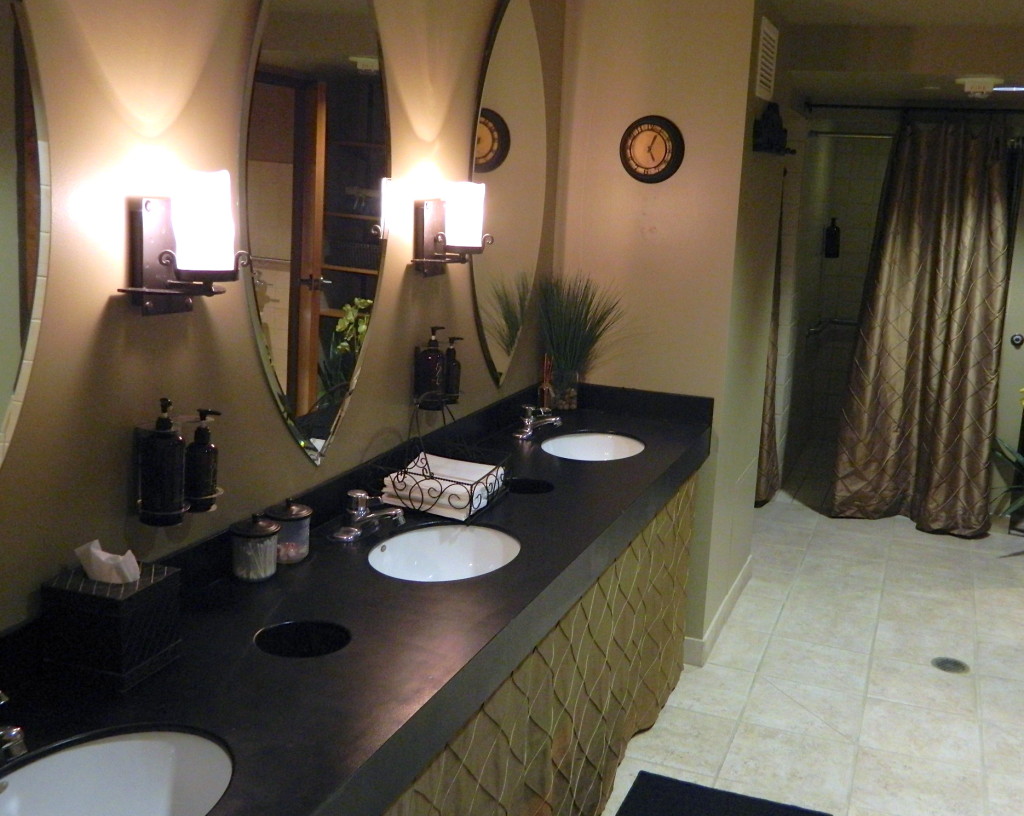 The ladies dressing room.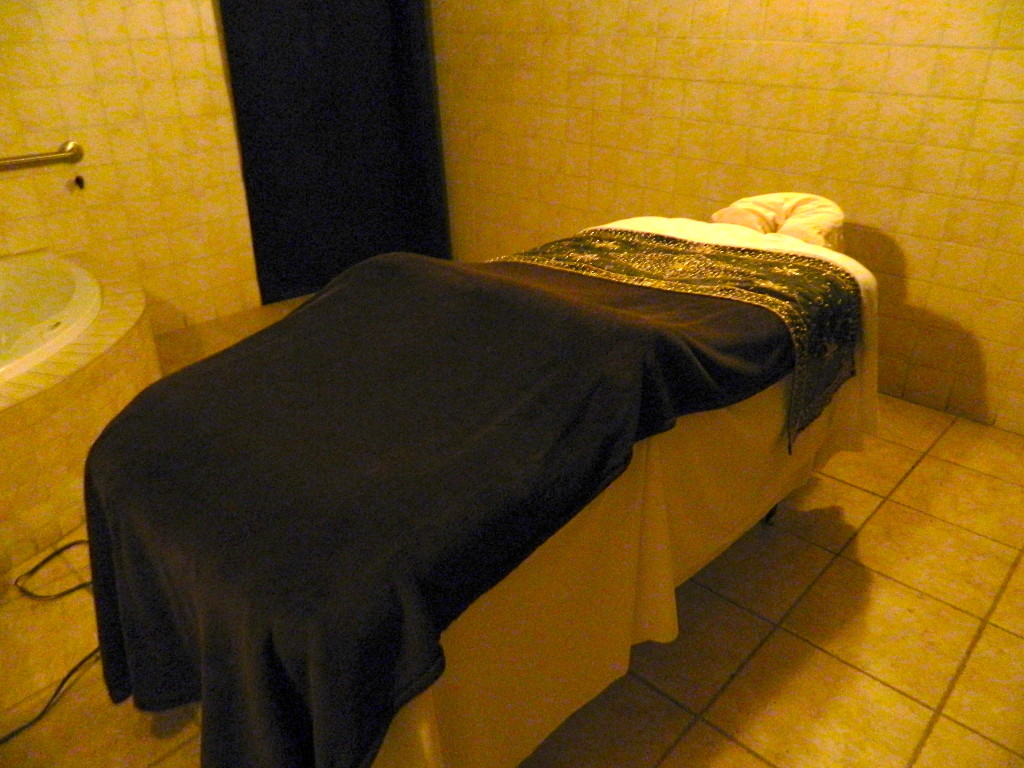 This is the room where I had my massage…ahhh, it was bliss!!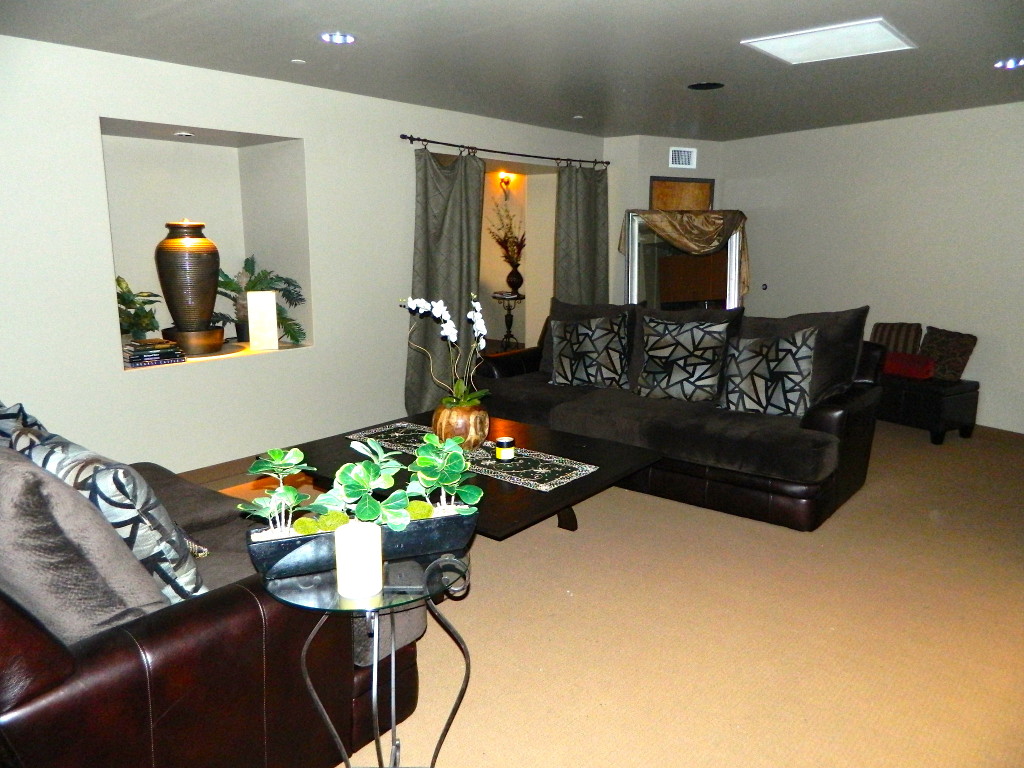 The relaxation room….we met here after our massages, we were in heaven!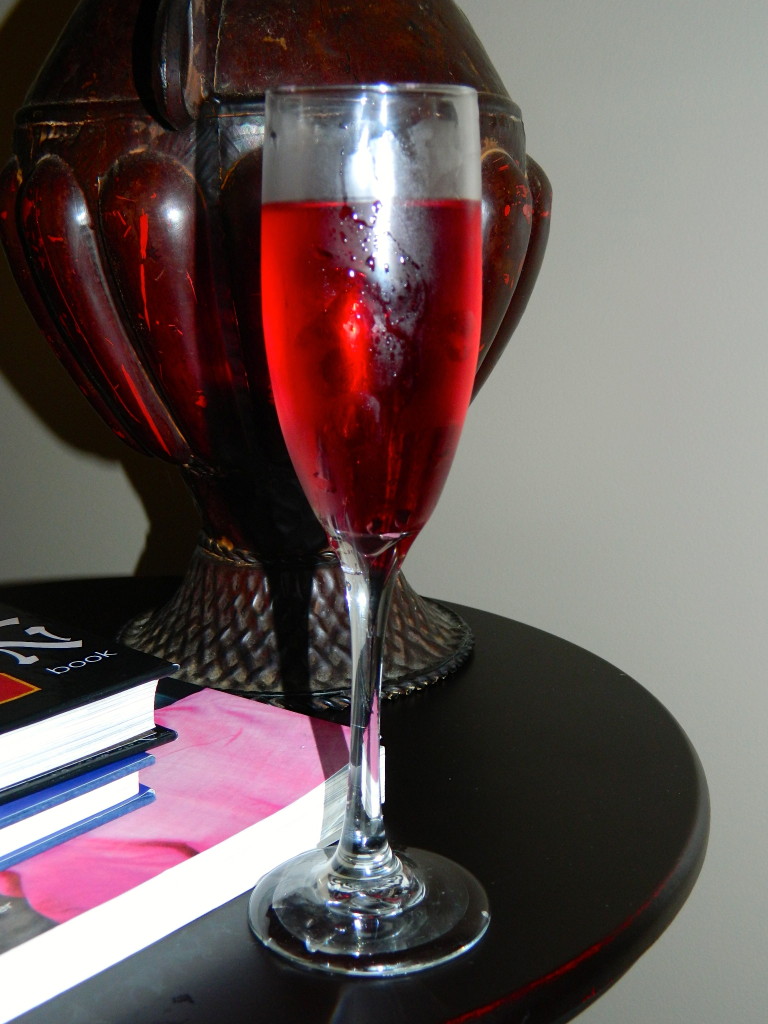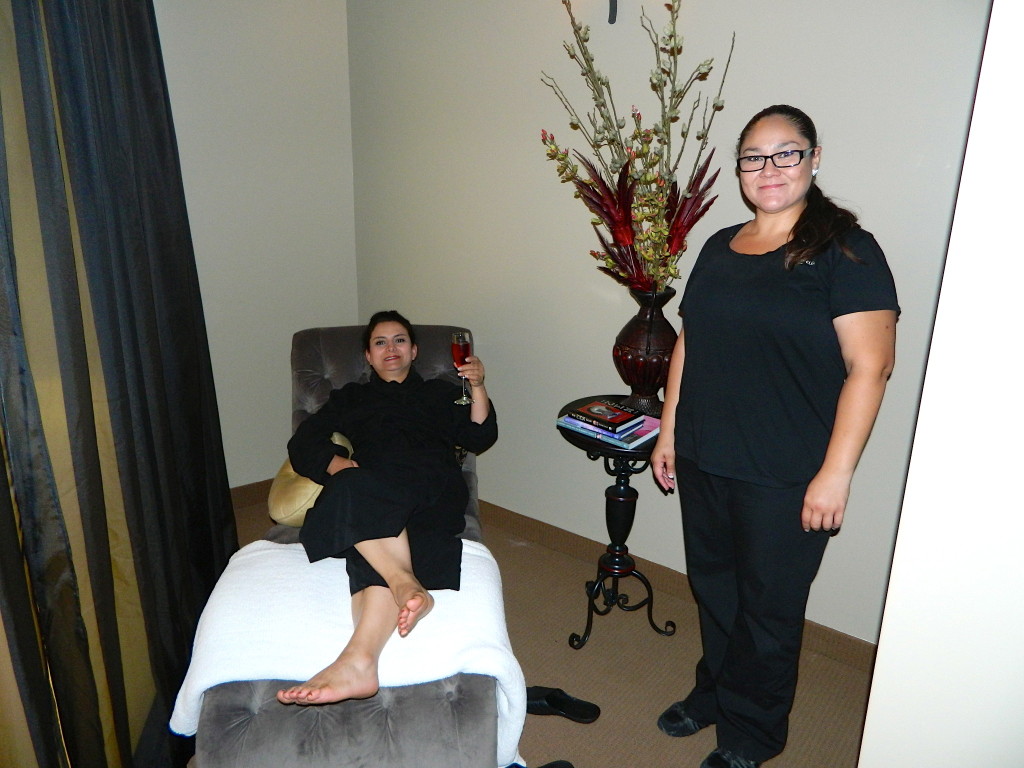 Lola enjoying the signature mimosa! Next to her is Lily, the massage therapist that gave her a massage.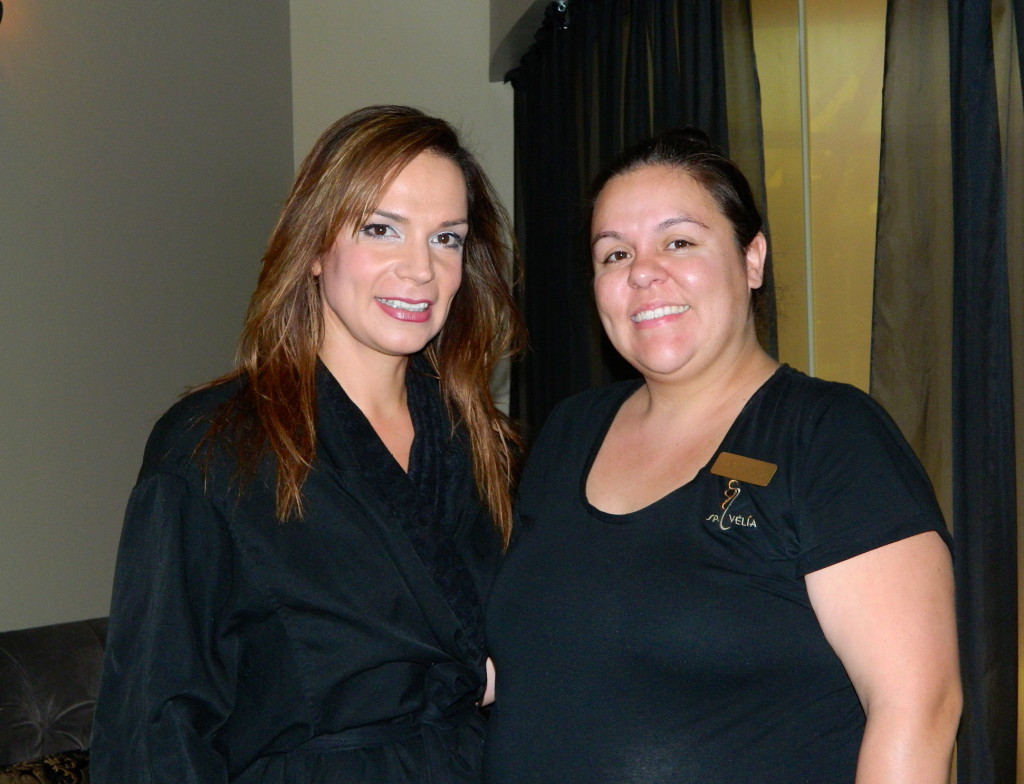 This is Lily, she gave me my massage. It was one of the best massages I have ever had! I was so relaxed afterwards, I even look a little sleepy in this picture, haha!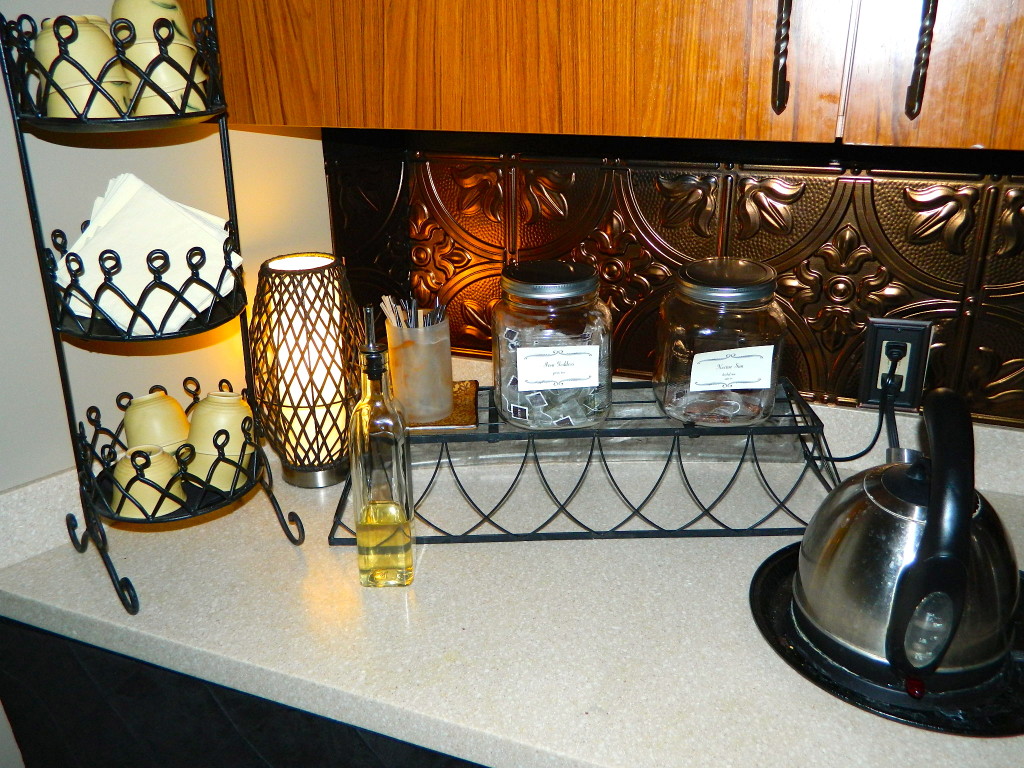 The tea section.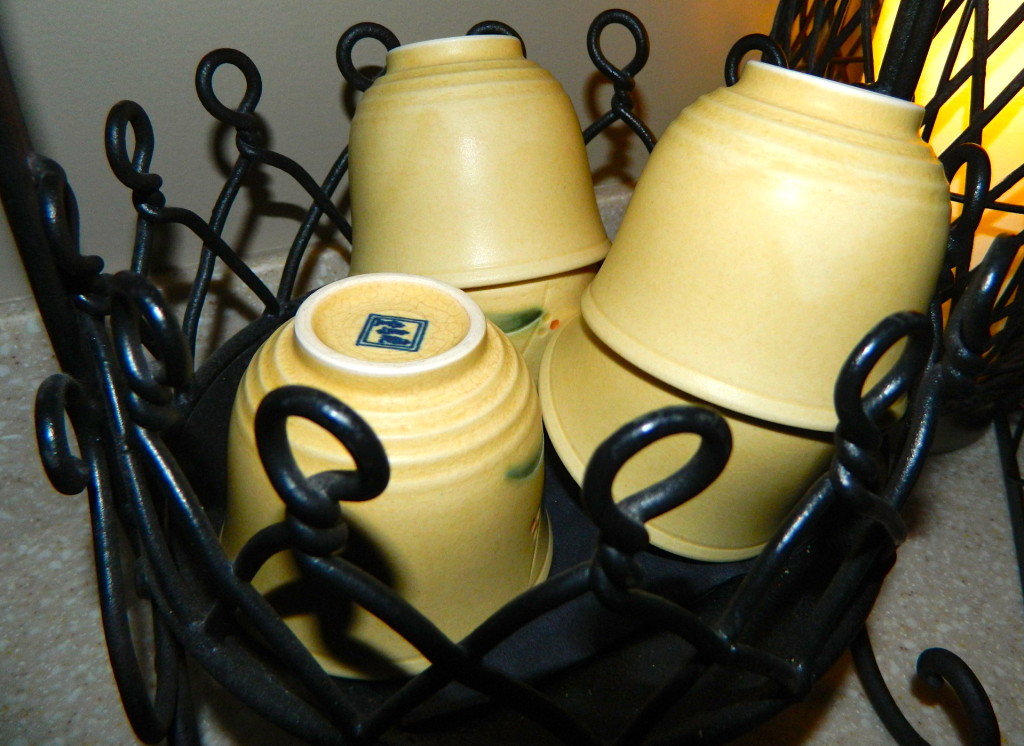 The tea cups went perfect with the spa's theme.
Lola and I enjoying the amenities, and toasting for her birthday.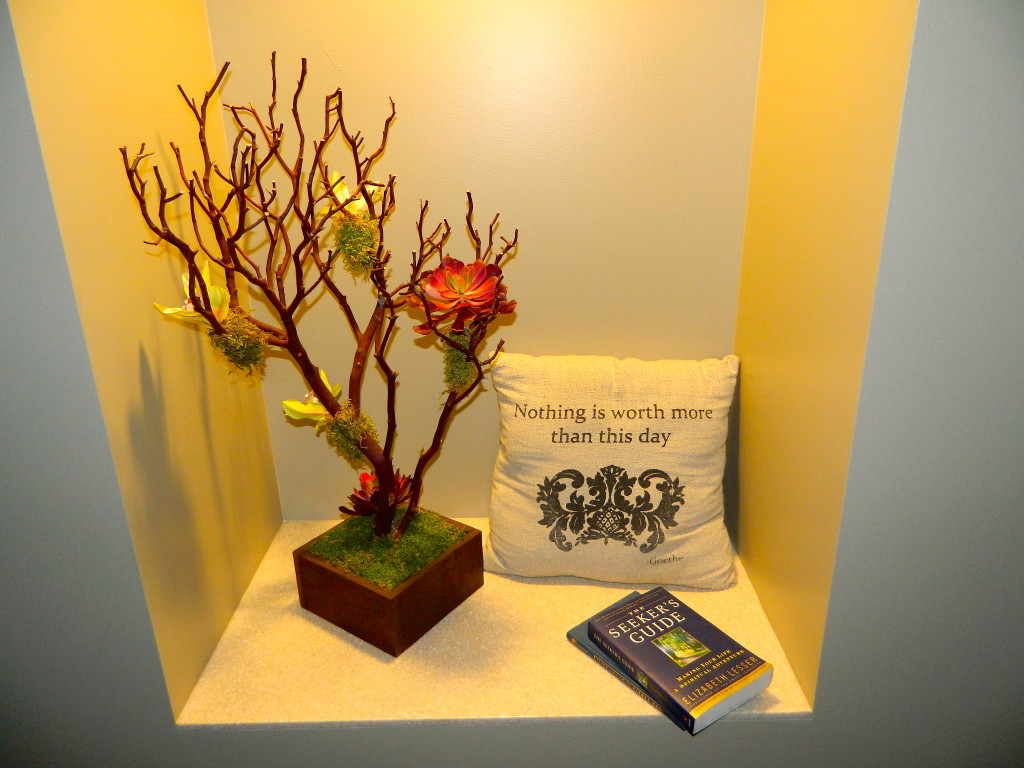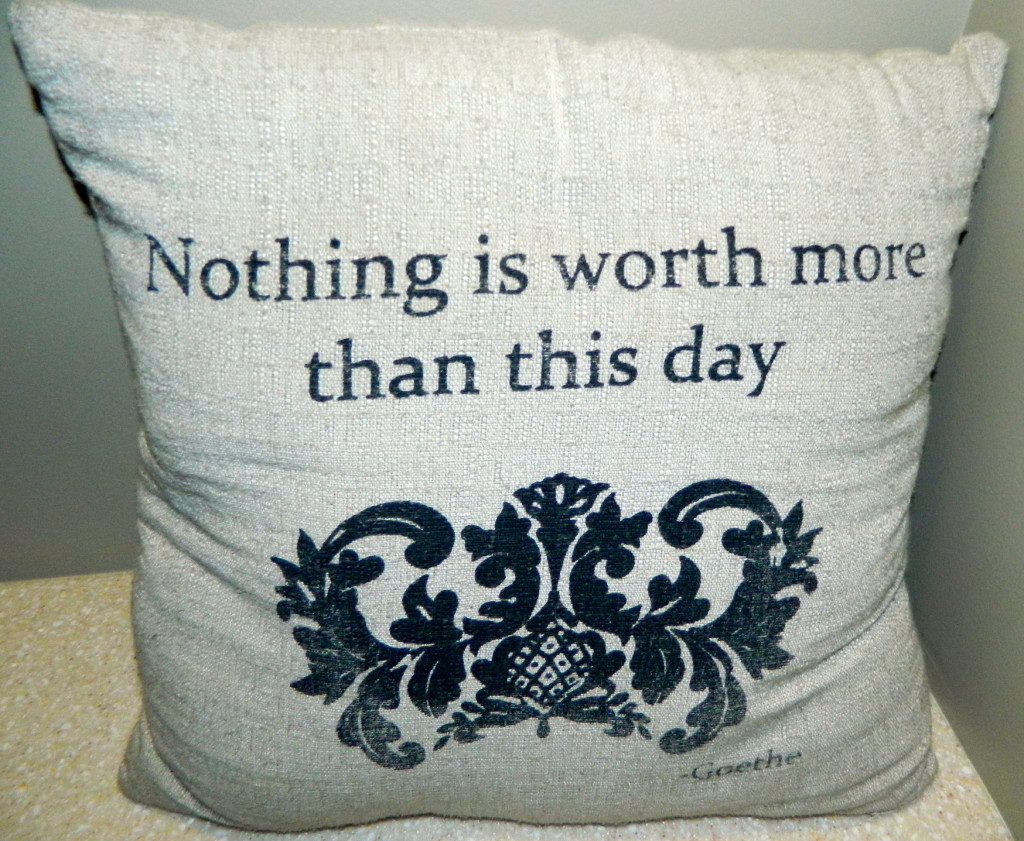 I want to print this picture and remember this everyday! I had lots on my mind that afternoon, but was able to clear my mind at the spa and focus on that moment….to enjoy time with my friend and celebrate her birthday!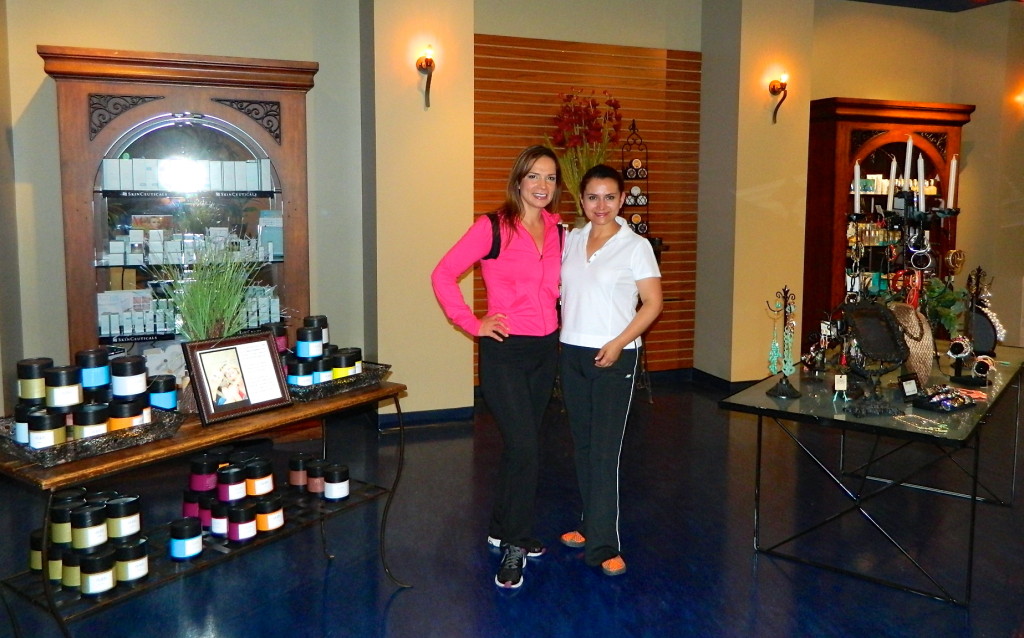 We looked around the store before we left. There are lots of skin products, candles, and jewelry. In addition to buying items for oneself, this is a good shop to buy gift items!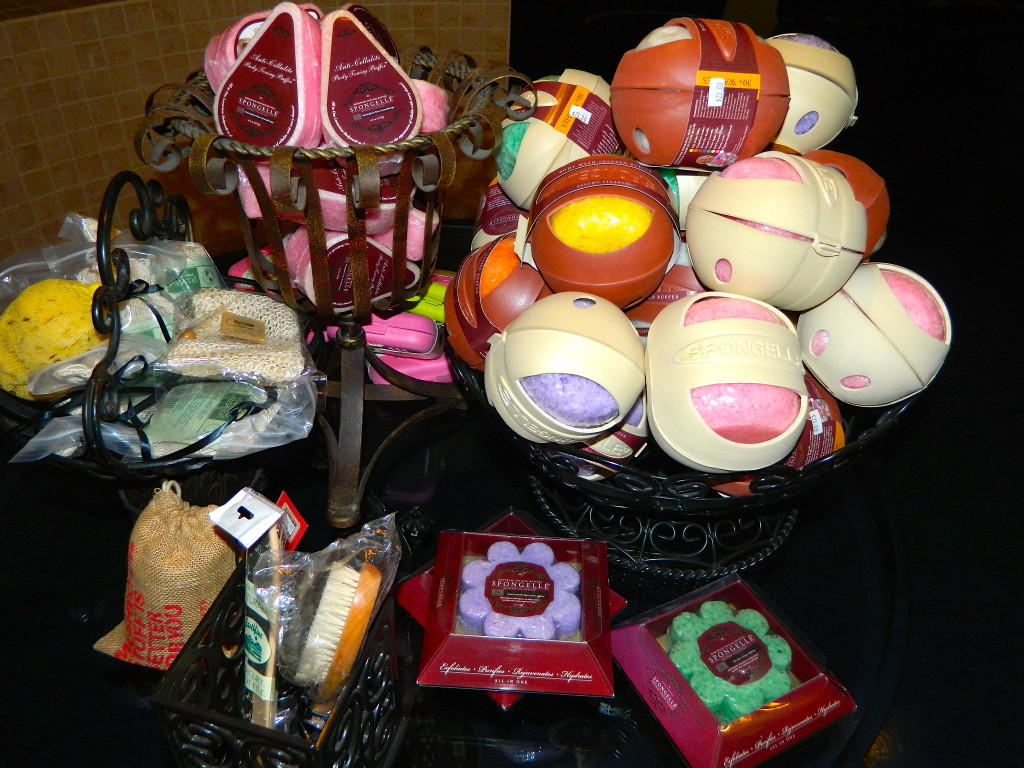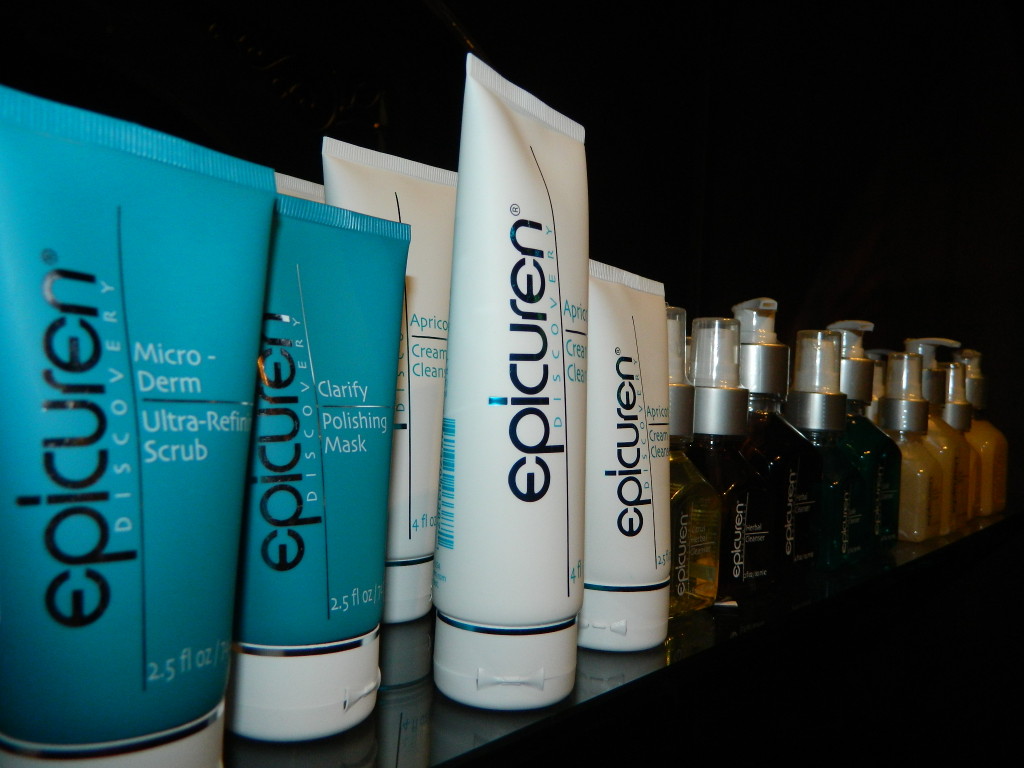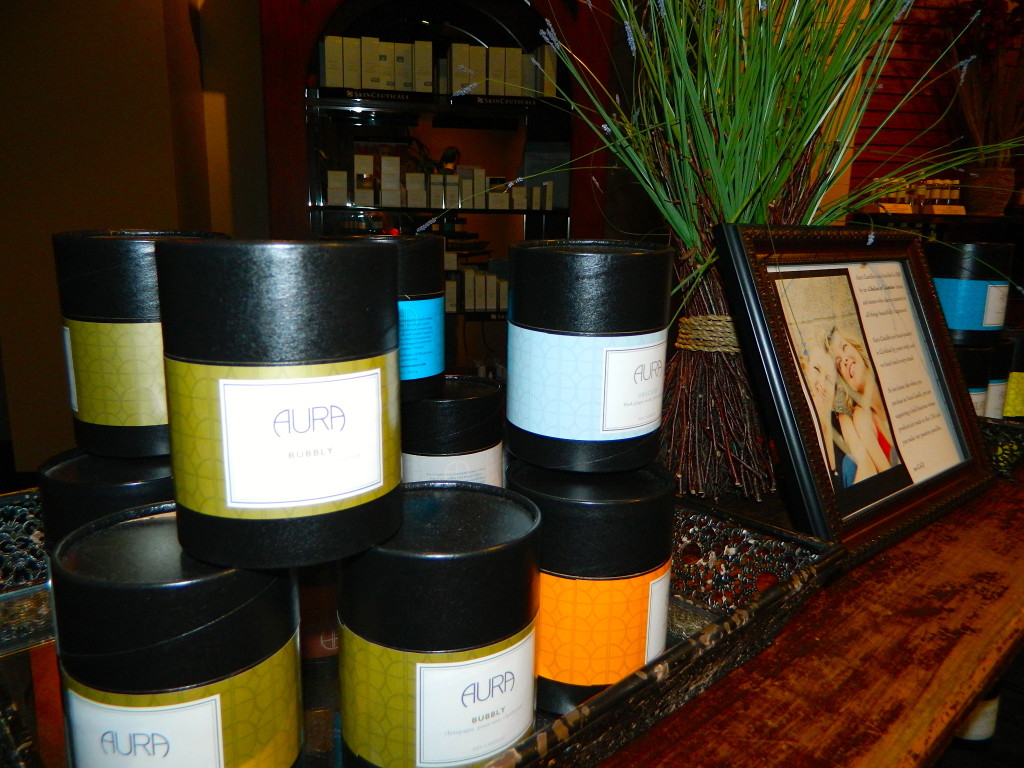 These Aura candles are made locally. It is nice to see that the shop at the spa carries local products!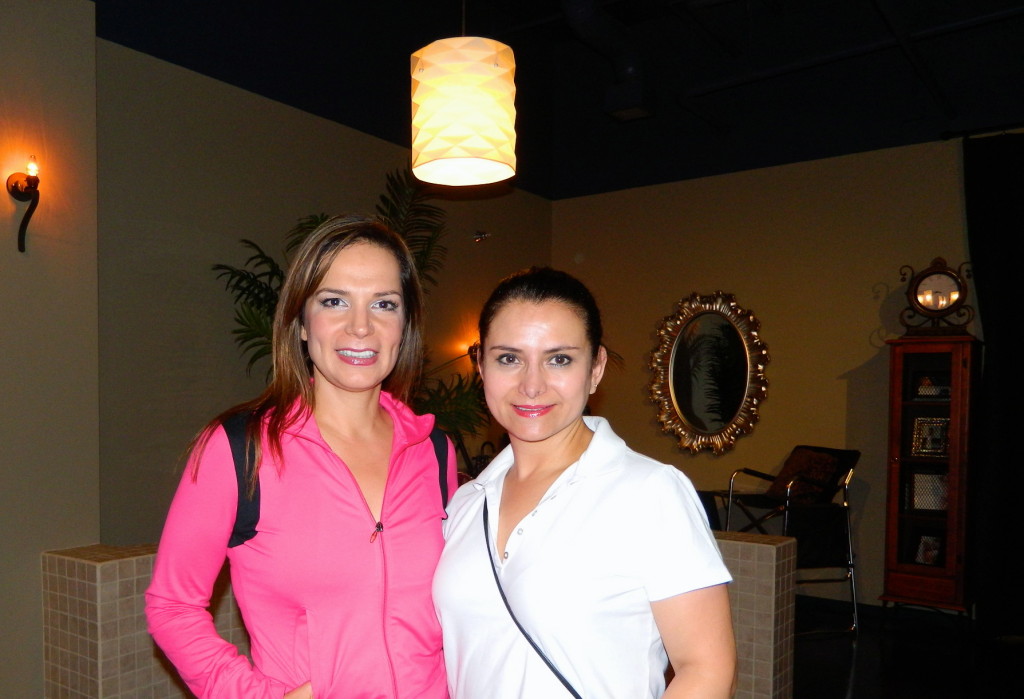 We both left feeling relaxed, pampered, and happy to have dedicated some time to ourselves with massages!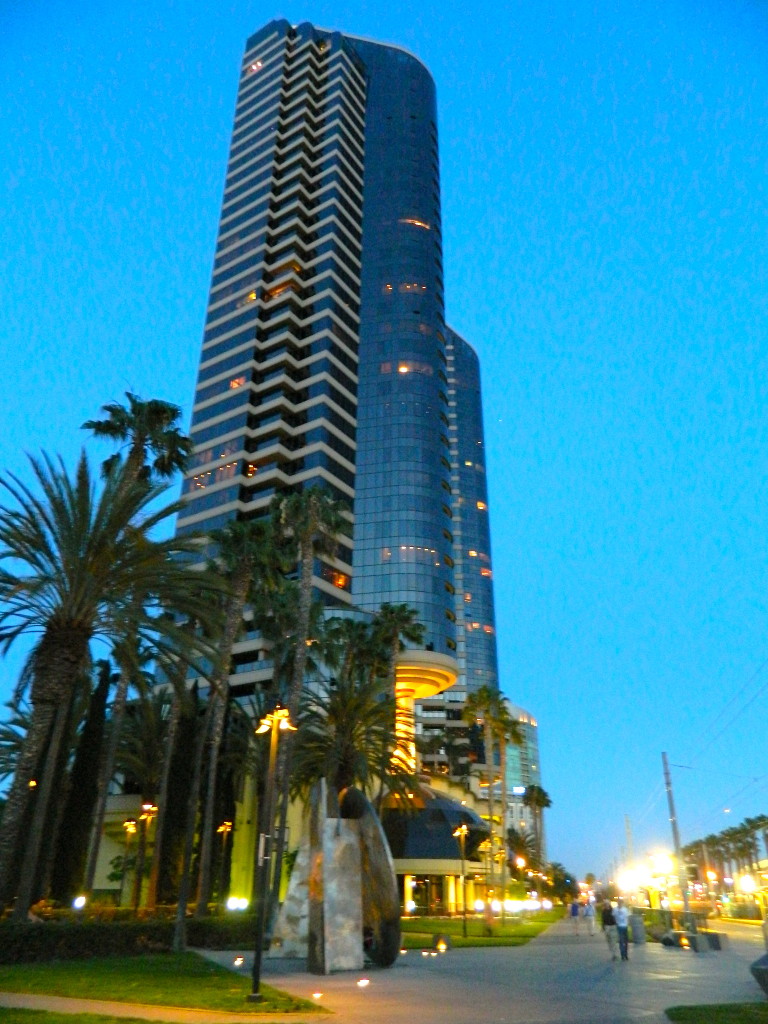 I took these last two pictures on our walk back to Lola's home. These are the Harbor Towers where Spa Velía is located.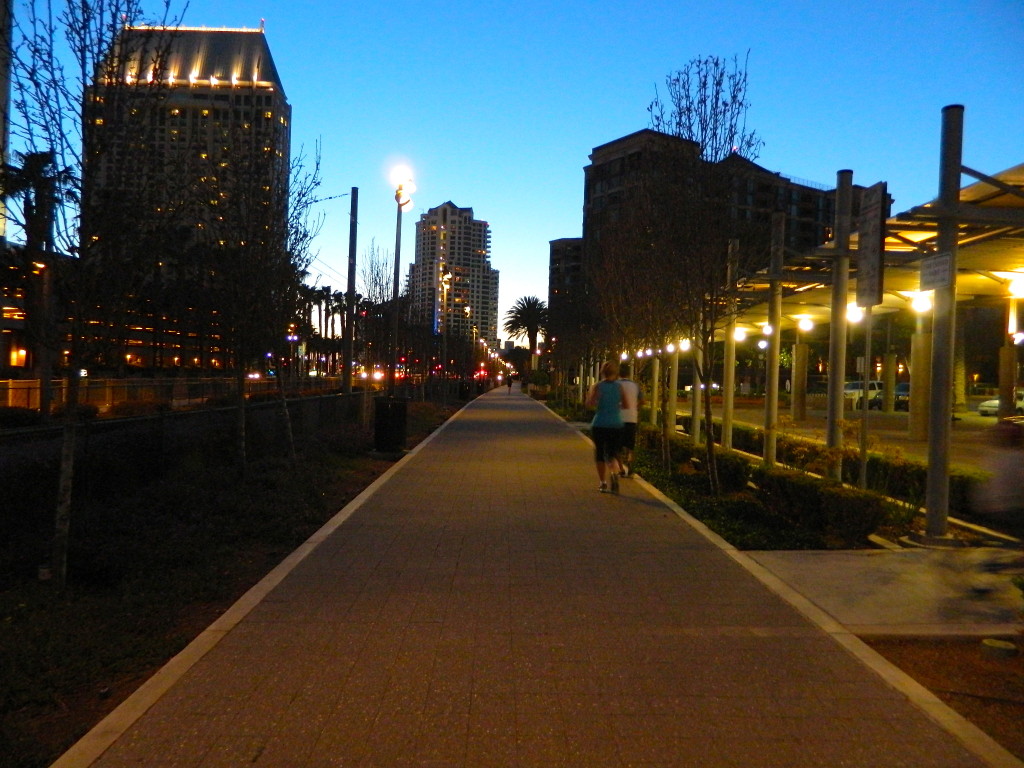 The walk was the perfect ending to a blissful afternoon at the spa!