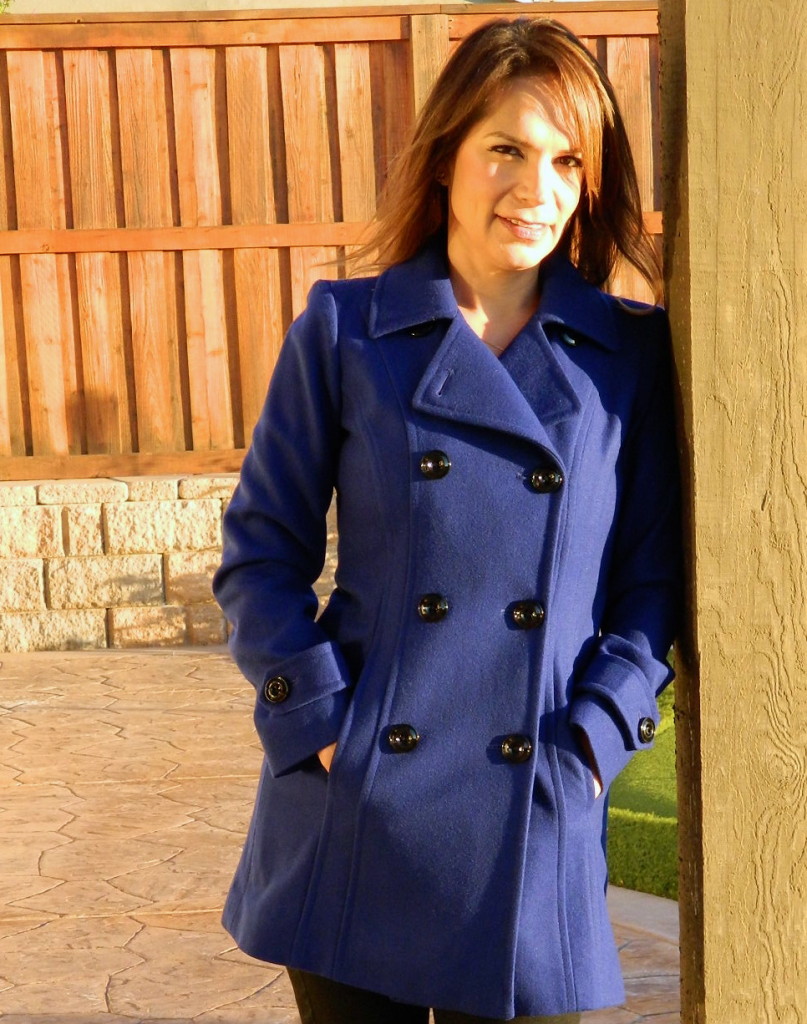 We may all be tempted to buy winter coats in the fall when we see them in the stores and the weather starts to get chilly, but we may also be paying a high price to purchase them at that time. I have found that the best time of the year to purchase winter coats on sale is in January. The prices are reduced after the Christmas holiday season and most stores offer winter clothing at clearance prices. In the past few years, I have been able to purchase coats in multiple colors and the classic black, at great prices during January! Winter coats are pieces that can be timeless if purchased in classic styles. Some of the coats in my closet were purchased years ago and I keep wearing them every winter because they don't go out of style.
In regards to quality, I prefer to buy good quality coats and don't mind spending more on them because I know it will payoff in the long run. Most of my coats are from Benetton, Anne Klein, Calvin Klein, and Ann Taylor. I also look at the material they are made of, wool is preferable because it is warmer and breathes better than coats made of artificial materials (ie: polyester or acrylic). If I find a cashmere coat that I like and it is on sale, I get it! Cashmere is very warm and soft, but can be expensive, so one of these coats on sale is a good find! Some fashionable lines and junior stores sell winter coats at lower prices, but those jackets and coats aren't always made of high quality materials. I have used my coats on multiple trips and wool coats are easy to pack and don't get wrinkled easily.
This year, I did lots of my Christmas gift shopping at Macy's. I saw a few winter coats that I immediately liked, but I fought the urge to buy them, because I knew the price would be reduced in January. Surely enough, I went back for the after-Christmas sale and the coats were reduced. Luckily, I found my size at the first Macy's I went to. A tip for those shopping at Macy's, if the size you are looking for is not available, you can ask the sales associate to look it up on the computer (cash register) and they can tell you if a store close by has it. They can also call that store and request it be placed on hold for you (usually for 24 hours), or you can order it on the spot and request it be shipped to your home (shipping is usually free if they do not have your size in the store you are at). For the most part, the store also allows Macy's credit card users to use the discount coupons (sent by mail or found in the newspaper) on items already on sale or discount price (some exceptions apply, ie: designer brands like Michael Kors). I usually like to see things in person, feel the material and try it on on, before I purchase it. If I try on a size too small or large, I still get an opportunity to see the item, get a sense of how it looks on my body type, and decide if I want to order it in my size.
Last week, I found this beautiful Ann Klein coat on sale at Macy's! I didn't have a coat in this tone of blue and decided to purchase it, and got and additional 20% discount with the store coupon! There are still a few weeks of cold weather remaining, so I will get to enjoy wearing it this season and in the coming years as well!
Have you found any good coats this season? Do you look for coats on sale in January?
Happy shopping…hope you find some good sales this month!

Hugs,
Paola
PS – All this being said, if you find a jacket that you absolutely love and have been looking for for a long time, just go ahead and buy it anytime of the year. If you wait until January, you may risk not finding it in your size. Even if you pay full price, if you really love the coat, it will be worth paying full price….and will pay off over the years of joy and warmth the coat will bring you.
En ESPAÑOL después de fotos. 
Mejor Tiempo Para Comprar Abrigos
Todos tenemos la tentación de comprar abrigos en el otoño cuando los vemos en las tiendas y comienza a hacer frío, pero estaremos pagando precios altos por comprarlos en esa temporada. El mejor tiempo para comprar abrigos a descuento es en enero y febrero. Los precios son rebajados después de la Navidad y aún mas en febrero porque las tiendas quieren cambiar el inventario a ropa de primavera. En años pasados, he comprado sacos y abrigos en varios colores con grandes descuentos en enero y febrero. Abrigos son piezas que no pasan de moda si los compras en estilos clásicos.
En cuanto a calidad, prefiero abrigos de buena calidad y no me molesta pagar mas ya que se que a largo plazo valdrá la pena. La mayoría de mis abrigos son Benetton, Anne Klein, Calvin Klein, y Ann Taylor. También me fijo en el material, prefiero lana porque es mas cubridor y respira mejor que materiales sintéticos (como poliéster o acrílico). ¡Si encuentro un abrigo de casimir que me gusta y esta a descuento, lo compro! ¡Casimir es cubridor y suavecito, pero puede ser caro, así que encontrar uno de estos abrigos a descuento es una buena compra!
Este año, hice muchas compras navideñas en Macy's. Vi unos cuantos abrigos que me gustaron, pero me detuve en comprarlos ya que sabia que el precio estaría reducido en enero y febrero. ¡Y, así fue! Regrese y los compre a precio de descuento. Me toco la suerte de encontrarlos en mi talla en la primer Macy's que fui. Un consejo para los que compran en Macy's, si la talla que estas buscando no esta disponible en la tienda, le puedes pedir a la representante de ventas que revise en el sistema y te avise si una tienda local tiene la talla que buscas. Pueden llamar a la tienda y pedir que reserven la prenda para ti, o lo puedes ordenar y pedir que te lo envién por correo (por lo regular no cobran por el envió si no tienen tu talla en las tiendas locales). Macy's frecuentemente tiene cupones de descuento, como el que aparece en periódico El Latino, y en algunos casos permiten el uso de los cupones en productos a precio de descuento.
¿Has encontrado algún abrigo a descuento esta temporada?
¡Que se diviertan con sus compras….ojala encuentren buenas especiales este mes!
Un abrazo,
Paola
P.D. – Habiendo dicho esto, si encuentras un abrigo que absolutamente te encanta y haz estado buscando por mucho tiempo, compralo a cualquier temporada del año. Si te esperas hasta enero o febrero, quizás corras el riesgo de no encontrarlo en tu medida. Aunque pagues precio completo, si de verdad te encanta el abrigo, valdrá la pena pagar precio completo…y desquitaras el precio al paso de los años de alegría y la cobertura que te traerá cada vez que te lo pongas.