Hi friends,
There are many ways to stay active! One of my favorite ways is to walk. I prefer walks outside. I find them relaxing and a great way to clear my mind, to get some fresh air and de-stress. The walks I enjoy the most are with friends! Lola is my exercise buddy and we try to go for speed walks at least one to three times per week. I have written about these walks before. We have fun every time, we catch up on our lives, chat about a million topics, we call it our "therapy time," and for me it has become "me" time. Most of the time we walk by the bay downtown and Little Italy, where Lola lives. Downtown is close to my office and easy to drive to after work, then I head home afterwards.
We like to periodically mix it up and walk at other locations. Balboa Park is one of our favorite places to walk at. It also happens to be close to downtown and there is ample free parking, which is a plus. Balboa Park is a beautiful public park with many museums, art studios, restaurants, event venues, fountains, and attractions. It is very green with lots of plants! It makes for a scenic walk and there is always interesting people walking. It is a tourist attraction, but also a popular for locals. There are beautiful venues and buildings where brides and quinceañeras take pictures.
Last Friday, Lola and I decided to go for a walk at Balboa Park. The weather was nice and warm, it was the perfect way to unwind from a long week at work, and also get some fresh air while we got in some exercise! We walked for a little more than one hour. In case you are wondering, here's our route: we parked in the Federal Lot located at Park Boulevard and Presidents Way (behind the San Diego Hall of Champions Sports Museum), walked northeast on the sidewalk along the Organ Pavilion parking lot, walked into the Spreckels Organ Pavilion, continued north towards the San Diego Museum of Art, walked past the fountain heading east towards the Reuben H. Fleet Science Center, walked around the fountain heading north past the San Diego National History Museum, turned west towards the San Diego Zoo, turned south and walked through the Spanish Village Art Studio, headed south past the San Diego National History Museum, walked into the Zoro Garden, headed west back towards the San Diego Museum of Art, then south towards the San Diego Aerospace Museum, walked all the way to the Museum, turned around and walked north past the Starlight Bowl, turned right at the Hall of Champions towards the Federal parking lot. We ended the walk with a cool down walk around the parking lot & some stretches….we kept chatting the entire time, ha!
So, next time you have an opportunity, visit Balboa Park or a park near you – enjoy the scenery and get active! Stretch your legs and get some fresh air!
Here are some pictures from our walk, hope you like them!
Do you visit parks in your area? Which park is your favorite? Do you go for walks, if yes, where? Have you been to Balboa Park?

Hugs,
Paola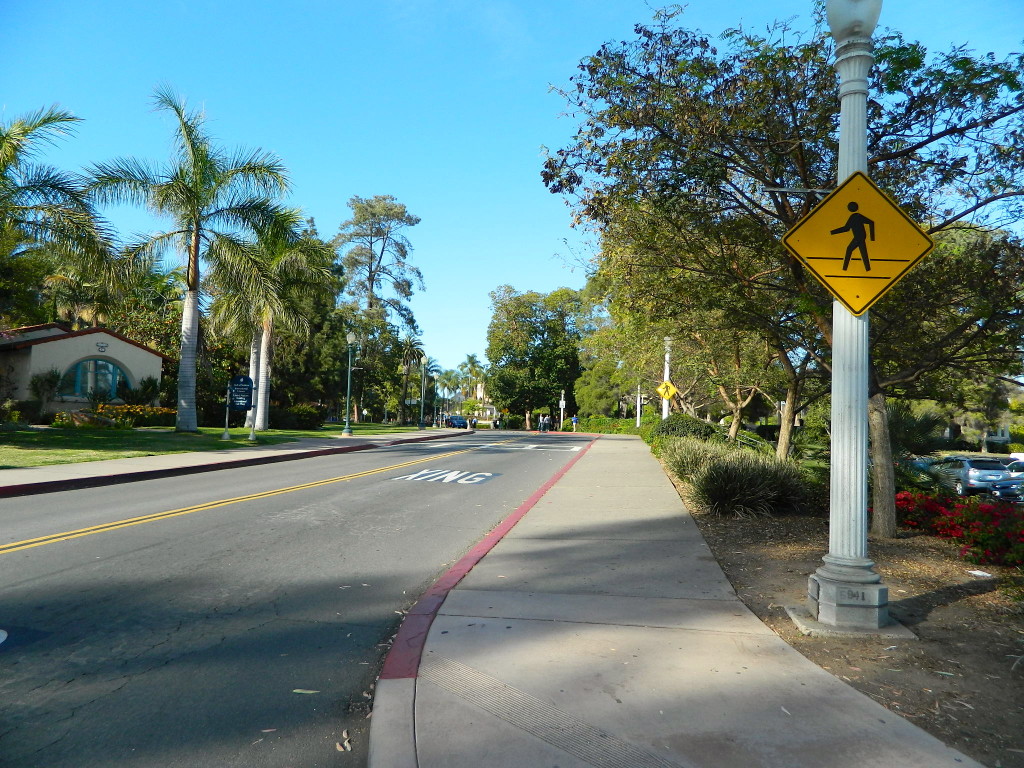 We started our walk close to the San Diego Hall of Champions and headed north.
There were a few groups of people taking pictures at the Spreckels Organ Pavilion.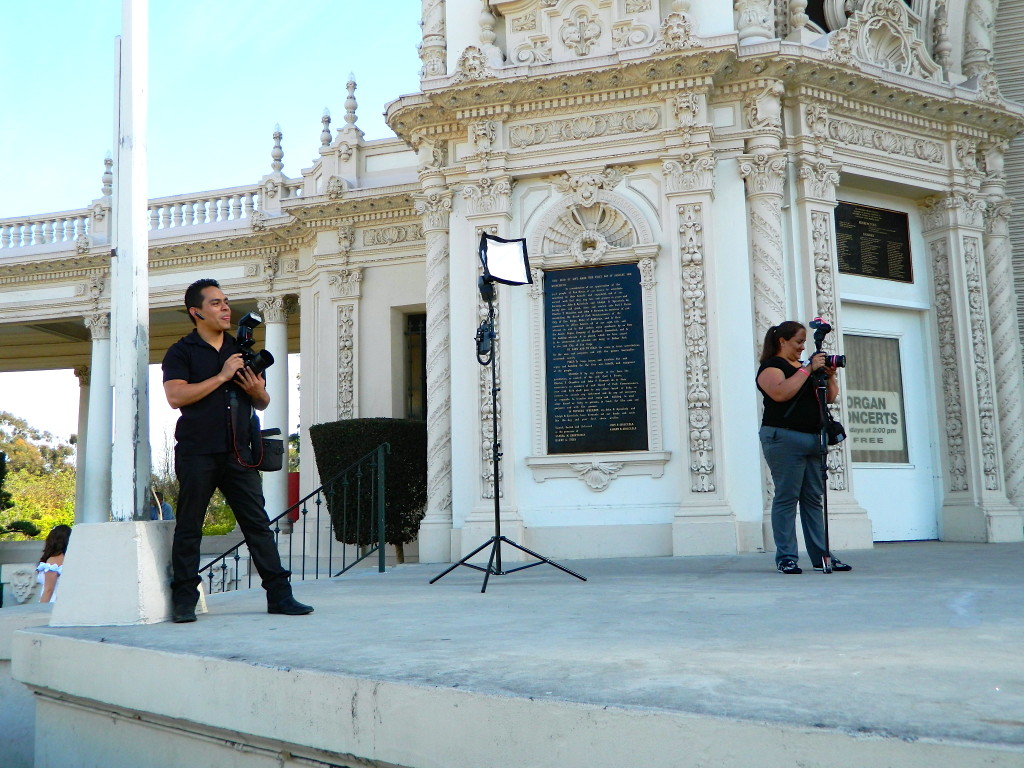 We said hi to photographer Aron Martinez. I have worked with him on the Quinceañera Expo.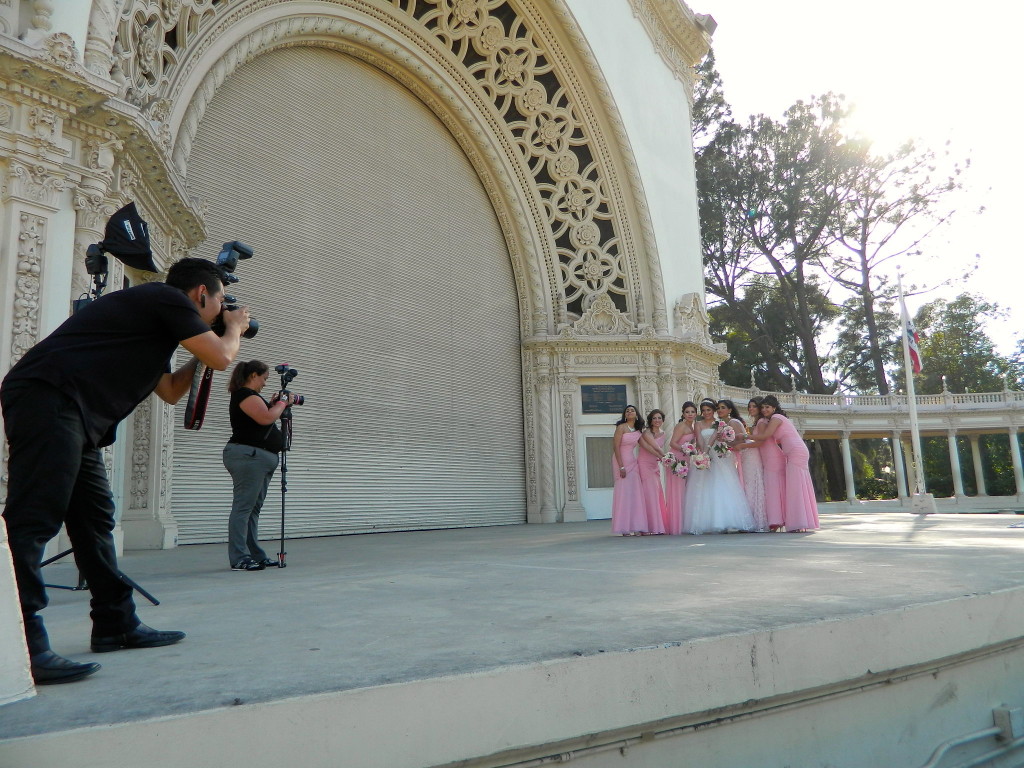 He was photographing a bride and her bridesmaids.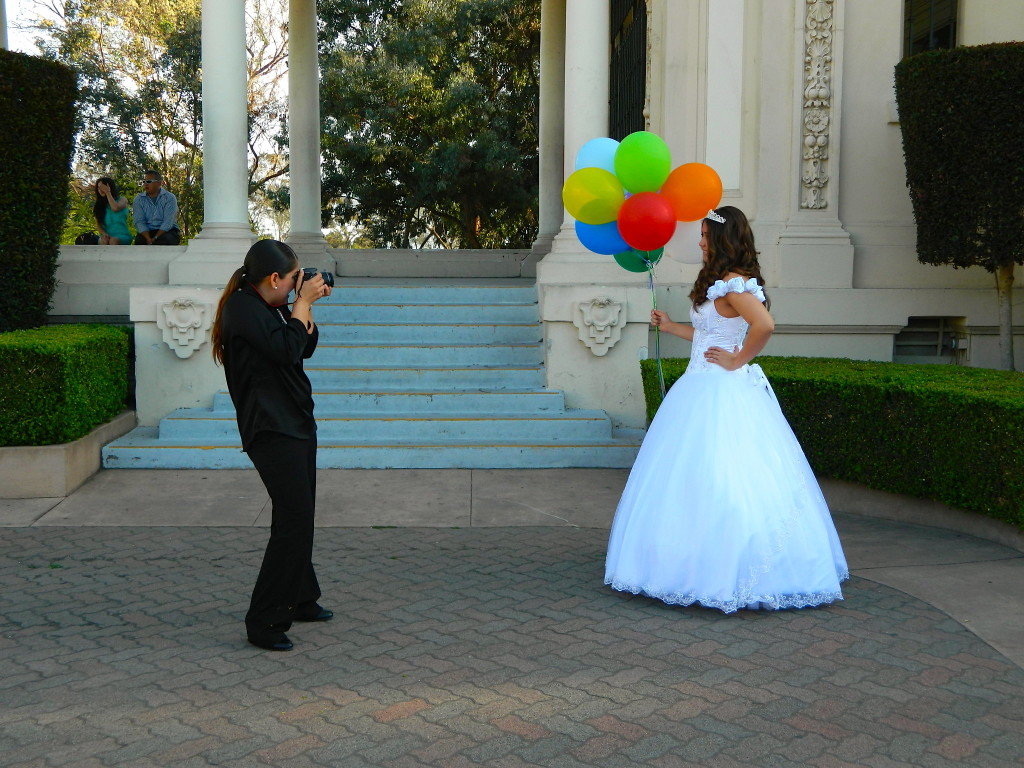 We also saw a Quinceañera getting her photos taken.
I stopped to use the restroom and when I came out, Lola was taking this picture. Can you see what she was photographing? Look close in the sky.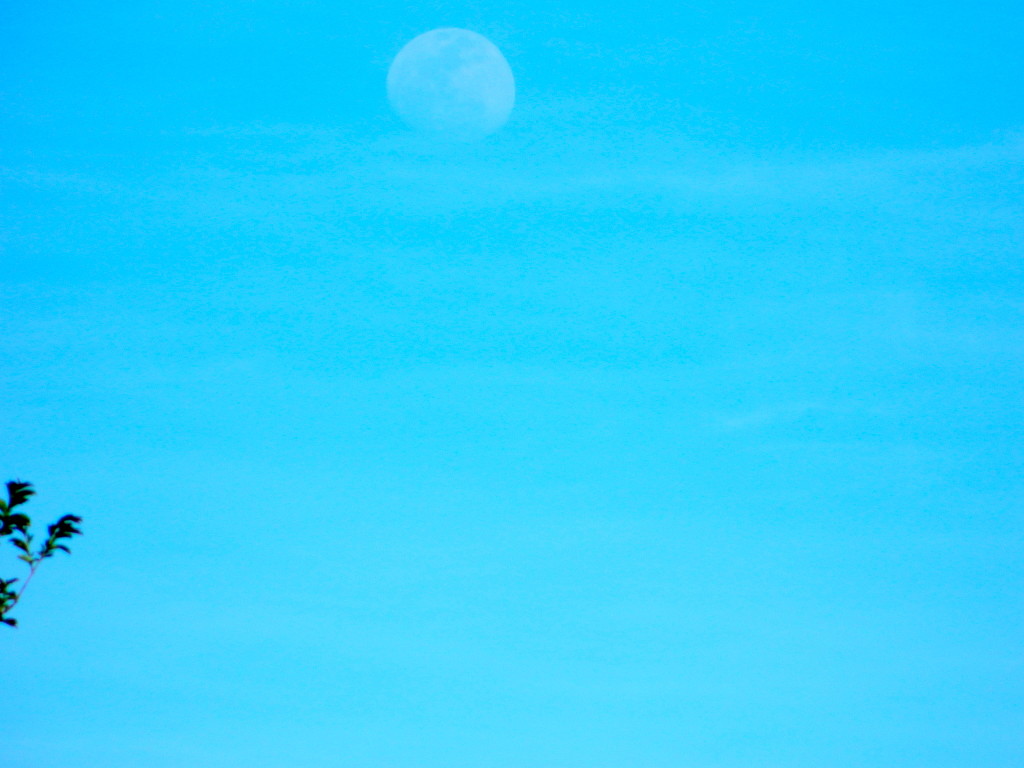 It is the moon….do you see it?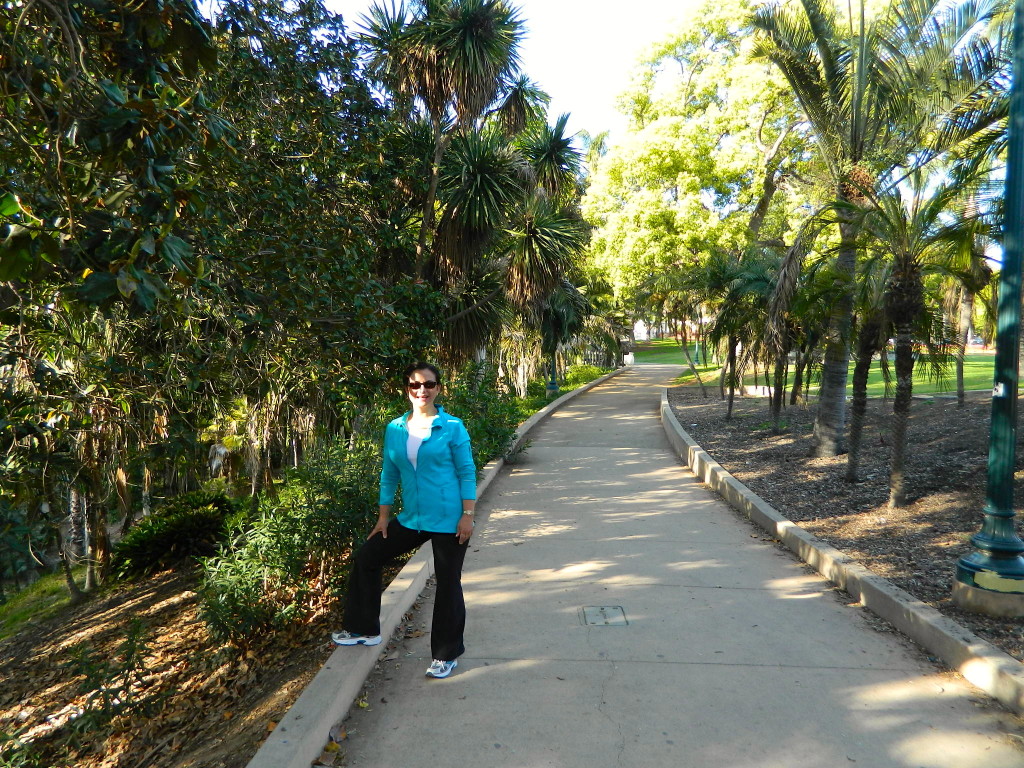 Lola stopped to take a picture. There are palm trees throughout the Park.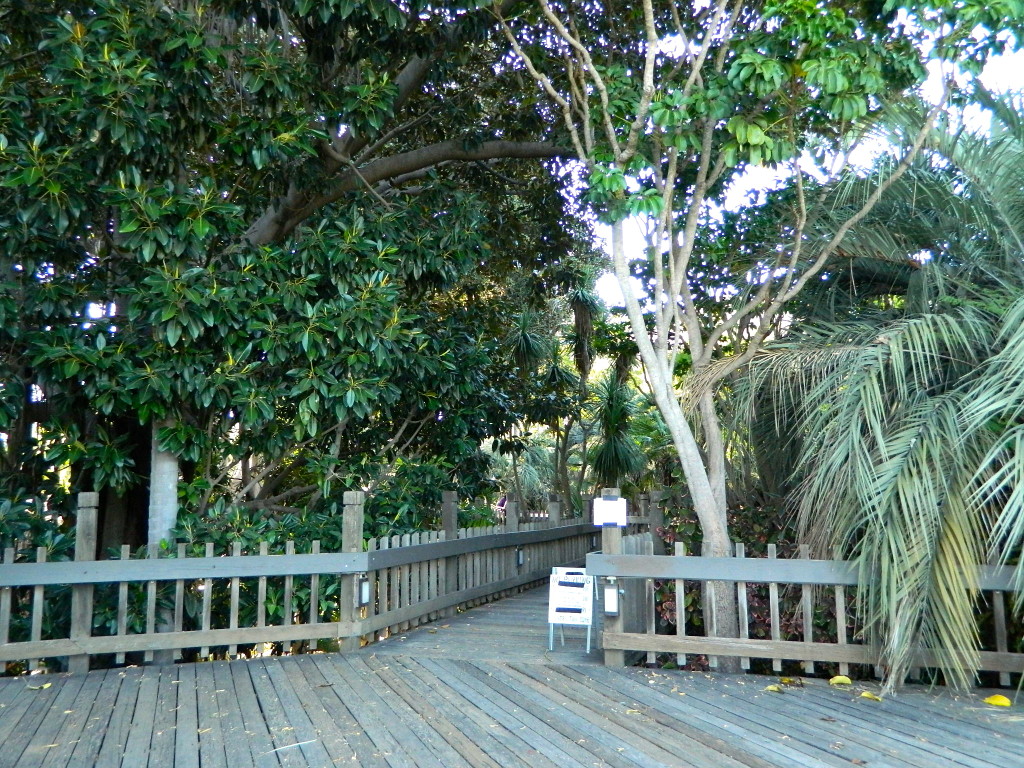 The Park is so green, beautiful!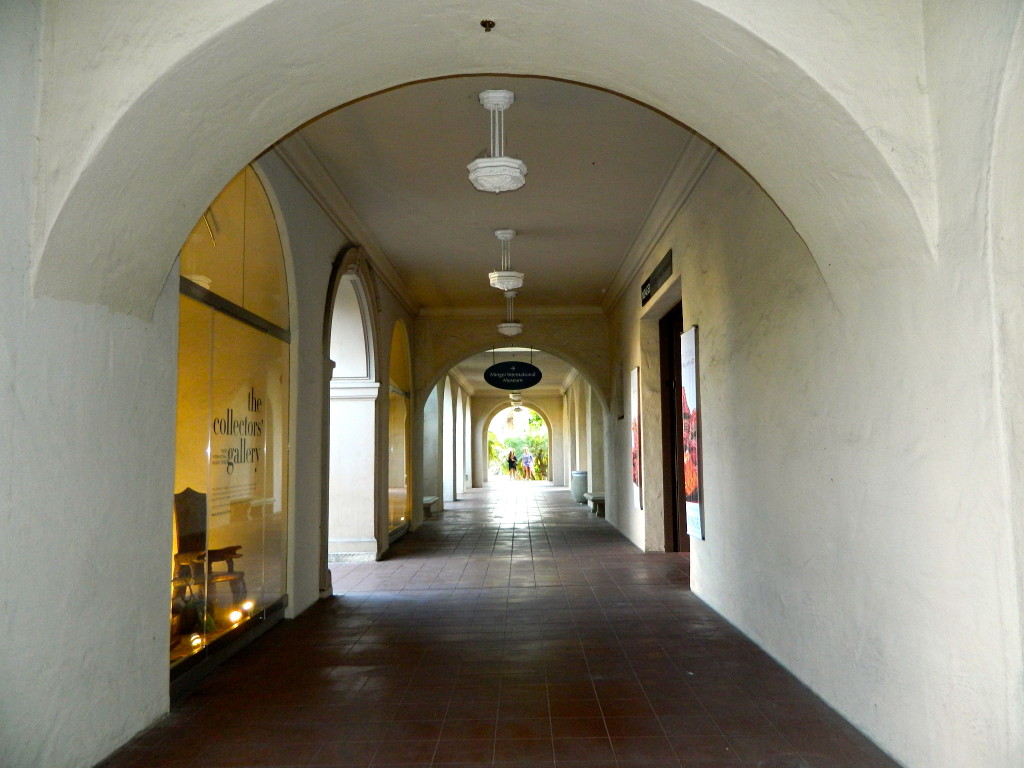 It has amazing hallways and walkways!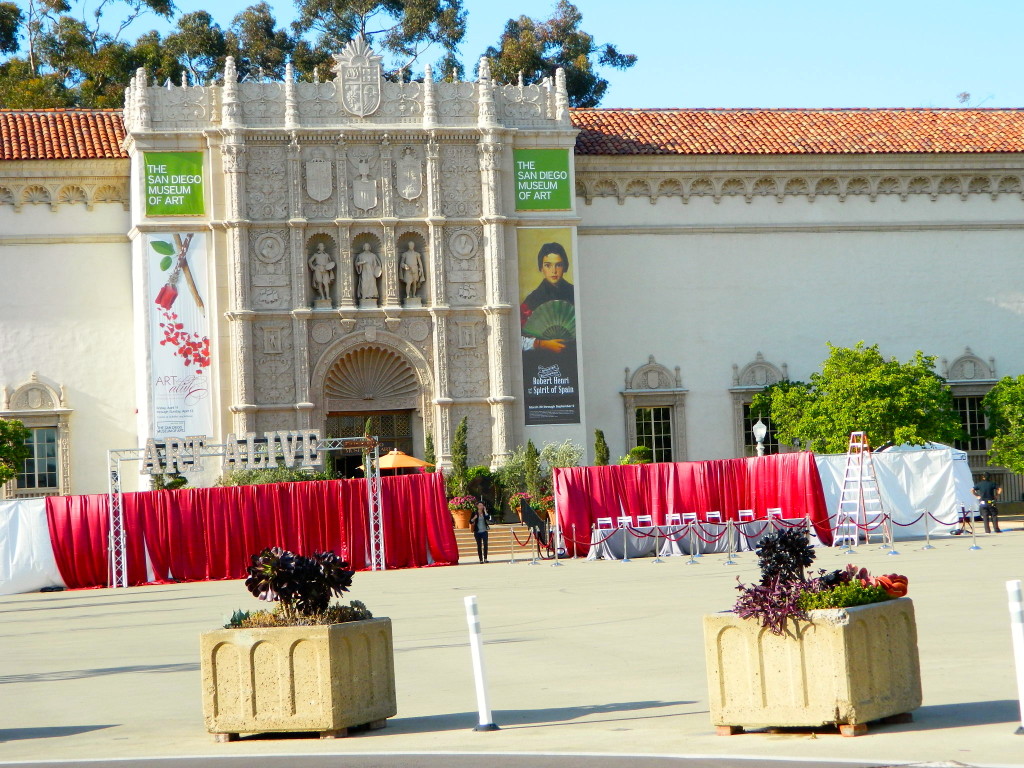 The San Diego Museum of Art was set-up for the Art Live charity event.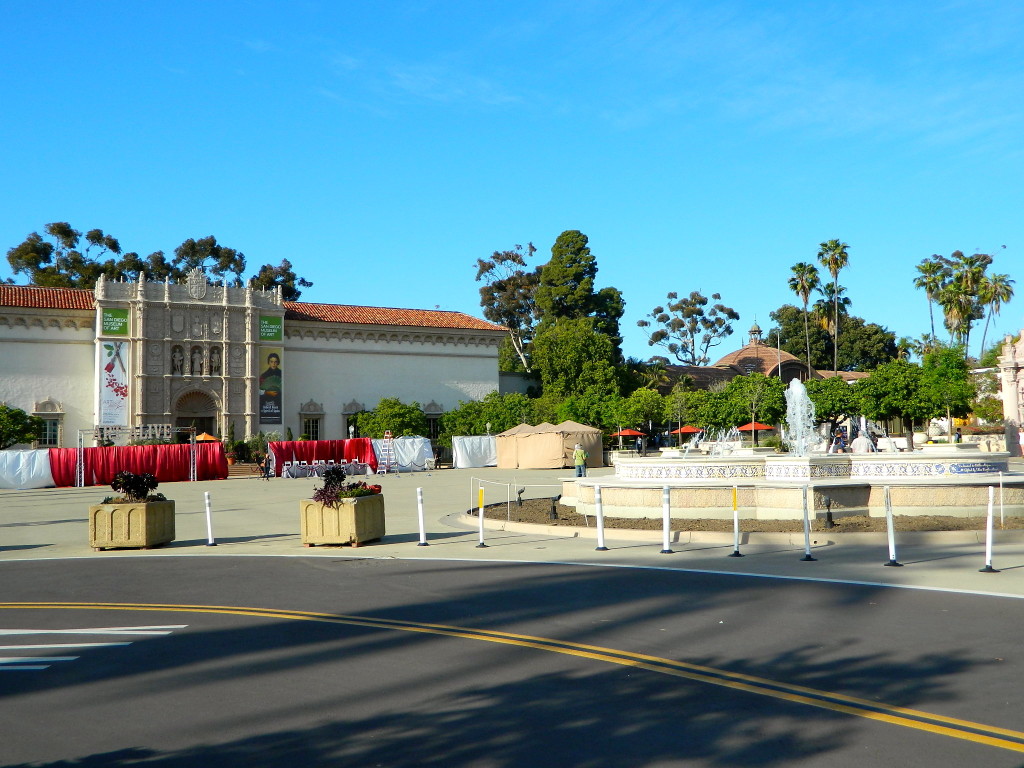 We walked past the fountain.
The architecture is amazing!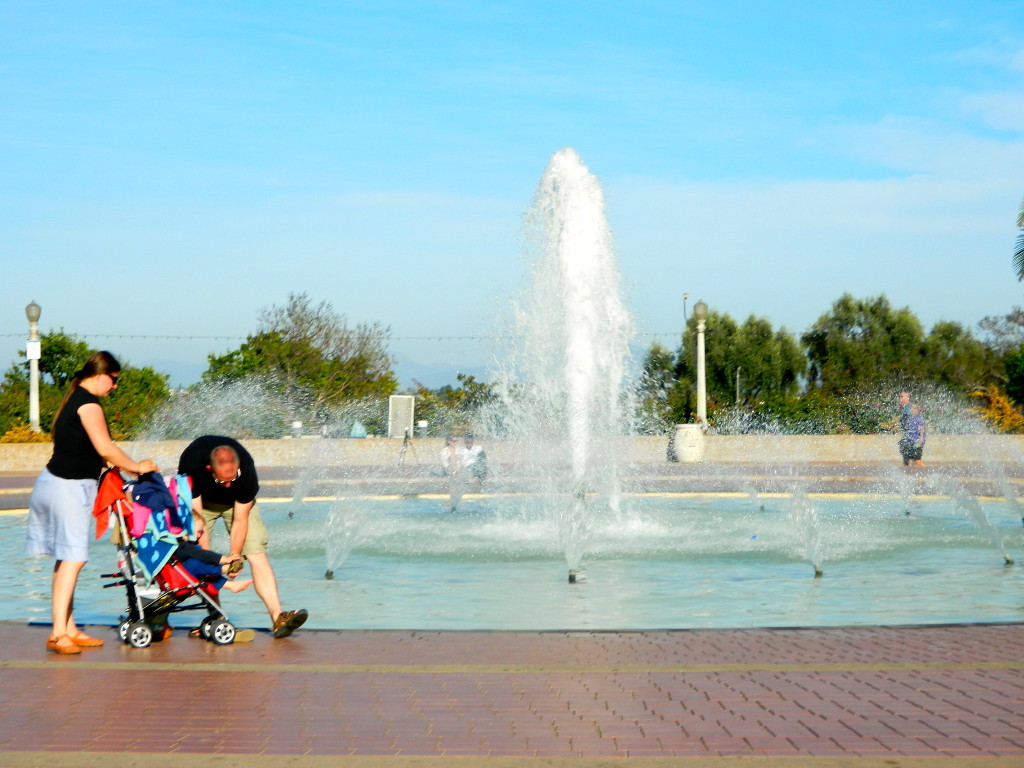 There were lots of families enjoying the Park.
This is the fountain in front of the Reuben H. Fleet Science Center, one of my favorite spots at the Park!
No, we didn't go inside the Zoo, these are giraffe sculptures located at the Miniature Railroad.
One of the entrances to the Spanish Village Art Studios.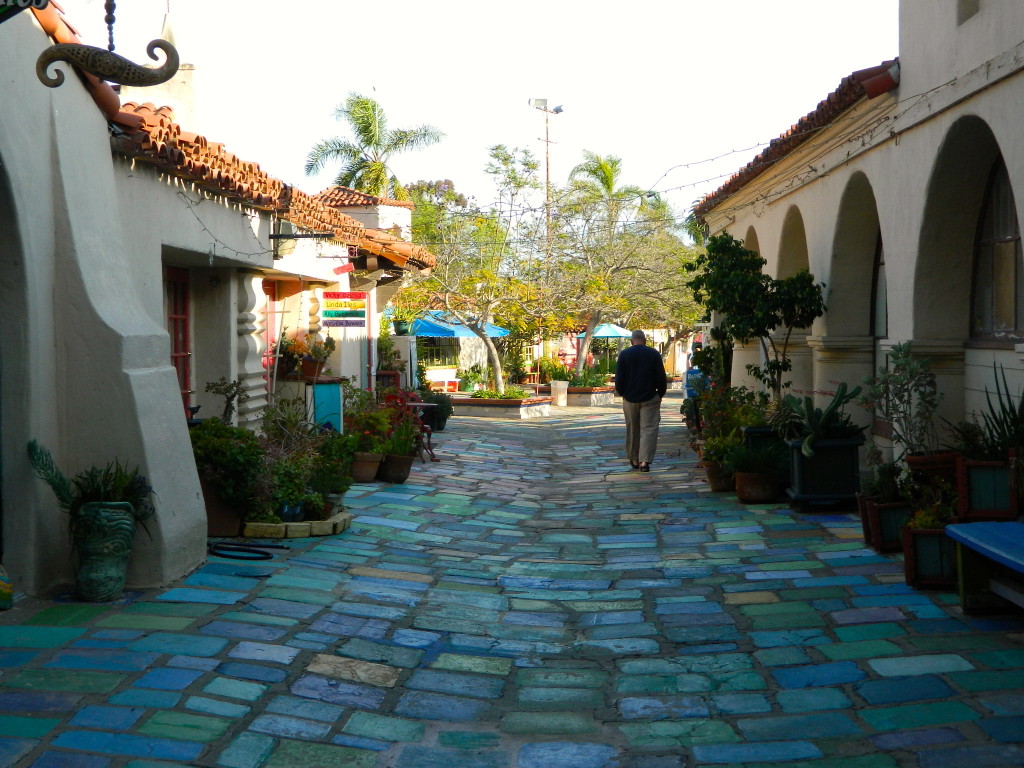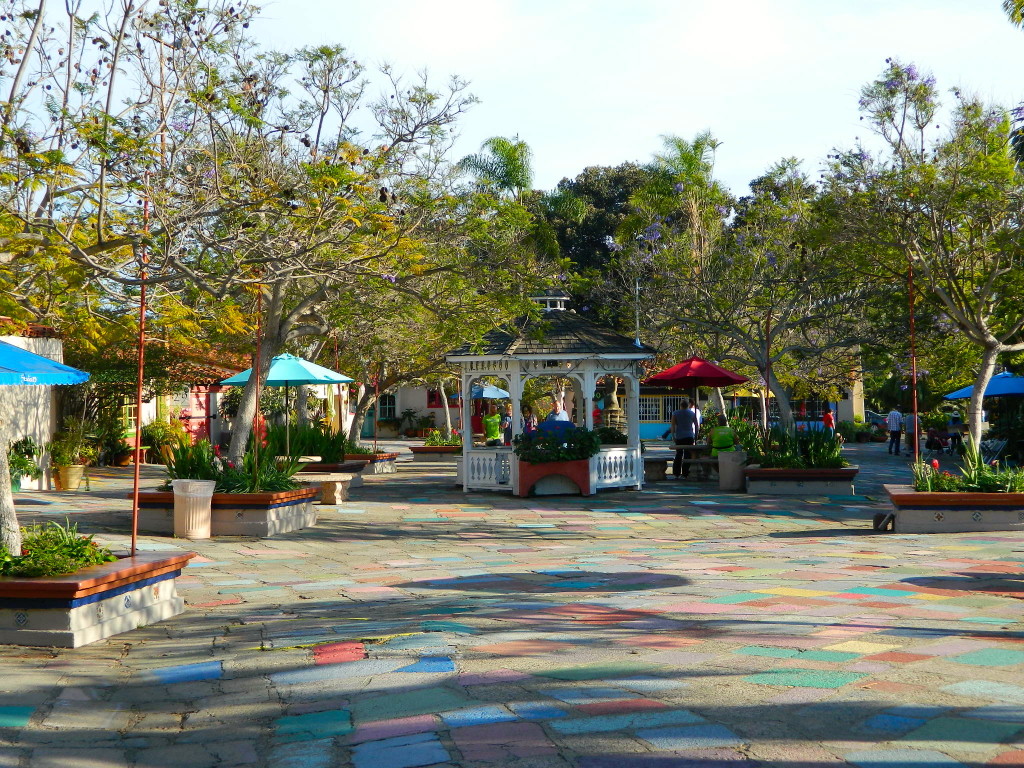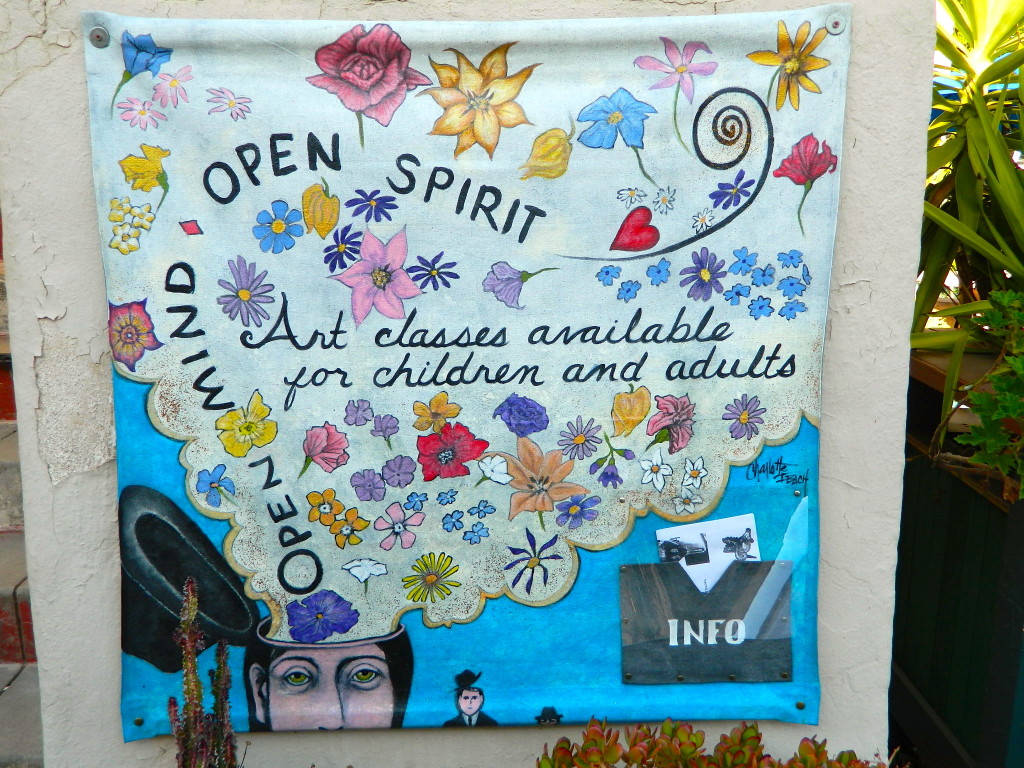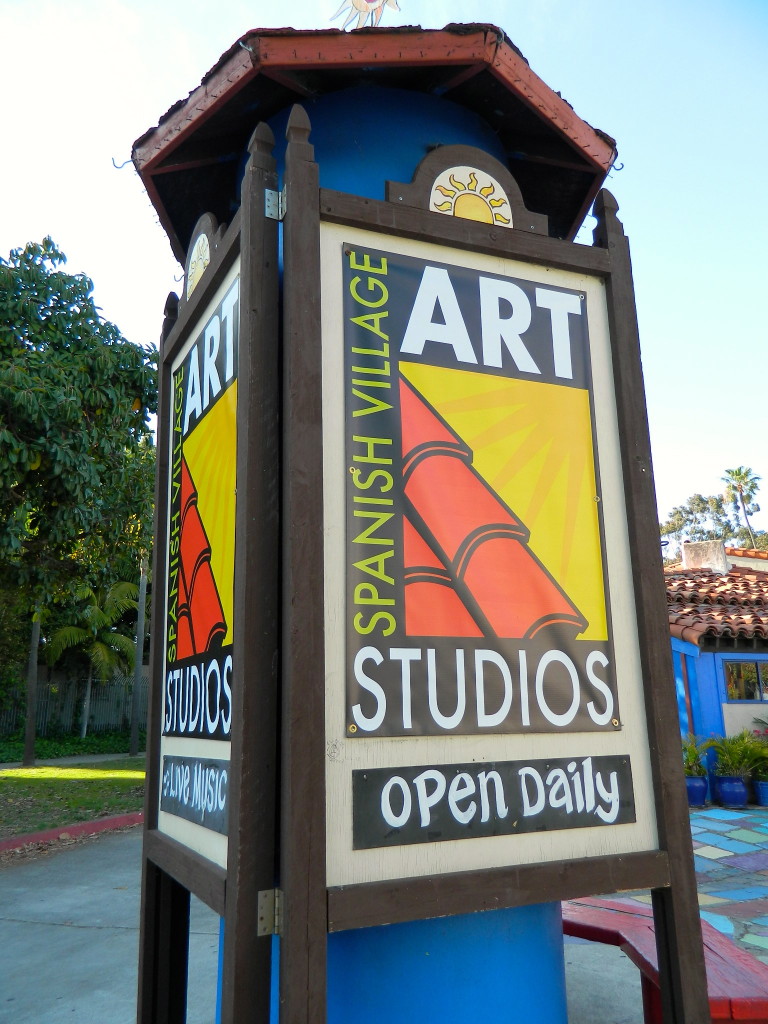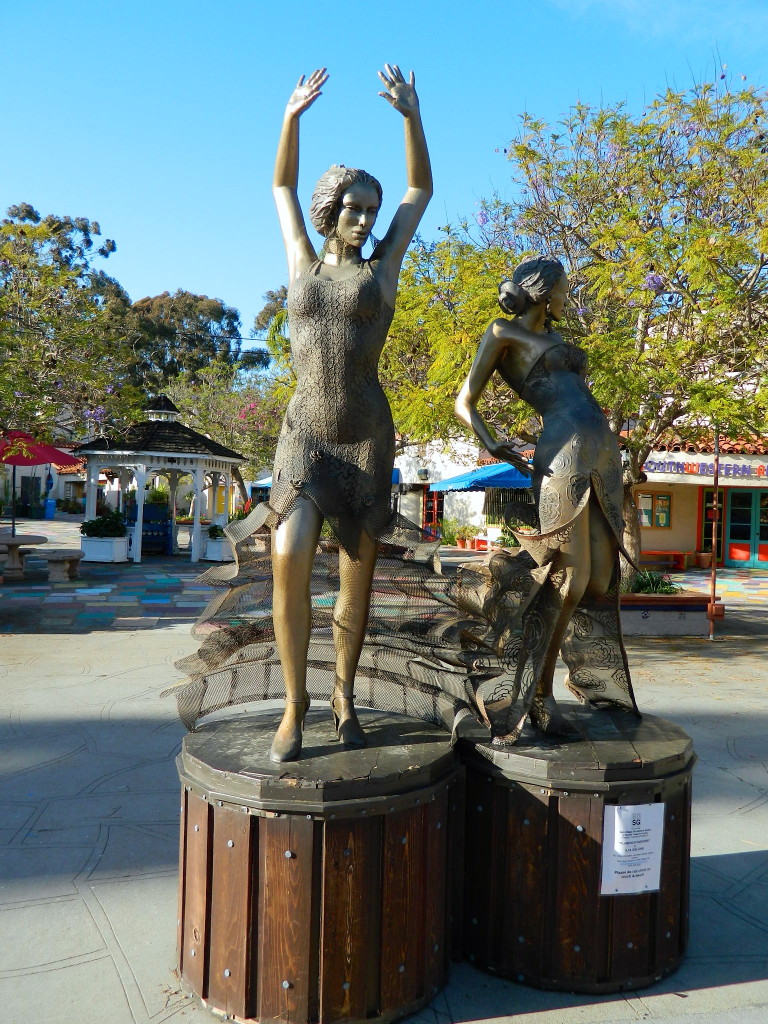 Sculptures of flamenco dancers in the Spanish Village Art Studios area.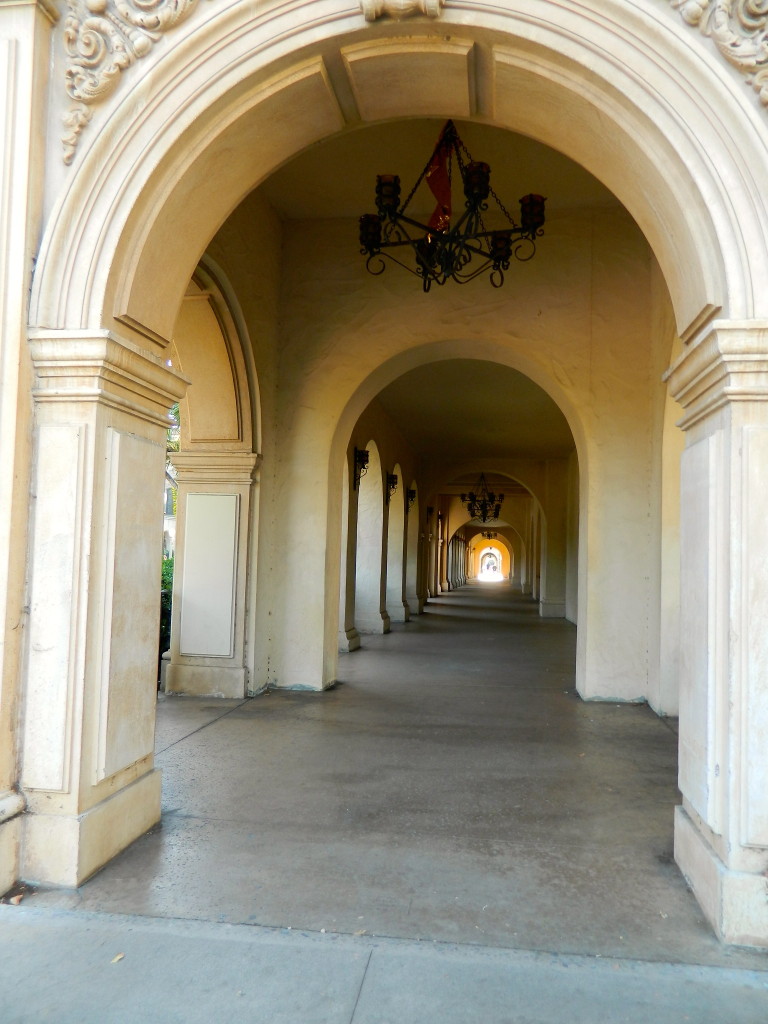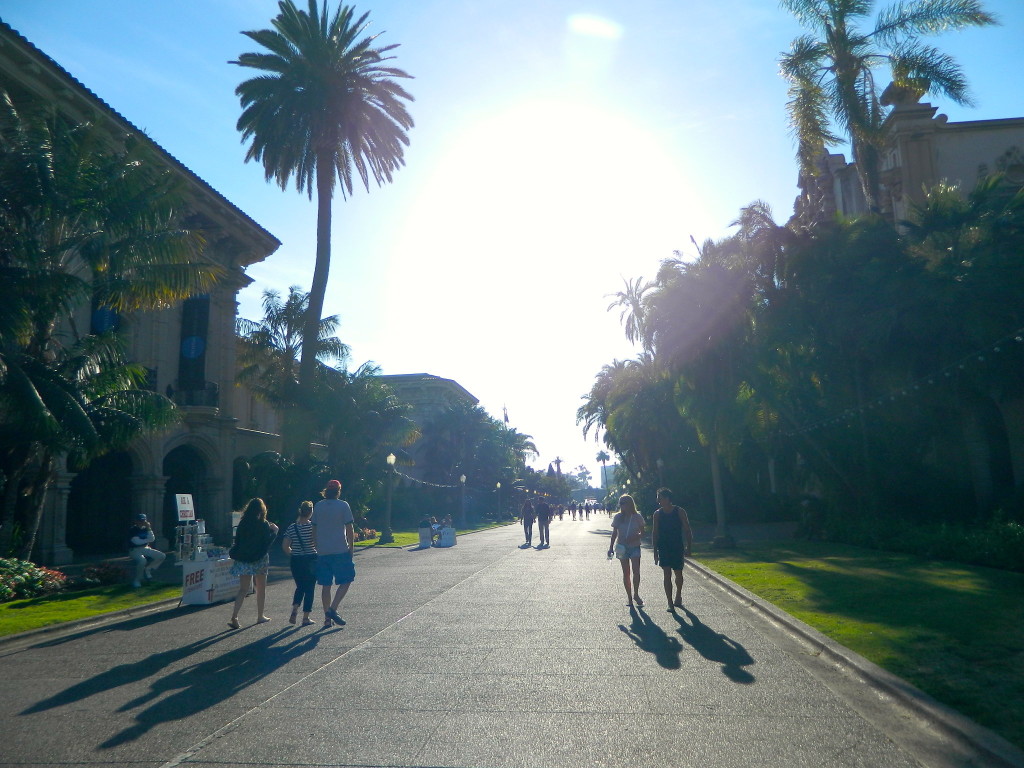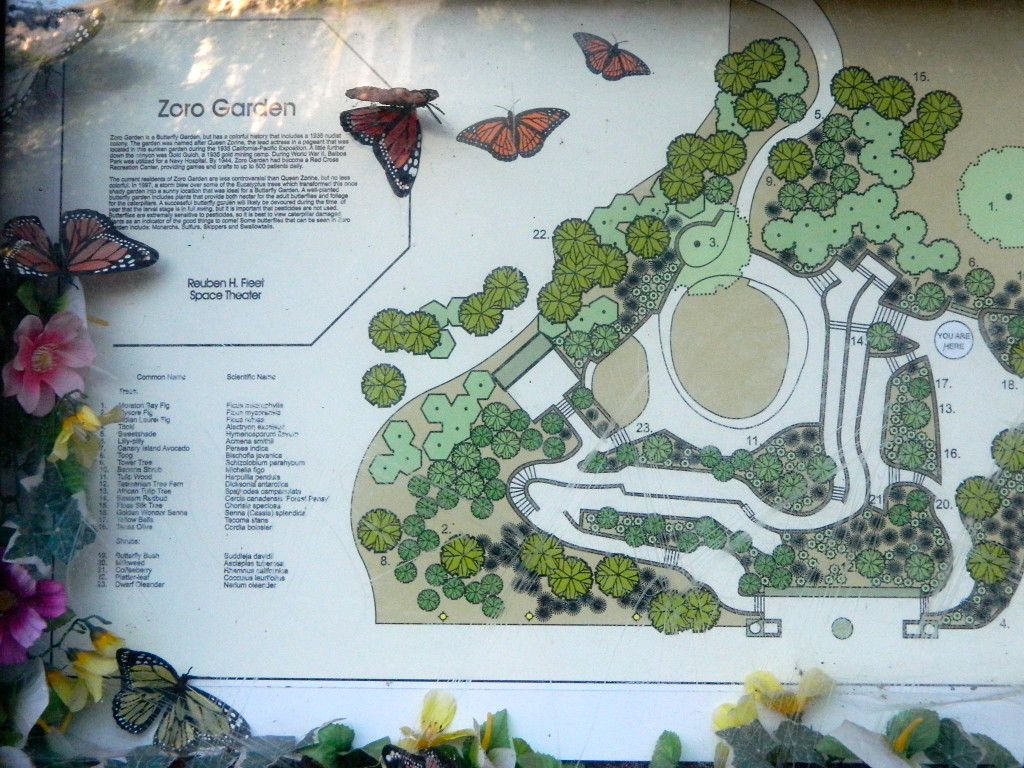 We walked into the Zoro Garden (also a butterfly garden).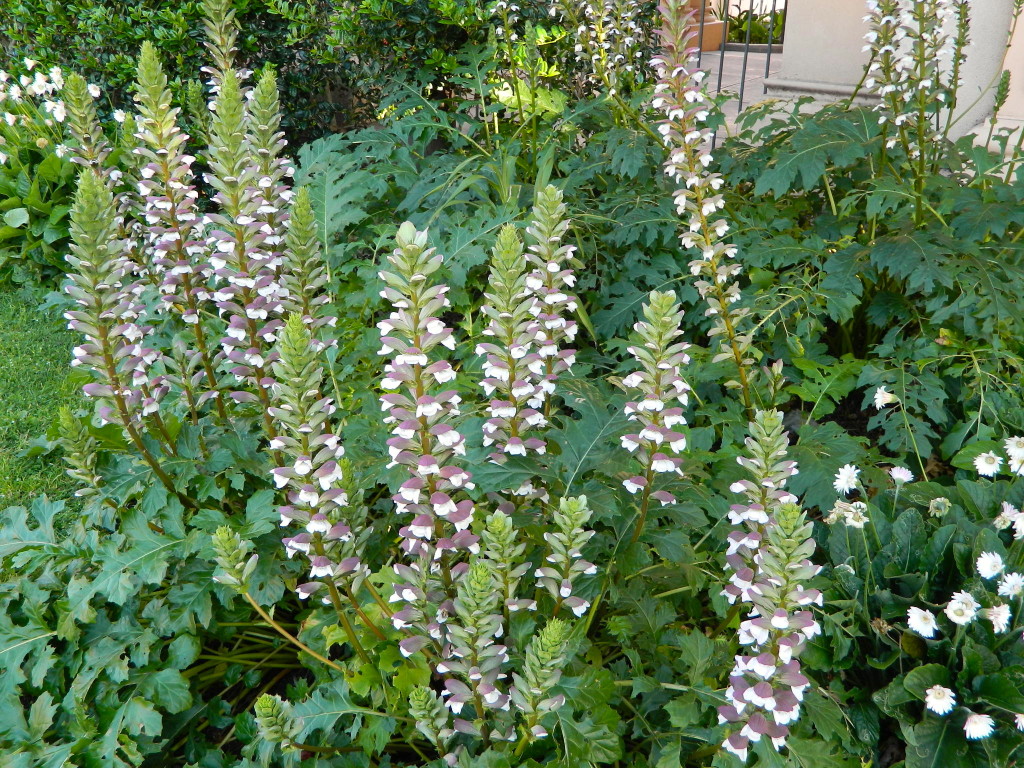 There are lots of flowers around the Park.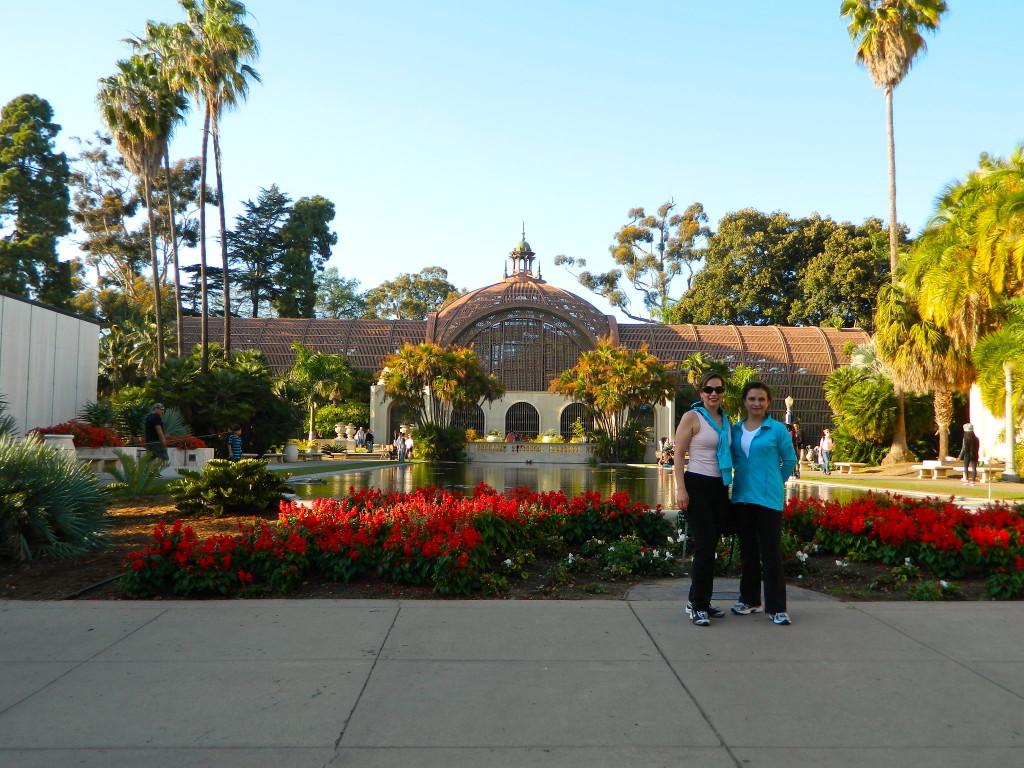 We stopped for a picture in front of the Lily Pond.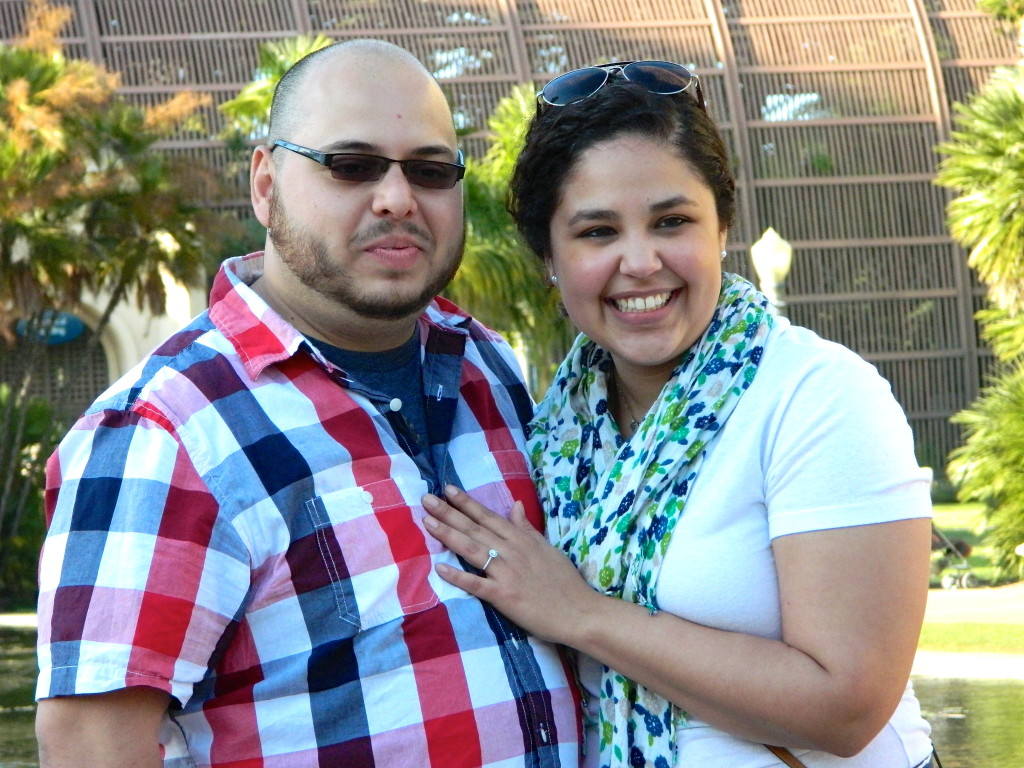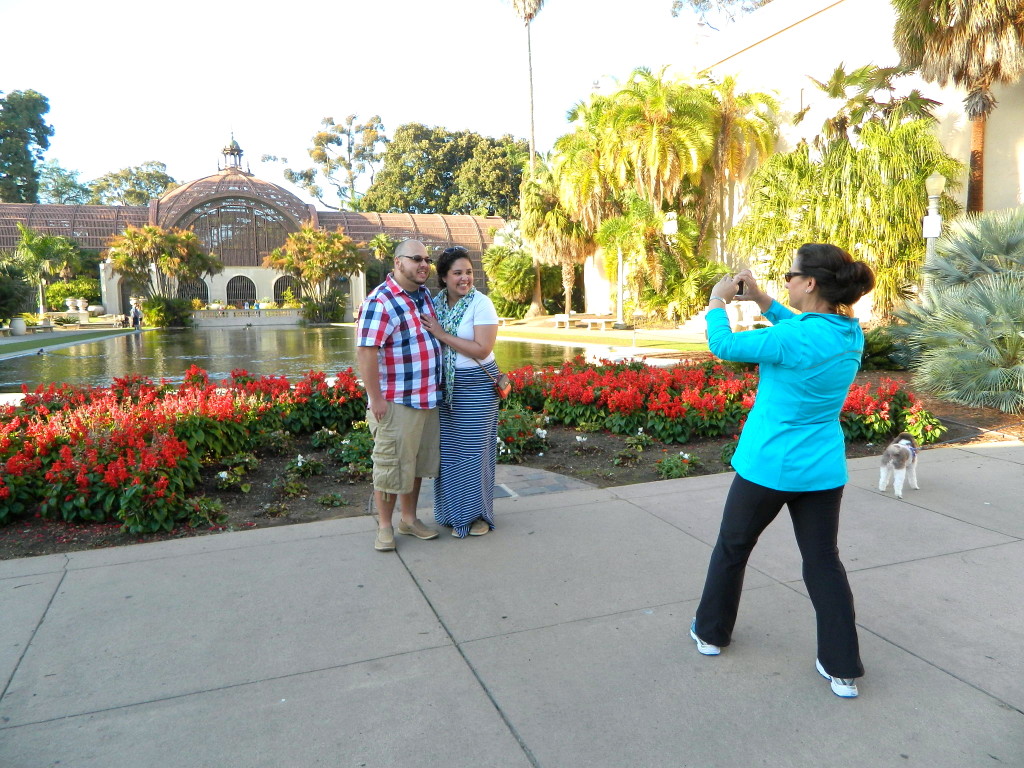 This couple saw us getting our picture taken and asked us to take their picture. They were tourists and had just gotten engaged! The fiancé (groom) had planned it, so he would propose to her at Balboa Park, so romantic! Lola took multiple pictures for them.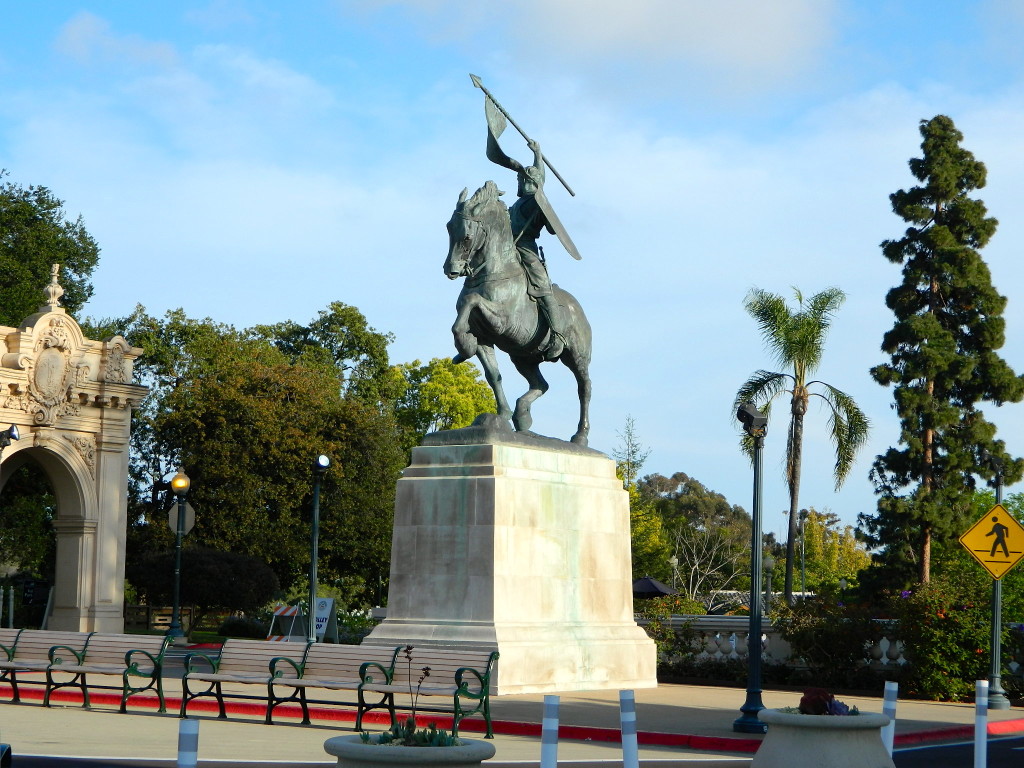 There are a few statues around the Park.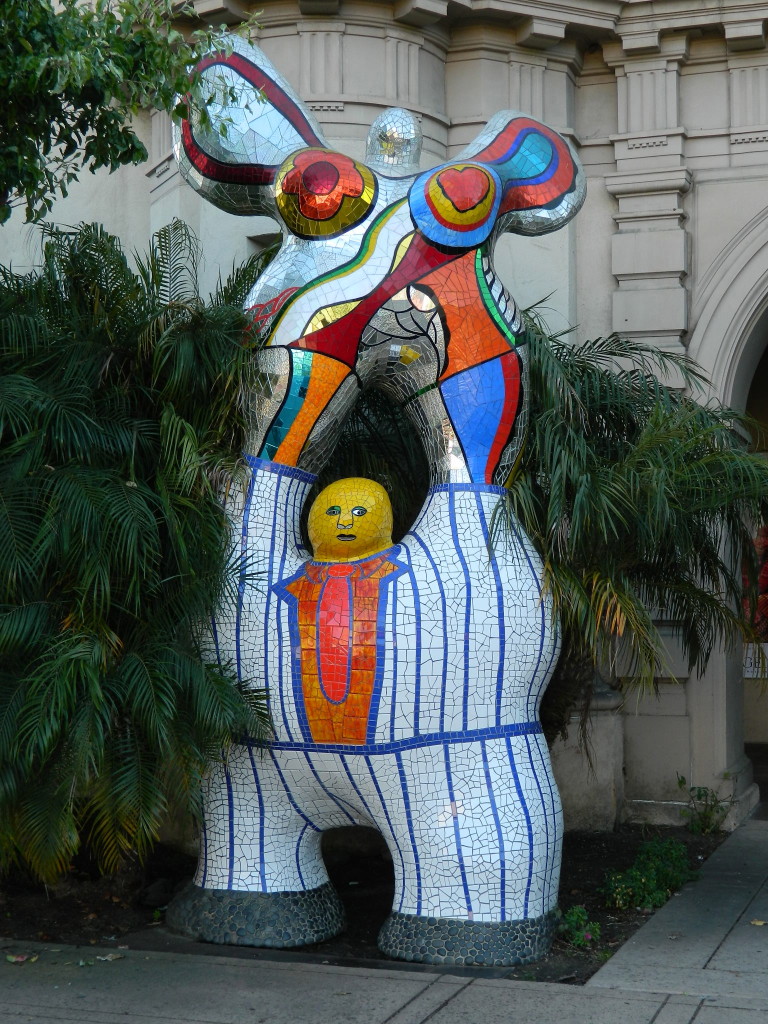 And art sculptures.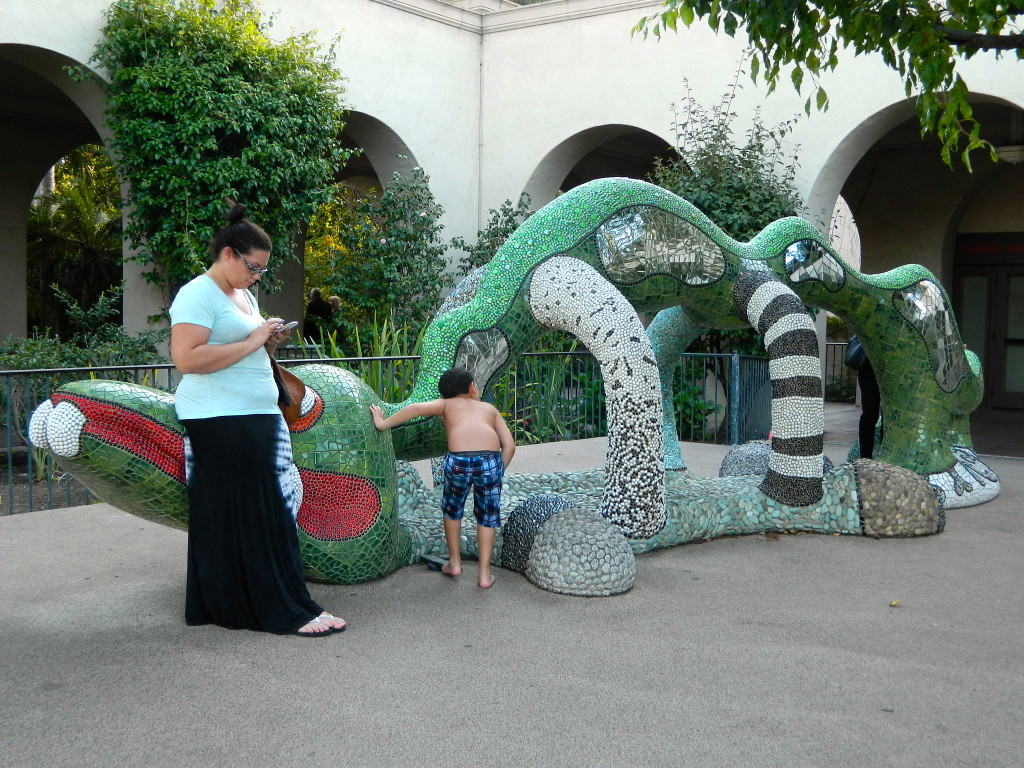 A little boy was playing on this art sculpture.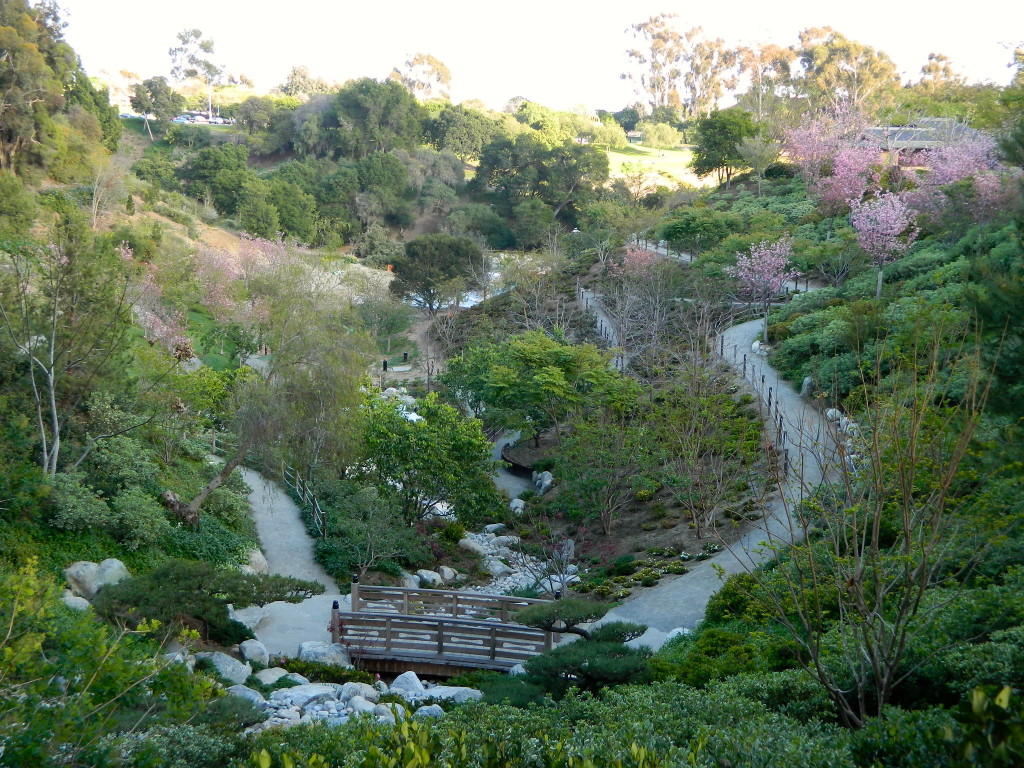 We walked past the Japanese Friendship Garden.
This is the cafe located at the entrance of the Japanese Friendship Garden.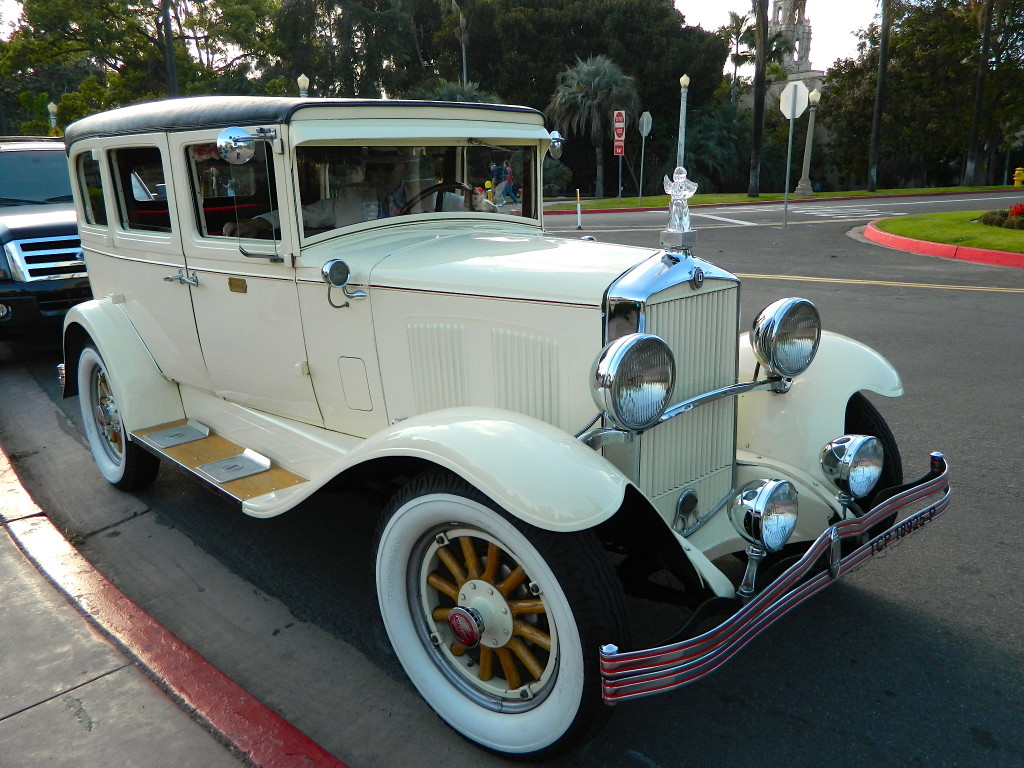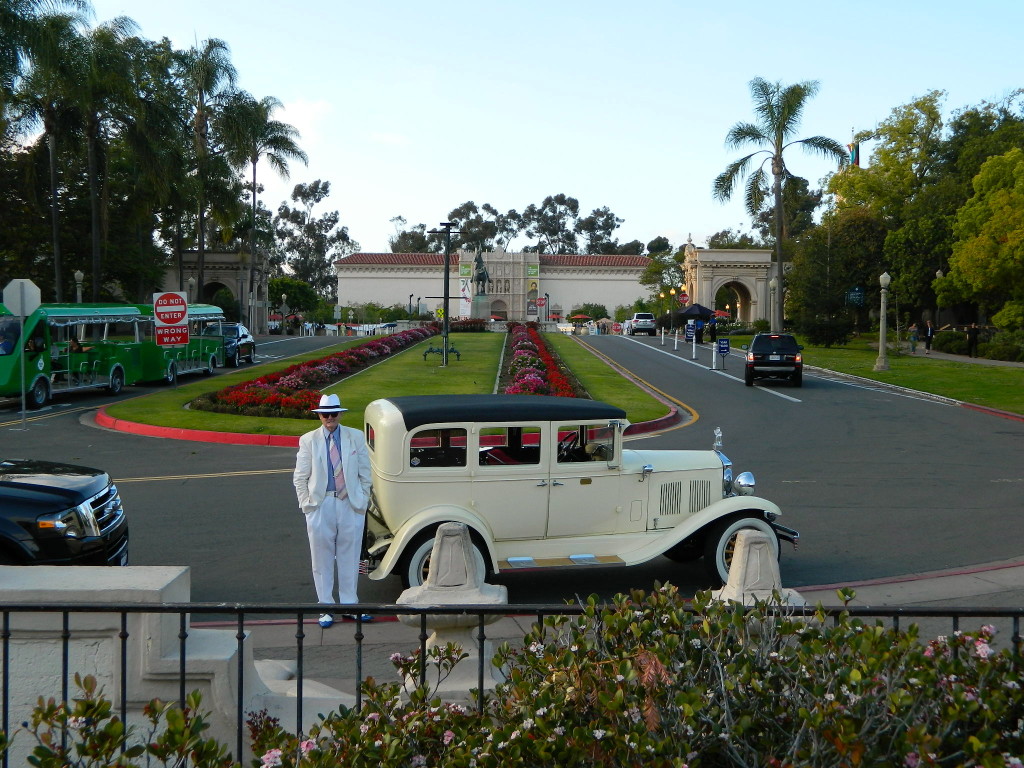 We saw this antique classic car waiting for a wedding couple that was getting their picture taken.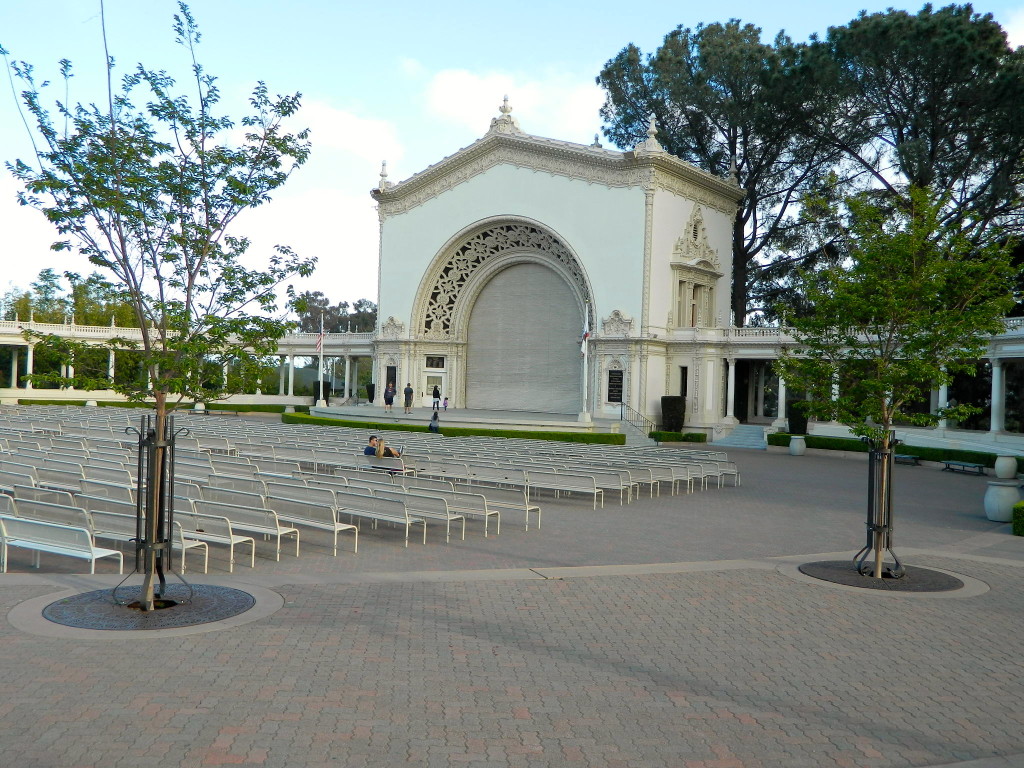 We walked past the Spreckles Organ Pavilion again, on our way towards the southwest side of the Park.
We walked into the area where the House of Pacific Relations Cottages are located. They are open and have free cultural events or performances almost every Sunday.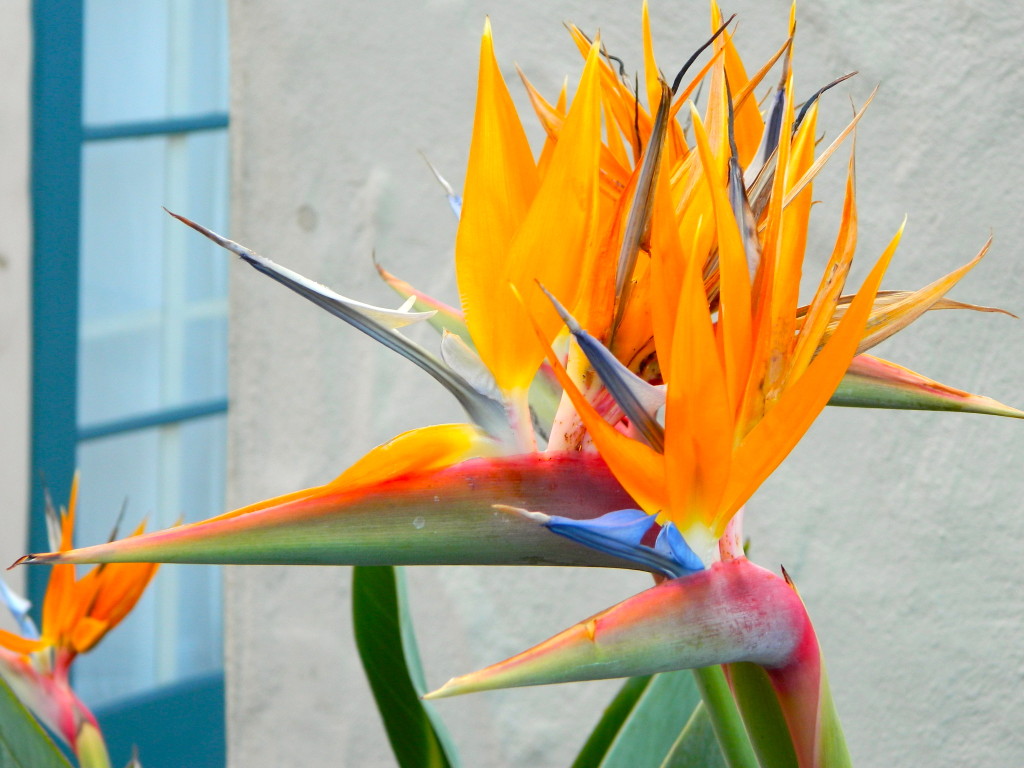 We saw lots of beautiful flowers during our Walk at Balboa Park!
You may also like: